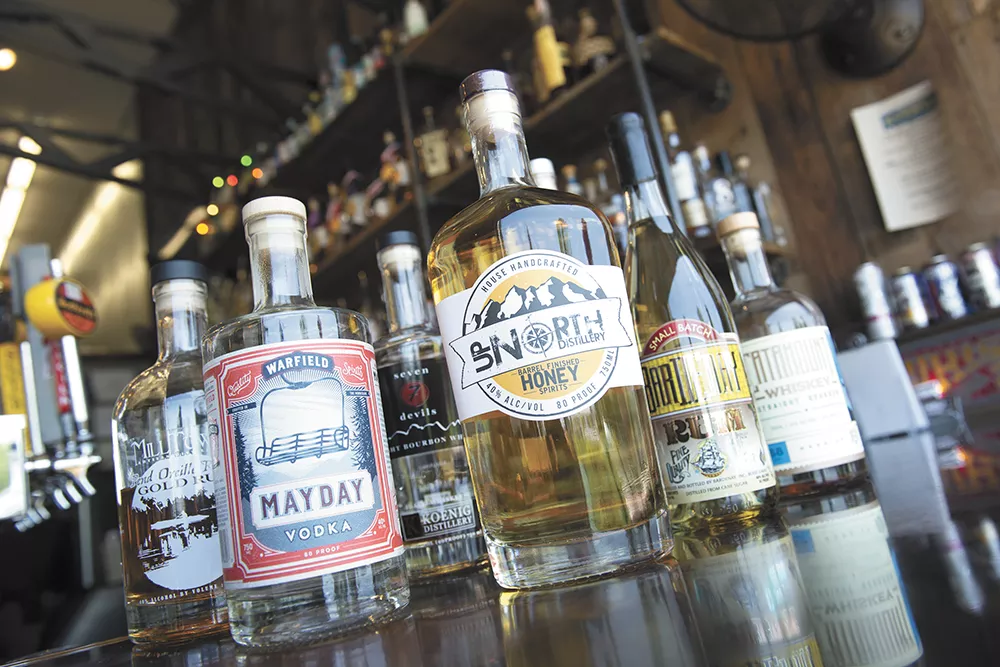 Members of the Idaho Distillers Association envision a day when everyone, including legislators on the state and federal level, knows what a craft spirit is and why laws concerning distilled products need to be more equitable.
One may, for example, sample beer at a brewery and wine at a winery, but can't try Bardenay Distillery's vodka at any of its three Idaho distilleries unless purchasing a cocktail there, made with liquor the distillery produced but had to buy back from the state. And if you want to take a bottle home? You'll need to drive to your nearest state liquor store.
But starting Thursday, June 27, during the special Idaho Craft Spirits Pub Crawl in downtown Coeur d'Alene, locals can sample Idaho craft spirits, try one in a cocktail or buy a pint for later.
It's all part of Idaho Spirits Month, which former Gov. Butch Otter proclaimed in July 2017. That year, the Idaho State Liquor Division set up retail displays promoting local spirits, followed by a 2018 industry-focused get-together in southern Idaho, where the bulk of the state's dozen or so distilleries reside.
"This year we wanted to focus more on the consumer," says Up North Distillery's Hilary Mann, one of the event's organizers.
The pub crawl features eight downtown Coeur d'Alene venues and eight of the nine member distilleries, three of them from North Idaho: Up North (Post Falls), Mill Town Artisan Distillery (Sandpoint) and Bardenay (Coeur d'Alene). Other participants include Koenig Distillery (Caldwell), Warfield Distillery (Ketchum), 44 North (Boise), Drinc Inc. (Rigby) and Grand Teton Distillery (Driggs).
Mill Town, for example, has teamed up with Honey Social Club and Eatery. Located outside of Sandpoint, Mill Town launched in 2015, an effort of husband-and-wife team Victor and Jessie Vachon alongside business partner Bryan Egland. They offer rum, bourbon whiskey and a unique barley vodka, and are still working on building a tasting room.
Tastings are just one of the goals of the Coeur d'Alene event. In addition to offering three quarter-ounce pours from each distillery per location, cocktails featuring Idaho spirits are available for purchase on opening night and throughout the month, ideally building awareness of and appreciation for craft spirits. Coeur d'Alene Unchained Taphouse features Up North's barrel-finished honey spirits in a summer shandy, summer punch and huckleberry "smash."
While purchasing a cocktail at a restaurant or bar isn't unusual, getting to sample distilled alcohol in Idaho is. In fact, while it's still not allowed in restaurants or bars — unlike asking to taste beer or wine before you purchase a glass — it has only been legal to sample a craft spirit at the distillery where it was created since 2014 via the Distilled Spirit Sampling Bill.
Yet even there, Idaho's laws are unconventional. Distilleries can offer up to three quarter-ounce samples of their product during a 24-hour period to parties of legal drinking age, and must do so free of charge. Again, unlike wineries and breweries which can offer flights, distilleries are restricted in not only the quantity of what they can offer, they must do so on their own dime.
In addition to tastings and cocktails being offered during the Idaho Craft Spirits Pub Crawl, both the featured spirits and cocktail recipes are available at a pop-up liquor store inside the Plaza Shops, according to Mann, who opened Up North with her husband Randy in 2015.
Since then, the Post Falls distillery has won numerous awards for its honey spirits and apple brandy, most recently a gold medal for its barrel-aged apple brandy at the American Distilling Institute's annual event. They've also added a liquor store to sell their products (although since Idaho laws don't allow it to be at the same address as the distillery, it's located next door), and a bar where they showcase regional craft spirits, wine and beer.
What exactly are craft spirits?
"The terms 'craft' and 'artisan' are a bit overused and there's really no legal definition in terms of distilled spirits production," says Bardenay Distillery's Distillery Manager Scott Probert, who prefers the term craft.
"Like craft beer, small distilleries are limited in production, innovative and majority owned by families or small groups."
Bardenay, which is paired with MoMo Sushi-Wok-Grill for the pub crawl, is one of the oldest distilleries in Idaho, founded in 1999, and was first to double as a restaurant, which meant navigating a labyrinth of laws in the emerging distillery industry.
From a state perspective, says Bardenay founder Kevin Settles, the big hurdle was that a distiller could not also hold a license to serve liquor by the drink.
"Since our concept was all about selling our spirits by the drink, we had to run a bill in the Idaho Legislature, which passed during the 1999 legislative session," he says.
State approval paved the way for a green light from the feds, who were concerned about putting a distillery in a public space, Settles says.
"Once the space was approved, we had to get our [recipes] approved and they were unique," he adds, noting that Bardenay had to clarify how ingredients would be used, such as brown sugar cane in their rum, and botanicals in their gin. "It took multiple exchanges to work that out and in the end we had to send them a sample. Once they smelled and tasted it, it was easily approved."
Today, Bardenay has locations in Eagle, Boise and Coeur d'Alene, and produces rum, gin, vodka, and several liqueurs. It's a veteran of Idaho's distilling industry, which continues to evolve.
"The Idaho Distillers Association has recently been asked to support a bill to allow tastings in liquor stores," says Probert. "It didn't pass this session, but will be revisited." ♦
Idaho Craft Spirits Festival • Thu, June 27 from 5-8 pm • $20 • Resort Plaza Shops • 210 Sherman Ave., Coeur d'Alene • craftspiritsfestival19.eventbrite.com