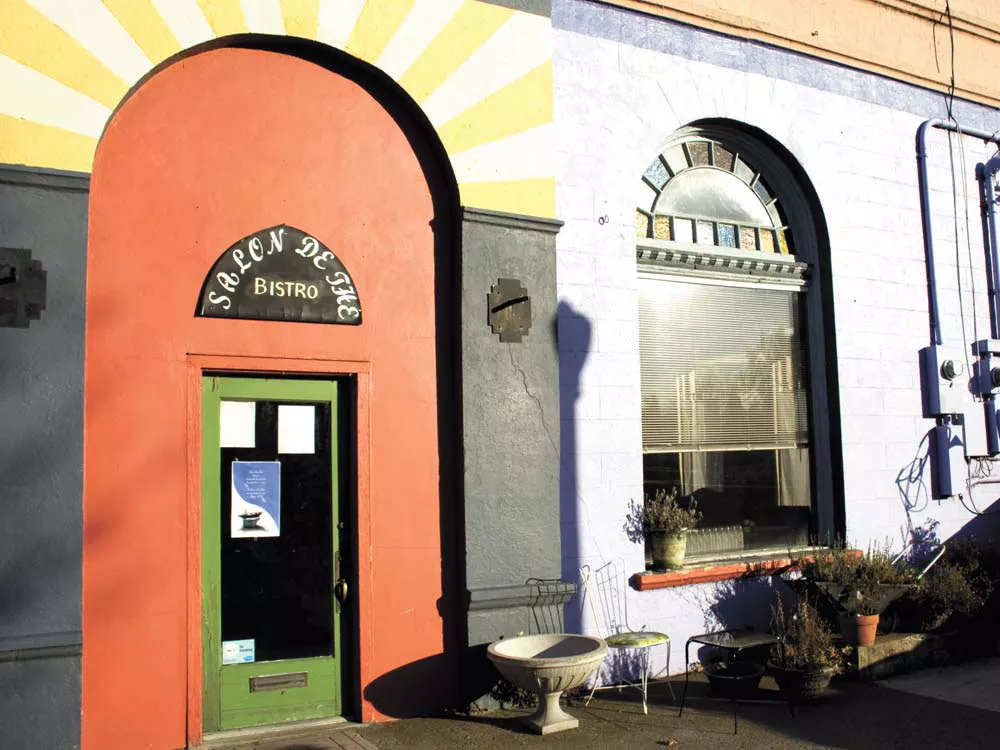 My mother always insisted we eat three meals a day to "fuel the fire" in our bellies. Mom was always right, of course (except for those awful floral prints she made us wear. Those were very wrong). But that phrase never rang quite so true as it did on Saturday in Palouse, Wash., when I took a daytrip in search of breakfast, lunch and dinner.
I am an omnivore. My accomplice was a pescetarian. We aimed for the hills, hungry. By the end of the day, we would be fueled — our fires, quite literally, stoked.
A word to the hungry traveler: Thursday through Saturday is your best bet for finding food in Palouse — a small town of lentil and antiquing fame — but if you want a guarantee, call ahead. Our first stop was the historic St. Elmo's Hotel, a
turn-of-the-century brick building that typifies Palouse's recent renaissance. In the boomtown days, the hotel was ticking along just fine, but decades of slump made it flatline. Now, a local couple is in charge of its revivification.
I'd been once to a bakery at the back of St. Elmo's, and remembered homemade Italian crackers and fresh loaves rising fat on the counter. This time, it was midday on a Saturday, and the bakery — which has no name and no posted hours, just the word "Bakery" above the door — was dark.
Still, owner Bob Strack came to the door, his hands greasy from work. Turns out, in addition to baking and restoration projects, Bob repairs espresso machines. "I didn't open today," Bob says apologetically. "Thought I might, but then I didn't."
Locals are used to the breezy schedule. "We affectionately call it 'Bob's Bakery,'" says Mike Milano of the Palouse Chamber, who notes that when Bob puts his "open" sign out on the corner, word gets around. Bob's fare ranges from pizzas and savory breads — rye is a favorite — to biscotti and sweets bordering on the exotic; we heard rave reviews about chili pepper cupcakes with lime frosting. During the town's recent annual Haunted Palouse event, the bakery opened. "It was a gas," Milano says, "seeing folks packing their loaves of fresh bread through the haunted houses."
"Come back next weekend," Bob says. We nod, pretty sure it's worth a return trip, and as we turn to go Bob informs us of another local event: "Ever heard of the Palousasaurus?" he asks. We laugh. Giant Palouse earthworm? Sure. Giant Palouse dinosaur? Negative. Bob points us in the direction of the Green Frog Café, insisting it's something we have to see.


Behind the counter of the Green Frog Café
, four women in vintage frocks, matte red lipstick and spectacular tattoos make coffee and prepare sandwiches, singing along to Stevie Nicks while they work. The walls are sunshine yellow and lime green, covered with bright paintings and kitsch. In one corner, a small stage is set with drums and guitars, ready for sound. In another, the bakery case gleams, stocked with quiche and casseroles, golden-crusted pies and pink-sprinkled cookies. A neon signs shouts, "Elvis Lives," and the whole place is so radiant, so convincingly retro, that I almost believe them.
This, apparently, is where you go to learn about the Palousasaurus, a giant wooden T-Rex built to burn by local artists, a symbol of the end of the fossil fuel era. But before we get to dinosaurs, let's start with amphibians.
In its six-year lifespan, the Green Frog has outgrown its original location, expanded services, and stepped in time with the sustainability movement. Co-owners Tiana Gregg and Paula Echanove use regional barley, lentils and hummus as staples, and support community art and music (Gregg and employees are known to rock the mic during Thursday night pizza-and-open-mics). The menu is straightforward: all salads, $6.50. All sandwiches, $5.65, made with bread from Wheatberries bakery in Moscow.
The place makes us want to use lots of adjectives and hyperbole. When my accomplice lifts a forkful of casserole (a black bean and sweet potato dish layered with herbed ricotta, egg noodle, and onion) and I take my first bite of "The Viking" (a popular sandwich of sautéed mushrooms, garlic, onion, and dripping Swiss cheese), we actually say: "This is the best thing I've ever tasted." Until, of course, we taste the oatmeal pie, a thick slice of oat-y, brown-sugary, coconut-y magic drizzled with caramel. It's the best thing we've ever tasted.
We leave with leftovers — we've got to pace ourselves on this mission — and wave goodbye to the Green Frog girls, promising we'll meet at the dinosaur later that night.
We stumble out of the time-warp dream-like world of the Green Frog and into some antique stores. We don't cause too much damage, though, before running into Claire and Abby, two Green Frog waitresses who are off duty early. (Again, readers, call ahead. This is a "work to live" kinda town). They invite us along for a ritual post-shift beer at Palouse's only bar, the Shut-Up-And-Eat-And-Drink-Café, otherwise known as "the Tav."
In the Tav, we discover the day's unexpected bonus bite: The place is everything you'd want in a local dive, buzzing with a good-natured crowd and jukebox tunes, decked out in outdated Bud and Miller accoutrements, brick walls covered with decades' worth of scrawling graffiti messages and initials inside heart balloons. It is the happiest hour: Microbrews are $1.75, and a waitress drops a bowl of cheese-infused tater tots at the table. We look at the Green Frog girls. "Munchers," they say, nodding in approval.
Hyperbole reigns. Best bad food ever.

You'd think, after all this, that one wouldn't have room for dinner
. But the show had to go on. Bank Left awaited.
The Bank Left Bistro/Tea Room makes it official: Palouse may be small, but it is a town of epicurean leanings. The bistro, run by Nelson and Pamela Duran, is connected to the Bank Left Gallery, which showcases regional art and crafts, including monthly featured artist receptions. The Bistro, too, is a tribute to art and culture: the dining room features paintings and sculpture, French music on the speakers, fresh roses on every table, oversized accent chairs and loveseats, and ethnic cuisine. The lunch menu is primarily French-inspired, while dinner spans the globe. Last weekend, Egyptian. Next weekend, Thai.
Lunch and tea service are offered Wednesday-Saturday, but my accomplice and I had made reservations (highly recommended) for the prix fixe dinner, a Saturday-only affair.
The menu of the day was an organic fruits-and-greens salad, brimming with pomegranate, pear and fig, and an enchilada entree we were told would taste "unlike anything you've had," for $18.95. It did, partly due to the fact that Nelson, who moved to the States from Honduras 20 years ago, shops daily for the freshest ingredients. He attributes his culinary habits and skill to his mother, though his professional food experience is also extensive.
Halfway through our meal — a richly sauced blend of tender chicken ladled with fresh tomatoes and avocado for me, a roasted red pepper version made-to-order for my accomplice — the room sweetened with the smell of burnt sugar. The dessert course had begun.
Ten minutes later, sounds emerged from the next table over, where a man and woman shared a dish. "Oh. My. God," the woman said, practically shrieking. "The lavender creme brulee," she said, turning to us. "You have to taste this." And with that, she was on her feet, with two clean spoons from a nearby table, scooping us the last of her custard, which was, as she promised, worth jumping out of your seat for. The same could be said for the apricot parfait and blueberry tea cake, both served with local Ferdinand's Creamery ice cream.
This isn't unusual behavior at Bank Left: "Once," Nelson told us as we paid our bill, "a woman stood up in the middle of dinner — it was crowded in here — and announced that she wanted to bathe in my soup." Then he bowed, and thanked us for coming.
We had come to the end of our culinary tour.
With hunger curbed and bellies full, there was only one thing left to do, and that was drive out into the middle of a wheat field and watch the Palousasaurus burn. We arrived in time to see a great all-ages gathering of the community, basking in the fiery glow. As we joined them before the flames, one thing felt certain: In a new era of sustainable, artful living, Palouse is where the fuel's at.
Call Ahead: Bob's Bakery, Behind St. Elmo's Antiques (130 E. Main St), call the antique store (509) 878-1471 • Green Frog Café, 100 E Main Street, (509) 878-1490 • The Tav, 127 E Main Street, (509) 878-1919 • Bank Left Bistro & Tea Room, 100 South Bridge Street, (509-878-1800)