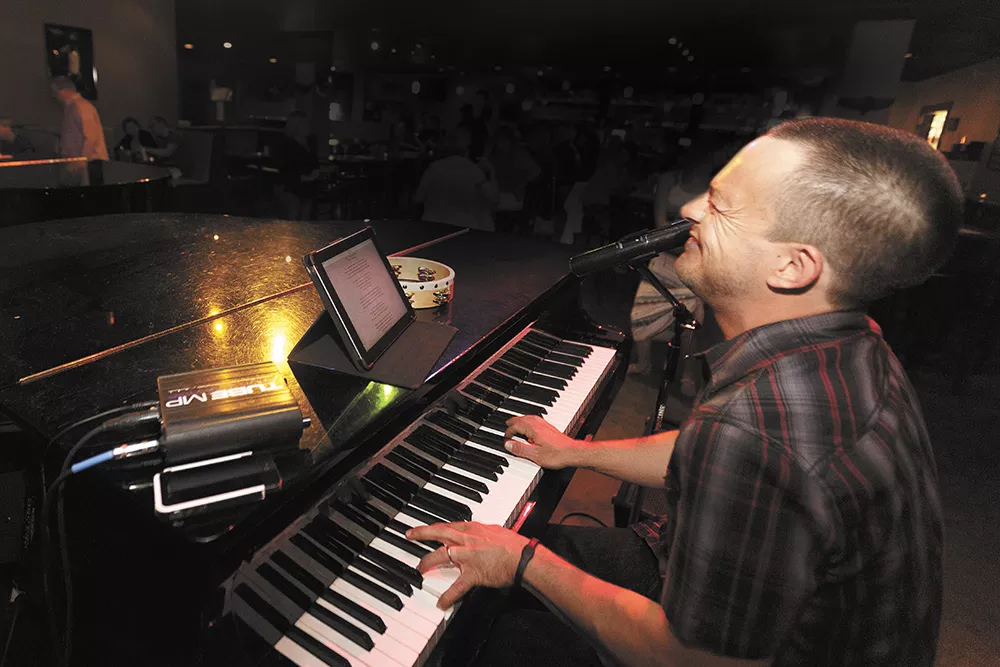 The five women lined up at the front of the stage know what they're in for.
"All right, No. 1," Christan Raxter and Steve Ridler call out from behind their opposite grand pianos. The first hopped-up contestant steps forward, swivels 180 degrees and moves her buns to the jazzy music. The liquored-up audience claps and hollers. As the ladies each take a turn in the spotlight, the crowd's cheers decide who stays and who goes.
The booty shake-off contest, often featuring birthday gals and brides-to-be, is a taste of what happens at the Ridler Piano Bar, especially after midnight. That's when the piano duo's cover songs may include a couple expletives. But for the bulk of the night, depending on the audience, expect more classics like Frank Sinatra and, of course, "Piano Man."
"I'm here to encourage the rowdy but I don't like the vulgar," Ridler says. "We realize this isn't church, but you have to have standards."
After purchasing Gibliano Brothers Dueling Piano Bar in February, this space now belongs to Ridler and his daughter Emily. He says he wanted to buy the bar for his family.
"Where else was I going to continue to play this music?" asks Ridler, who had played in the dimly lit club since it opened in 2009.
Last Friday night, Ridler bangs out rock piano riffs along with Raxter, singing and harmonizing back and forth. There's a live drummer too. Sometimes it's complete cheese up there — as in a vocally hilarious rendition of All in the Family's theme song "Those Were the Days." Piano men Elton John and Billy Joel are fully paid tribute, while "The Lady in Red" causes one couple on the cramped dance floor to reenact the lift sequence from Dirty Dancing.
For Ridler, it's a party on stage every night he plays.
"It's like the New Year's Eve you always wanted," he says. "And you're in control of how it works out."
The dueling pianists' job doesn't come easy. It's not about how many concertos a musician has perfected, but rather how off-the-cuff he can be — much of the all-night jam sessions run on adrenaline, playing by ear and working off of the audience's reactions.
Nearing 8 pm each Friday and Saturday, Ridler is off limits to the outside world. He doesn't talk to anyone. It's the time he needs to switch his brain to musician mode come 8:30 pm, when he hits the stage. Once clicked in, he can lose himself in the work, needing just one short break until closing time.
"For 32 years I've been playing in piano bars, and it's all about making people feel like it's happening in their living room," explains Ridler, who got his start in Seattle clubs.
Every night, favorites like "Sweet Caroline" and "Don't Stop Believin'" are sure to be scribbled on request sheets, but Ridler says he likes it when people pick something out of the ordinary. The musicians don't care if the song is 100 years old or came out that week; they'll try to play everything that comes their way, even if that means learning it on the spot. The larger the tip, the higher in the order it'll go.
Ridler is from the entrepreneurial American mold, the one that says you can reinvent yourself over and over. Starting his first business at 17, he's worked for himself in everything from music to real estate. He even tried retirement once.
"I've been quite well-off and then flat broke," Ridler, now 53, admits. "And it's not always easy, but I just keep going. I have to keep moving."
Bar manager and co-owner Emily Ridler, 24, was living in Seattle when her father called to ask if she'd come into business with him. The reaction was immediate. Even though she'd never operated a bar, she moved back to Spokane for "the perfect opportunity." There nearly every night of the week, Emily says she never tires of the music.
"There are songs I hear all the time," she admits. "But it's pretty much a different show every night. My dad is a goofball and a character on that stage. This is what he's built to do."
The business celebrated its grand opening earlier this month, and so far Emily says things are going well — especially for the summer, a notoriously dead time for the downtown location. With the addition of a new food and drink menu, along with nightly entertainment including country night, tango lesson night, comedy night and the dueling piano act, the Ridlers are trying to pump oxygen back into the only business of its kind in Spokane. There already are plans to take the pianos on the road for private shows.
"I wouldn't still do this if I didn't love it," Ridler says. "Otherwise, I'd just be out at my property at Deer Lake. I've got horses to ride." ♦
Dueling Pianos • Every Fri and Sat, at 8:30 pm • $5 cover (free before 7 pm) • 21+ • The Ridler Piano Bar • 718 W. Riverside, Unit 104 • 822-7938