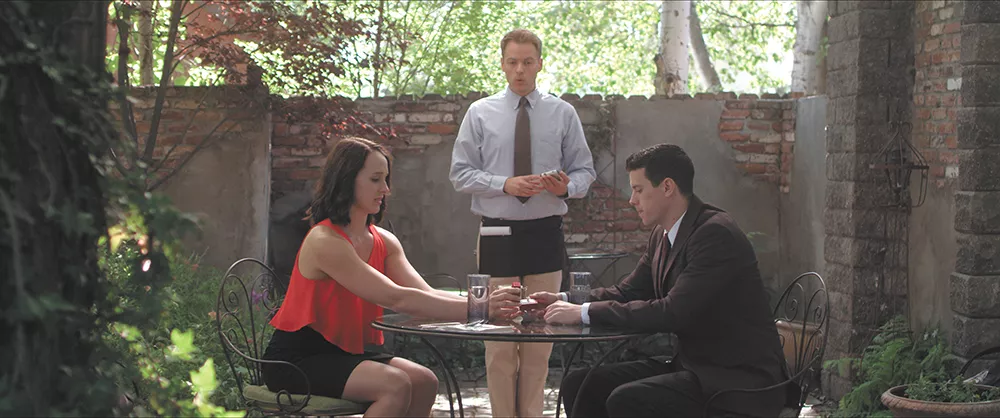 "Stories begin at their end," says the late critic and writer John Berger in a 1983 episode of the British television program Voices, citing the deaths of Romeo and Juliet as an example and drawing a completed circle in the air with a finger. "That is when the story is given form."
Lifeline, a short film premiering at the 19th annual Spokane International Film Festival, quite literally begins with such an ending. One that begets an even more transformative ending, a very peculiar take on impending death that shapes the narrative arc of this strangely hilarious tale down to its final scene. What is typically occasion for weepy Hallmark Channel reflection and feigned triumph is in writer and director Adam Harum's hands something much darker and more bizarre. Yes, there's the drama. And the laugh-out-loud surprises. But something is off.
"I've always really liked the idea of just a subtle little tweak or adjustment in the story, and not making as big a deal of that as it should be," admits Harum, 28. "I'm writing a screenplay right now about a guy who can travel through time, but only when he's drunk. That kind of thing," he says with a chuckle.
"It expands your ability to tell a story, and bring in those thematics in a way that you normally wouldn't be able to with reality."
Harum, a Wenatchee native and longtime Spokane resident (he graduated from Eastern Washington University's film program), has been warping reality through the camera lens since he was 9.
"Good God, like two-thirds of my life is on camera somewhere," he says. His father had access to early digital editing software and iMovie, a stroke of fortune that launched Harum's creative ambitions into overdrive.
"I was obsessed with making films," he says. "I used to write all the time growing up, just all the time."
Fresh out of college, Harum's passion landed him a coveted freelancing gig with writer/director/producer Kevin Noland's Spirit Lake Pictures. Under Noland's wing, Harum honed his craft on projects in Haiti and Germany, instilling in himself the tenets of good storytelling.
"For me, as a filmmaker, that's the kind of stuff that I think all filmmakers should do," he suggests. "Just travel."
Upon his return to the Northwest, Harum dug in, continued to immerse himself in his art and found a tight-knit clan of filmmakers with whom to share his obsession.
"It's just an awesome film community," he says of Spokane. He co-founded the 50 Hour Slam, which every year challenges hundreds of budding local filmmakers; he jumped into the Spokane Film Project, where he recruited greenhorns and film sages alike to help bring films like Lifeline to, well, life; he worked on Emmy Award-winning projects with his own Kinetic Energy Productions team; and he did it in a city 1,200 miles from Hollywood.
"It's funny. People will see our, you know, really amazing — in my opinion — Toyota commercials playing in a bar anywhere in Spokane, and a lot of people don't even realize that was made just down the street," says Harum of his work as the main editor and audio engineer (and sometimes director) at ILF Media.
Lifeline, his first short to appear in SpIFF (Transolar Galactica, Harum's sci-fi web series, was featured three years ago), is likewise a product of the Inland Empire. It was filmed in three manic days last July, specifically with SpIFF in mind.
"It's always a great festival," says Harum. "I love being involved in it any way I can, every year." And because the film is also a product of his imagination, it's appropriately and morbidly skewed.
"What we mourn for the dead is the loss of their hopes," the aforementioned Berger, who died at 90 earlier this month, once remarked. In Lifeline's dystopian future, what we mourn for the dead is all but forgotten: As Harum admits, "It's no longer this big, huge mystery anymore." But it sure makes for an oddly entertaining story. ♦
Lifeline is featured in the 2017 Best of the Northwest program on Friday, Feb. 3, at 5:30 pm at the Bing Crosby Theater (901 W. Sprague).