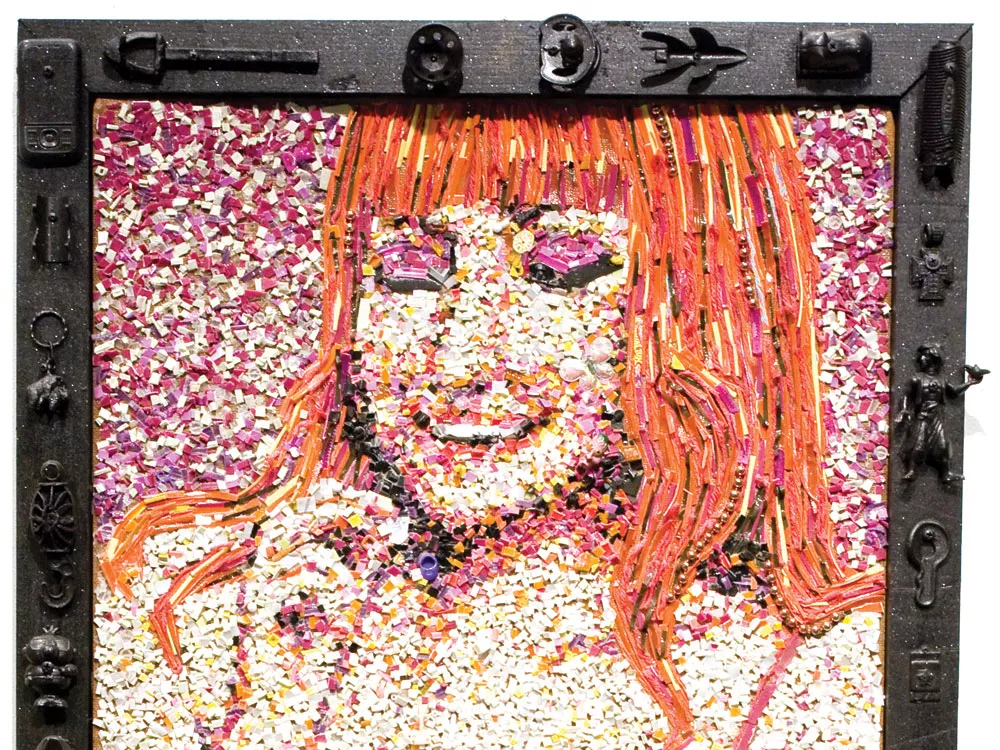 RiverSpeak is going public. Sure, they've been around for a few years — since 2009 — but the nonprofit arts collective is now having its highest-profile event to date at City Hall's Chase Gallery.
Against the backdrop of City Council meetings, "Only Time Will Tell" showcases RiverSpeak's members to the variety and volume of traffic that passes through City Hall.
The show also shines a spotlight on the collective, which was founded by area arts teacher Brooke Matson. RiverSpeak's mission, according to their website: "To nourish and sustain Spokane-area participation in the arts by providing a community forum for new and established local talent to share work, collaborate, foster dialogue, connect to opportunities and build community."
Membership in RiverSpeak is free, enabled by fiscal support from local nonprofit Community-Minded Enterprises, and the group currently counts 50 emerging and established visual artists, photographers, writers, performers, musicians and arts enthusiasts among its ranks. It also features 30 different member-created blogs on its site. While RiverSpeak's board meets every third Tuesday at the downtown library, the collective doesn't have a physical space, which makes landing space at the Chase a significant step.
"The idea for the show's name should really be credited to Karen Mobley [of Spokane Arts Commission]," says RiverSpeak's Crystal Clark.
"I think it reflects the state of flux we find ourselves in right now, with the political and social climate of the country, but also suggests what may come in the future," says Clark.
"Only Time Will Tell" features the work of 13 RiverSpeak artists and eight writers, whose poems are printed on 3-foot-wide paper. Several short videos by photographer Rajah Bose and painter/illustrator Tiffany Patterson will also be featured at a February 17 reception. That's also when you can pick up your full-color 'zine showcasing the exhibition artwork and poetry ($7 if pre-ordered).
Clark says that though she's not aware of any of the artists having collaborated on their work, there were nevertheless many serendipitous pairings. Jill Skeie's poem, "Ladies of the Tapestry" hangs alongside Nan Drye's quilt, "Time Stands Still." In it, a woman wearing a nurse's cap and a stethoscope encircles what appears to be the same child in two distinct states of being. On the left, the child — gray-faced, hairless and garbed in the same print as the nurse figure — is surrounded by a broken clock and background fabric with a drippy, rainy pattern. On the right, the same child is blonde and pigtailed, her face bright as she holds a basketball. Behind her is a sunny backdrop with a bird on a branch.
Both the poem — "they stitch and stitch all day," writes Skeie — and Drye's quilt eloquently illustrate the way in which time can seem to speed up or slow down, depending on the situation.
Allen Duffy's work manages to confuse and amuse at the same time. His cartoon paintings, applied directly to three gallery walls, combine Robert Williams' pop-surreal style with Mad magazine humor. His "Only Time with Pizza Will Tell" shows the exchange between a pizza delivery boy and a sloppy man whose domestic space is piled high with pizza boxes. There's a pathetic, stoner quality to the figure that marks time in terms of pizza.
If counting time in between pizza deliveries is absurd, then what is biding one's time between outbreaks of violence, as suggested in Josiah Brown's photographs of war?
Participating artist Debbie McCulley has a more whimsical approach with "Mysterious Time" and "Nature of Time," yet we get a similar effect of skewed reality. Adjacent to McCulley's mixed-media artwork, writer Ryan Weech takes the notion of disjointedness a step further. "He likes clock faces / best of all, their specific lack of eyes," writes Weech in "Untitled."
Like many of the works in the exhibition, Weech's piece embraces a careful optimism: "He likes the planner [schedule book] because of the hope / that it will help him predict the future, / and he is in love with his own knowledge / of what is to come."
Similarly, the exhibition organizers are hopeful about the future.
"The big issues and ideas we're facing now," says Clark, "will eventually be settled, and we'll find ourselves once again waiting to see what effect time will have on a completely different set of hopes and expectations."
Although Clark was speaking about the theme of the exhibition, she could as easily have been addressing the future of the arts in Spokane. Or even RiverSpeak itself, which recently held its first-ever charette. The collaborative session was attended by nearly three-dozen arts-minded community members — writers, artists, performers, students, business people — who, after three hours, had generated plenty of good discussion about what can be done to continue to strengthen the role of the arts in Spokane.
And what will come of the discussions? Only time will tell.

RiverSpeak's "Only Time Will Tell" • Through Feb. 24 • Chase Gallery, City Hall • 808 W. Spokane Falls Blvd. • Artist reception: Feb. 3 from 5-9 pm and Feb. 17, 6 pm • spokanearts.org/chase.aspx • 625-6050