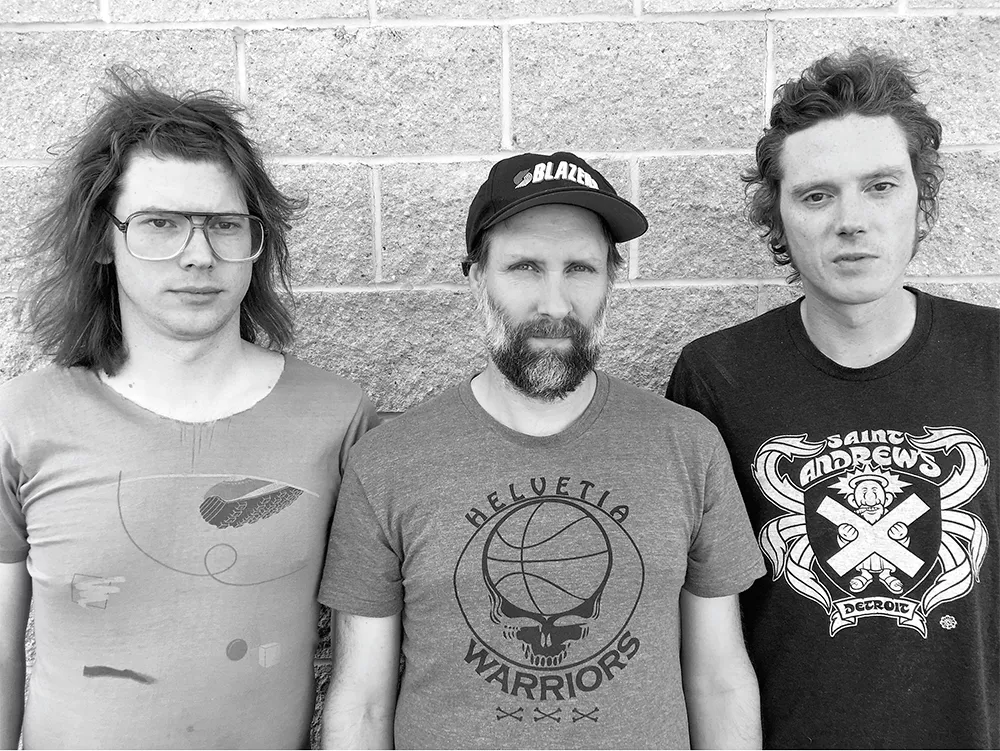 Aging gracefully in rock 'n' roll is no easy task. Not only do you have to navigate the ever-shifting loyalties of the music business and fickle fans, but also the universal inevitabilities that come with growing up — kids, mortgages, maybe a bum knee or bad back.
Few have negotiated the path as ably as Built to Spill's Doug Martsch, who's led his Boise-based band through 24 years, myriad lineup changes and eight studio albums. The most recent, 2015's Untethered Moon, is as vibrant a collection of songs as Built to Spill has ever released, full of the insistent melodies, ear-candy hooks and occasional epic guitar solos the band has been known for since early gems like 1994's There's Nothing Wrong With Love or 1999's almost-breakthrough Keep It Like A Secret.
The longevity of the band, and Martsch's ability to play music for a living, is something that continually surprises him.
"We go out playing these shows and there's still people excited about it. It's really unbelievable," Martsch says. "I didn't know I'd have a moment of a career in music, let alone a full-on long one."
Martsch's enthusiasm for all manner of music comes through in conversation and in his choice of covers; tunes from Ozzy Osbourne to the Smiths to Blue Öyster Cult might make their way into a set on any given night. And Martsch (center above) might look like the least-likely rock star on the planet when you see him onstage in suburban-hipster-dad attire — baggy shorts, tattered T-shirts and the like. But once he unleashes one of his soaring, searing guitar solos of the sort that was virtually unheard of in indie rock for years outside of a Dinosaur Jr. concert, there's no mistaking you're dealing with one incredibly impressive musician — "alternative" or otherwise.
The fact that Untethered Moon arrived sounding like a consummate Built to Spill album is all the more notable since the band had recorded a bunch of songs and scrapped them before changing rhythm sections and starting over. That meant hitting the road to break in the new members and learn songs old and new, and it meant a six-year break between albums. Once they got into the studio again, producer Sam Coomes helped Martsch find faith that the new songs were up to par.
"Producers do different things, and a big part of what they do is give you some moral support when things get rough in the studio and you start questioning your existence. They can be helpful for keeping things in perspective and kind of cheer you on a bit," Martsch says.
Songs can come quickly for Martsch when he's writing, crafting riffs with his guitar, but lyrics are another matter. Even as he's gained confidence through the years, coming up with words remains a challenge. If lyrics came easily, he says, "we might have twice as many records." Part of the difficulty, Martsch says, is age.
"When I was younger, I didn't have an audience and it was easier just to say whatever the f--- you wanted to say," Martsch says. "Then you get older and you have an audience and some responsibilities, and you start running out of shit to say."
Martsch sweats over his lyrics, but he's not obsessive. He's a huge Bob Dylan fan, but he thinks fans take Dylan's words too seriously — more seriously than the man himself probably does.
"Some of my favorite lyrics are silly," Martsch says. "I'm into the lyrics being effective, the words being what they need to be for the song. I don't think Leonard Cohen is necessary all the time. Sometimes the simplest lines are perfect. I like soul and old reggae and stuff where a lot of lyrics are just clichés they're singing. And I can be moved by them."
On Built to Spill's current tour, the band is rolling as a three-piece like they did in the very beginning, just Martsch with drummer Steve Gere and bassist Jason Albertini. Martsch says it's the first step in working on new material, with hopes of recording again soon. Some of the band's multilayered songs won't be in the set as a result, "but the five-piece [lineup] couldn't do the whole catalog, either." The smaller lineup means more responsibility for Martsch, and another subtle evolution in the band's sound that undoubtedly will result in an album that is still distinctly Built to Spill.
"You never know if people are going to lose interest," Martsch says. "We just made as good a record as any of our records, and I feel like we're getting ready to make another good one, and I think people recognize that and stick around. It's not just a full-on nostalgia thing. People are still with us, and they see we're still at it for real." ♦
Built to Spill with Toy Zoo and Genders • Wed, June 29, at 8 pm • $22 • All-ages • Knitting Factory • 911 W. Sprague • sp.knittingfactory.com • 244-3279
---
Built to Last: Highlights from the Built to Spill catalog
"Never Be The Same" from Untethered Moon, 2015
"Things Fall Apart" from There Is No Enemy, 2009
"Traces" from You in Reverse, 2006
"Happiness" from Ancient Melodies of the Future, 2001
"Else" from Keep It Like a Secret, 1999
"Stop the Show" from Perfect From Now On, 1997
"Car" from There's Nothing Wrong With Love, 1994
"Three Years Ago Today" from Ultimate Alternative Wavers, 1993