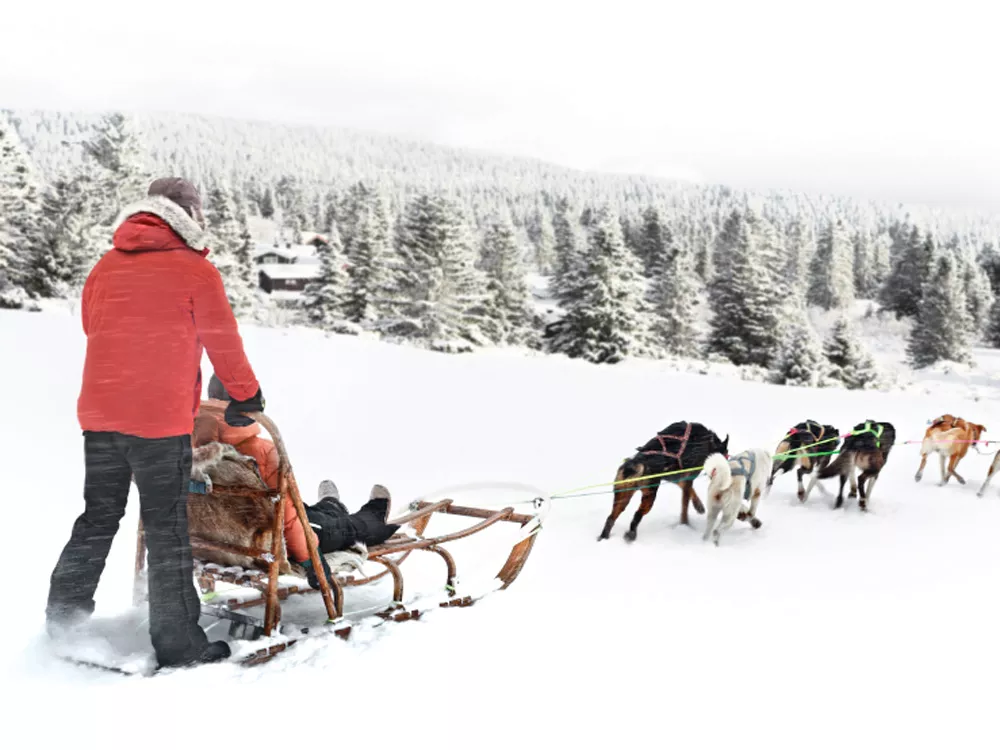 When Bob Yanecek first discovered sled-dog racing about 10 years ago, he hiked into the Idaho woodlands and staked out a spot at the edge of a trail. His wife had dragged him to the races at Priest Lake. And Yanecek was intrigued by the collection of dogs (as many as 300 in camp) and the independent spirit of the mushers. There was camaraderie in the chaos.
"It's absolute melee, in camp, with noise and the smell and all of the activity," he says.
But Yanecek, now 53, wanted to see the teams in their natural element. So he hiked off to observe them on the actual race trail.
"It's almost silent on the trail, except the jingles on the harness," says Yanecek. "The teams that really know what they're doing, all you hear is the panting of the dogs."
That innate snow-doused hush, that bond between humans and animals: They're two of sled-dog racing's draws. The sport has existed for at least 125 years, but its roots stretch back several millennia. Sled dogs were the ice-road truckers of early history, transporting humans and supplies across the tundra.
The tradition has carried in modern day near Priest Lake, Idaho, for over four decades, where races will take place Feb. 4 and 5, featuring six-dog mid-distance, two-dog skijoring as well as sprint races with several different numbers of dog teams. Mushers, dogs and spectators gather at the north end of the airstrip across from the Priest Lake Ranger Station off of Highway 57.


Tom Palmer is a retired ship designer who used to race cars. Palmer, 68, is also a four-decade veteran of sled-dog racing. The fast stuff, too: spring racing.
"You get a little bit of a high, of course, off of running dogs," Palmer says. "When they are just humming . . . man, it just pumps you up like you can't believe."
Speed has increased as breeders have created more powerful sled dogs. When he started over 40 years ago, "if you could run 10 miles per hour … you were the fastest thing on the trail," he says.
"Now, in this day and age, you've got to be able to run 18 to 20 miles per hour to be competitive," Palmer adds.
Palmer will be running his eight Eurohounds in the Priest Lake race. A cross between Alaskan huskies and European short-haired pointers, these canines are taller, leaner and deeper-chested than American huskies, he says.
"They added a huge amount of stamina to the racing line," Palmer says of Eurohounds. "It isn't something that you would even think that would make a good sleigh dog."
Preparing for a race takes practice and observation, often without the benefit of actually having snow. Palmer begins taking out his eight-dog team in September, once temperatures dip below 50 degrees. Using land near his Deer Park home, Palmer strings up the dogs to an ATV and gently uses the throttle to help get the dogs going at the speed they need.
During practices, Palmer may also switch the positions of his animals, trying to find the best chemistry. For an eight-dog team like Palmer's, there are two lead dogs up front, four swing dogs in the middle and a pair of wheel dogs at the back.
"Your leaders are probably your most important dogs," he says. "Every time you give a command, your lead dogs have to be capable of taking it."
The wheel dogs play a role similar to an anchor in a game of tug of war.
"The dogs right in front of the sled tend to get more pressure put on them from the sled," Palmers says of wheel dogs. "So you would tend to put your more powerful dogs there."
Perfecting your lineup and developing a rapport with them can mean the difference between winning and losing a race.
"Racing dogs is kind of like you're the coach, but you're also a member of the team," Palmer says. "If you can get in a rhythm with the dogs, you can just about add an extra dog to your team."
Once he can train in the snow, Palmer will swap out his ATV for a sled. Made of aluminum and plastic, modern sleds are able to steer around corners, and they have a bow that keeps the rider from getting in the way of the dogs.
Palmer says the rule of thumb for sprint race distances is one mile for each dog in the team, so he'll be racing eight miles in Priest Lake's February races.
At over 15 mph, Palmer and his team will enjoy the thrill of silence, the connection to nature, for not much more than half an hour.
Bob Yanecek doesn't race at Priest Lake, but he does volunteer.
"I've kind of worked my way into doing the mid-distance turn-around," he says. That is Priest Lake's sole endurance contest, where mushers and their teams traverse 20 miles of wilderness: 10 miles out, 10 miles back.
Yanecek's job is to make sure every team makes it to the halfway point and, if they need it, help teams get turned back around toward the finish line.
In warmer weather Yanecek will go skijoring — a short race where he fixes his two house dogs to a cart. "It's a skateboard, if you will, with 12-inch wheels," he says.
But keeping and training multiple dogs for sled-dog racing is too much for Yanecek, so he stays on the sidelines as a volunteer.
"It's a lifestyle, to run dogs on sleds," he says. "It's not our lifestyle to live. But it's our lifestyle to touch."
Welcome to Snowlander, Vol. IV
Here we are, well into the second month of skiing and I feel like we've seen it all — big powder, a little rain, and lots of sun. Over the holidays, I ran into many first-time visitors to this area, and my question to them is why the Northwest Rockies for their holiday break? The overwhelming response was, "This is the only region that has snow."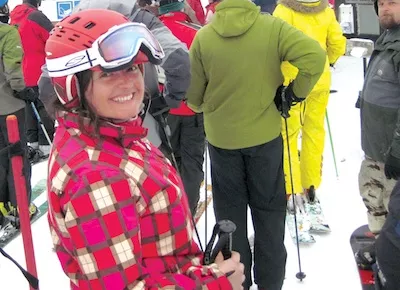 What's so beautiful about hearing that as a response was that our region has now made an impression on ski tourism that will undoubtedly be favorable over the next several years. Who knows? Instead of booking future trips to their favorite Montana, Utah or Colorado resorts, these snow travelers will remember the fond family vacation of 2011 to our local resorts and make a new tradition out of it.
It is hard to ski day after day, week after week, with no large snow accumulation. As a good friend posted as on Facebook this past Sunday, it's crazy "when you're stoked because a centimeter is making all the difference in the world." Everyone I've spoken with remains positive that the snow will come again, and they're stoked that our corner of the world is still looking a heck of a lot better than most places in regards to snow coverage and conditions.
Now with a successful holiday season in the books, area resorts are not skipping a beat. They're smoothly transitioning into the most exciting time of the year — event season. All of the local resorts have jam-packed events calendars through the remainder of the season — wife carrying, oyster feeds, torchlight and firework displays, big air shows and competitions, rail jams and a 24-hour ski race. Check out Snowlander.com or keep this Snowlander supplement for quick reference. Both of these are the best resource for a comprehensive event schedule. And all of the events are great reasons to get up to the slopes.
The positive is we still have three months of ski season, with the days getting longer all the time.
See you on the mountain!
Jen Forsyth
Snowlander Editor
jen@snowlander.com