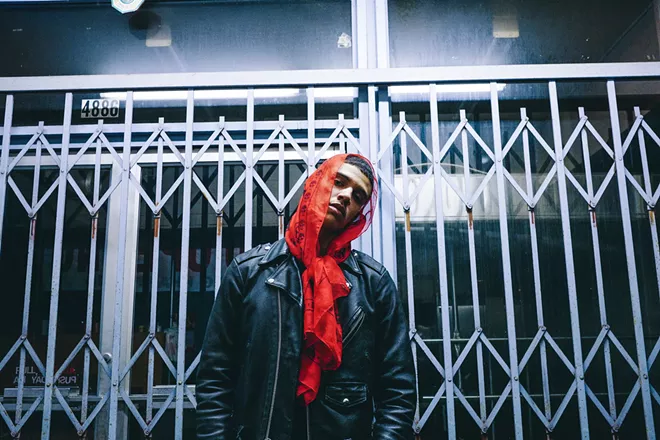 S
ince its inception
, Terrain has always been an annual, one-night-only event. That's part of what made it special: You had to wait for it. But last year, as the organization passed its first decade, it added a preview night before Terrain proper, a ticketed event that allowed you to 1) see all the art early, 2) avoid the lines and crowds and 3) meet a lot of the artists who make the event possible in the first place.
And this year, the Terrain preview has its own live music lineup, which leans toward R&B, hip-hop and soul sounds. Here's what you can look forward to hearing tomorrow night at the Jensen-Byrd Building (314 W. Riverside).
7 pm — Hoshin
This Seattle neo-soul quintet has only been around for about a year, but they're starting to make ripples in their hometown. Now they bring their smooth grooves to Spokane for the first time.
8 pm — Porter Ray
Also from Seattle, Porter Ray has been a fixture of the city's underground hip-hop scene, marrying smooth delivery with swirling electronic textures. Porter Ray's debut album
Watercolor
was released on the revered Sub Pop label last year.
9 pm — SassyBlack
SassyBlack, the
nom de plume
of Seattle singer-songwriter Catherine Harris-White, describes her sound as "psychedelic electronic soul." If that doesn't pique your interest, well... I don't know what to tell you. Existing somewhere between the futuristic experimentation of Janelle Monae and the lyrical reflection of Lauryn Hill, SassyBlack is the real deal.
10 pm — Super Sparkle
If you've been following local music in the last couple years, you know Super Sparkle already. The Spokane supergroup has become a huge draw for their brightly colored live shows that employ synchronized dancing and — yes — plenty of sparkle. There's a reason they're closing the night out: You won't be able to stop moving when they start playing.
Tickets for the event are just $25; they're available
here
. Get more information, including the live music lineup, on Friday's free Terrain event
here
.