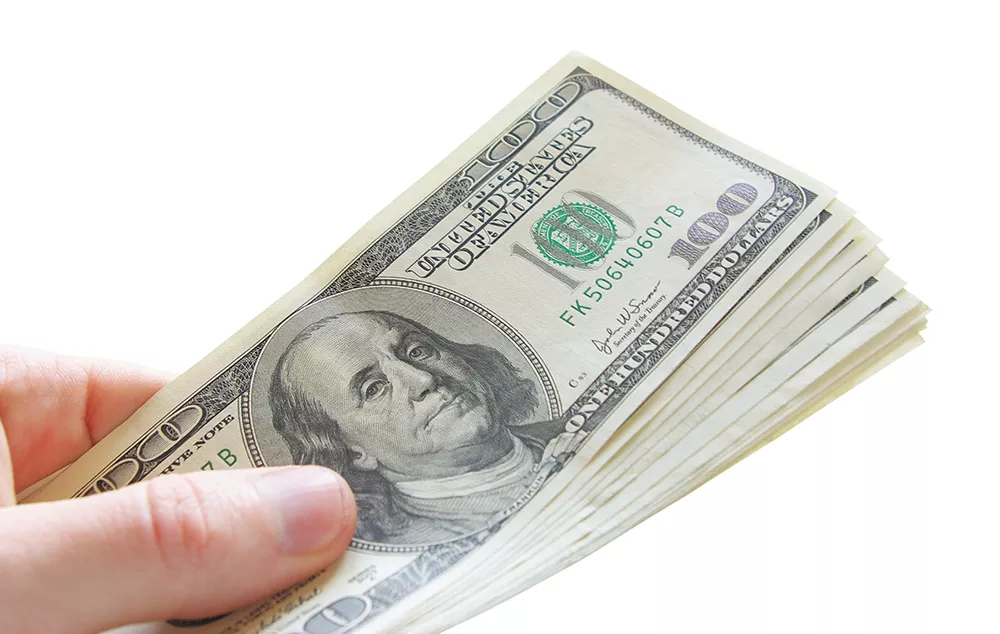 Whether on the street or at a store, one thing hasn't changed when it comes to buying weed.
You'll need some cash.
Since pot remains federally illegal, large banks like Wells Fargo and Bank of America, or credit card companies like Visa and MasterCard, still adhere to federal laws and stay out of marijuana transactions. That means recreational marijuana in states that have legalized the drug is largely a cash-driven industry.
"We don't have a credit/debit transaction carrier that will allow customers to use cards in the store," says Todd Bennatt, owner of Spokane Green Leaf. "It's just the nature of the business."
This presents a problem for marijuana retailers.
Currently, most businesses have open bank accounts with local credit unions. The Washington State Liquor and Cannabis Board reports that more than 80 percent of licensees pay excise taxes through means other than cash, and as of July 1, all excise taxes must be paid by means other than cash.
Numerica Credit Union, which has led the way in working with pot growers and processors, has more than 150 accounts with marijuana companies, all in Eastern Washington. It still wasn't until the end of 2015 that Numerica started serving retailers, says spokeswoman Kelli Hawkins. A few other credit unions in the state have followed.
"We honestly felt very strongly that it was important to the security of the community," Hawkins says.
While this has cut down on the amount of cash floating around, the fact that transactions still must be cash-only is a safety issue, says Robert McVay, an attorney for Canna Law Group, which he says represents anyone involved in the pot industry in Washington. In order for that to change, big banks will have to get involved.
Last month, the Senate Appropriations Committee passed an amendment to stop regulators from prohibiting, penalizing or discouraging banks from offering services to cannabis businesses if they're operating legally under state law. It would have put into law the current policy that the Department of Justice has in place. If passed, the amendment would have brought bigger banking, more access and likely Visa and MasterCard into the fold, so there would be less cash moving around, McVay says. But the House Rules Committee blocked a vote on that amendment.
The consequences of having too much cash in store can be deadly. In Colorado just weeks ago, a 24-year-old named Travis Mason was shot and killed while working as a security guard during an armed robbery at a pot shop.
"Even if it's in a safe, even with safety procedures, burglars know that retailers have large amounts of cash in store," McVay says.
Without a change to federal law, some pot shops have experimented with other ways to cut down on the cash used in-store.
The Top Shelf dispensary in Airway Heights, for example, freely advertises that it accepts credit cards, but the store manager says she can't give any information as to how the store is able to do that, though she insists it's perfectly legal.
There's also another company called PayQwick, which lets people pay for cannabis with a PayQwick card or with a smartphone app instead of cash. Kenneth Berke, PayQwick CEO and cofounder, describes it as "PayPal for pot."
Berke, a former attorney, says he started the company because he thought it would provide a safer option for marijuana businesses.
"We saw the need in this industry, and said, 'Let's figure out a way to serve this need.'" ♦
---
TERMINOLOGY
Why more and more people are calling it "cannabis"
You probably call it "pot" or "weed." You likely only use "marijuana" when discussing it in a more formal or legal sense. Right?
Well, you may have noticed that there's a movement away from "marijuana," as both growers and retailers brand their product as "cannabis." It's hard to argue with that move, considering the actual name of the plant in question is technically cannabis.
"This is certainly a conversation within the industry and the [legalization] movement," says Taylor West, deputy director of the National Cannabis Industry Association, a national trade organization that works to promote and legitimize the legal cannabis industry.
"Overall, we prefer to use the term cannabis, both because it's more scientific and because it doesn't carry the history of the word 'marijuana,'" she says.
The history she's talking about was an effort in the 1930s by Harry Anslinger, the first man to serve as the commissioner of the Federal Bureau of Narcotics, to associate cannabis with immigrants and minorities as he lobbied to make marijuana illegal on the federal level. Many of his sensationalized stories which fueled the reefer madness that helped make the drug illegal by 1937 included explicitly racist anecdotes.
The term "marijuana" — or "marihuana" as it was often spelled in those days — was an effort, many have argued, to make the drug sound foreign, as opposed to the more clinical "cannabis."
West says that she still uses "marijuana" from time to time, but consciously leans toward "cannabis" without adding any confusion to a nascent industry.
"We want to be sure that we're not confusing people, but we have a preference when you're talking about a business that's legitimate and scientific," says West.
— MIKE BOOKEY