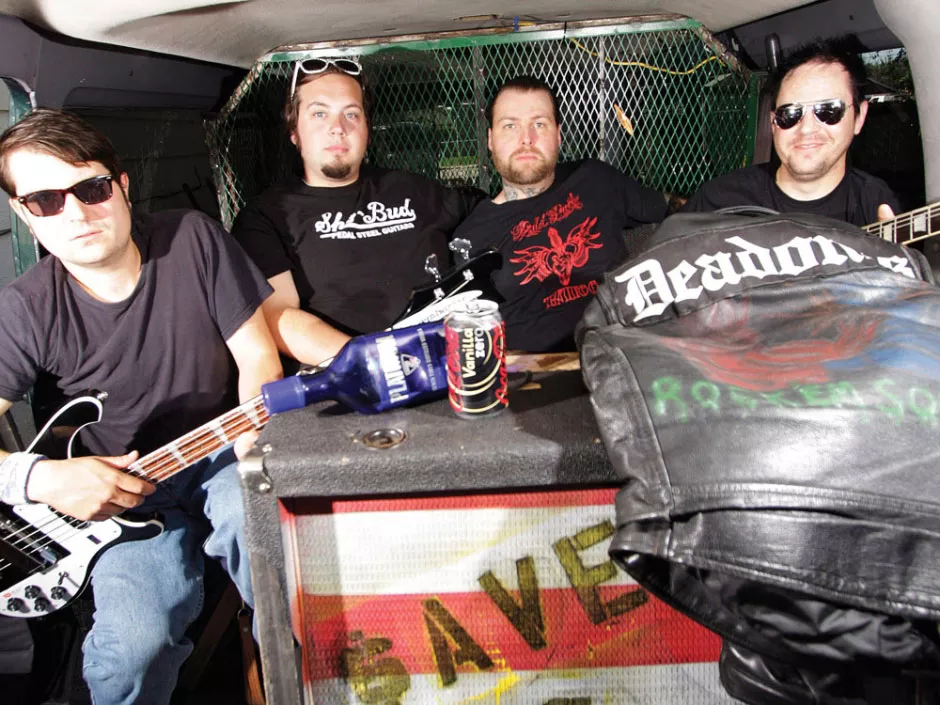 Nine years is a long-ass time for a local punk band to stick around, considering the average life expectancy of any band — punk or otherwise — seems to hover around a year or two.
"We've seen tenfold bands come and go," says Deadones USA singer/ guitarist Tyler Arnold. "It's tough to keep a band together. … It's hard enough just to keep a drummer."
But despite the odds (and the name), the Deadones are far from dead. Over their nine years, they've played hundreds of shows and become an ever-present institution in the Spokane music scene. And the best part is, during the past nine years, they've also become really effing good. They are legit hometown punk heroes — a band who has gotten their shit together enough to really make a splash here.
In the last year, they've played shows with noteworthy punk legends such as MDC and GBH. Friday will mark the release of their second full-length album, Hell Comes for Free (the band's first full-length in six years), and next week they'll be embarking on a 17-day, 3,000-mile tour down the western states (the first tour outside of brief tri-state jaunts in four years).
Despite the band's Spinal Tap-ish history with drummers, the Deadones began solidifying in 2003, with the addition of Jeremy Johnson on guitar and Dan Burns on bass the year after. Around this time, they added USA to their name to avoid confusion with a Swedish metal band of the same name. Drummer Dustin O'Brien joined up two years ago and has since settled into a permanent fixture.
With a steady lineup, the band's been able to tighten their sound, miles ahead of the loud, fast and sloppy (though still fun) Deadones I remember from when I first moved here seven years ago.
"Punk has evolved. The standards are higher now," says Arnold. "No one is going to take you seriously unless you play well."
The Deadones truly seem to take this to heart — they spent three times as much studio time crafting their new album as they did on their last one and wrote material they knew would push their limits.
"We'd stop and think, 'Are we good enough to play these?'" recalls Burns.
The effort was worth it: Hell Comes for Free is a tidy package of ballsy rock and roll with the anthemic drive of old-school punk that plows from track to track with unflinching energy and fervor. It is neither preachy nor juvenile. It is simply meant to kick you in the teeth.
"We knew from day one there'd be no money, no fame, no girls," says Johnson.
Basically, they do it for the hell of it — for the love of the music, the band and, of course, Spokane.
"We'll keep playing until we can't physically play anymore," says Arnold. Because when it comes down to it, Deadones USA is too stubborn to die.
Deadones USA play with RFE, HotBox, They're Watching, The Aunes and Collateral Damage at the Cretin Hop on Saturday, Aug. 21, at 6:30 pm. Tickets: $5 - $7. All-ages. Call 327-7195.