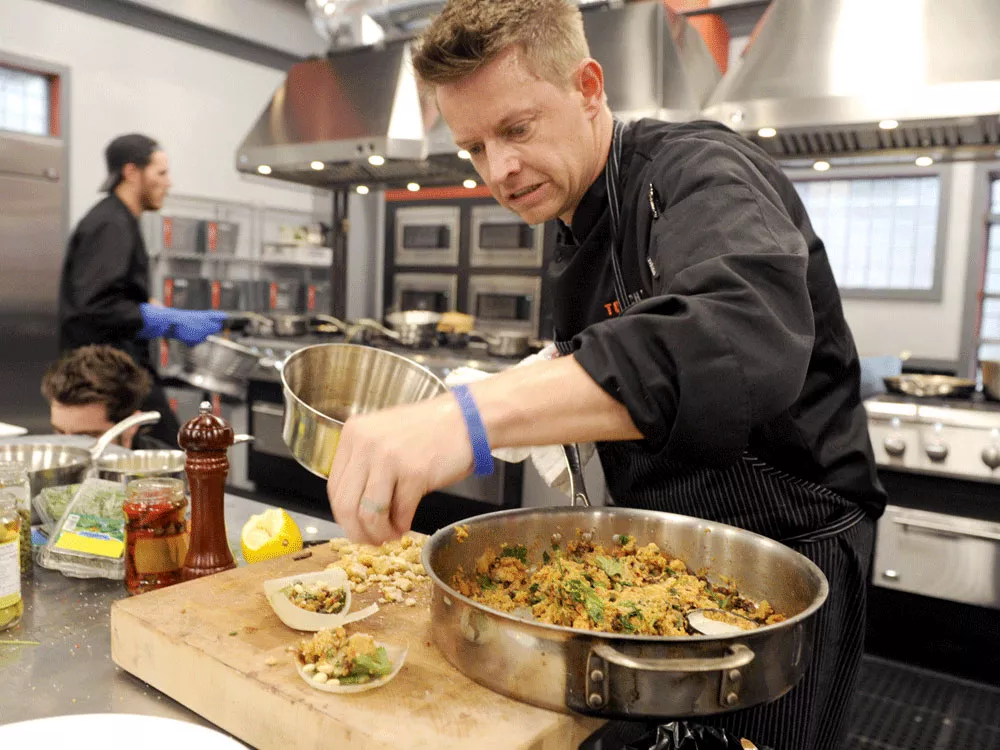 After seven years, it had become all too predictable: "And the winner for Outstanding Reality-Competition Program," the Emmy presenter sighs, "is ... Amazing Race." But this year, the Amazing Race behemoth was defeated by Top Chef, partly thanks to last year's riveting season, which ended with red-bearded, pork-loving Kevin Gillespie (briefly the executive chef at Luna in Spokane) pitted against the slick young Voltaggio brothers. Down-home, Southern-style cookin' challenged expensive, hyper-techno- logical molecular gastronomy (and lost).
It's easy to see why those who study culinary innovation or worship celebrity chefs would be drawn to Top Chef. But my cooking knowledge is limited to selecting the correct Quaker instant oatmeal flavor (don't look past the understated notes of "Bananas and Cream"). And I'm still addicted.
Here's why: By now, reality television has evolved all sorts of tricks to transmute documentary into entertainment. Quirky characters with funky accents and we-aren't-here-to-make-friends attitudes. Editing that zooms breathlessly and cuts and crescendos like a movie trailer. Judges armed with brutal zingers. Bombastic music that seems to imply the fate of all Middle Earth depends on one fashion show. These are the spices that give much of reality TV its fire.
But Top Chef subdues those flavors to create subtler blends. With the enormous volume of material each episode has to get through — a "quick- fire" competition, an elimination challenge, and the selection of a loser and winner — interpersonal drama is consigned to background ambience. Similarly, the specific boundaries of the tasks stop the broader personali- ties from dominating the show. The judges offer critiques that zing, yes, but they're also specific, constructive and understandable for Joe Top Ramen watching from home. Of course, any reality show is still dependent on a great cast. Since this season is an all-stars compilation, the cast is stacked with interesting personalities and talented chefs.
Knowledge of past seasons only heightens the drama. A challenge in which chefs must cook for kids sleeping over in the Museum of Natural History ends with Jen Carroll (one of the most professional chefs from Kevin Gillespie's season) losing her temper and blasting the judges for finding fault with her pork-and-egg breakfast dish. In other words: fantas- tic television.
Like the classic Top Chef challenge in which contestants turn vending machine food into mouth-watering masterpieces, Top Chef turns reality junk into something elegant and classy.
Top Chef: All Stars (Bravo, Wednesdays, 10 pm)
---
TIVO-WORTHY
Million Dollar Money Drop
Remember when Who Wants to Be A Millionaire became a massive freak-hit in the summer of 1999? Fox sure does. This is a direct lights/camera/music rip off of Millionaire, right down to having the word Million in the title. But instead of gaining money, contestants start with $1 million, and then — when they bet their money on incorrect answers — watch it drop forever agonizingly away. We watch game shows not to see people win, but for the schadenfreude of seeing people lose. We knew the answer. We could have taken home the full million. (Fox, Mondays, 8 pm)
Doctor Who Christmas Special
Come see a story about the cranky old chap, what with his bah-humbugging Christmas hatred. Until the night of one foggy Christmas eve, when he is visited by a quirky bow-tied Time Lord in a little blue time-traveling police box to teach him the real meaning of Christmas. (BBC America, Dec. 25, 9 pm)
A Christmas Story Marathon
Maybe your mother didn't let you watch A Christmas Story when you were young. Maybe she felt that leg lamp was a bit too lascivious for adolescent eyes. But this Christmas, you'll have another chance to catch it. And then another. And then 10 more chances after that. (TBS, begins Dec. 24 at 8 pm)