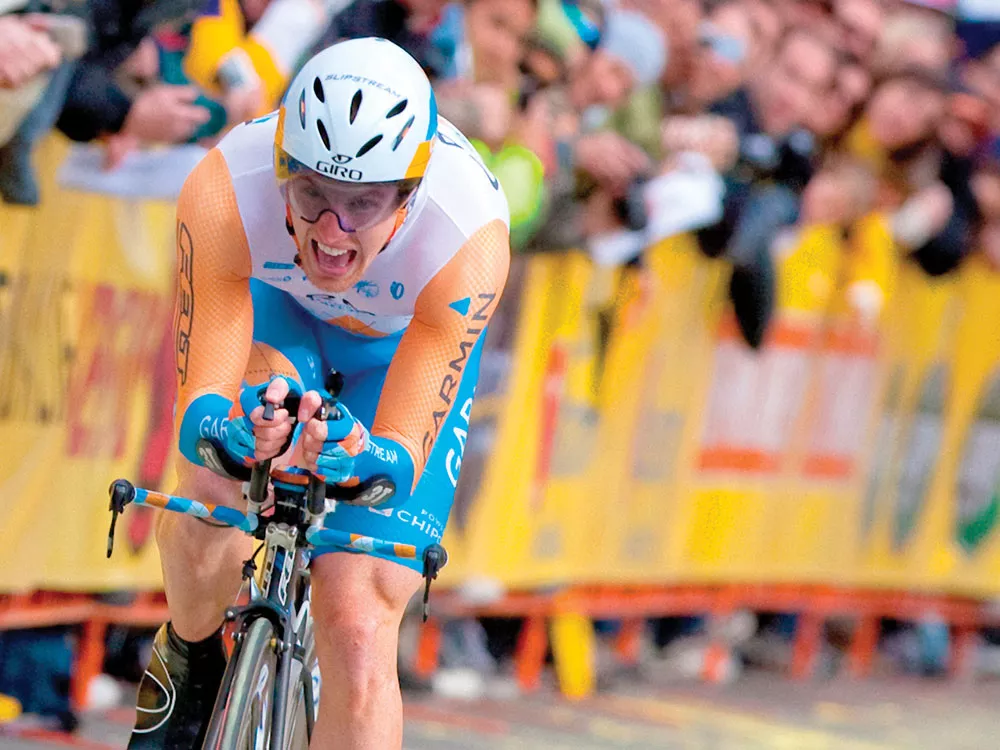 FARRAR FEVER

Much of the focus in this year's Tour de France has been between bitter rivals Alberto Contador (arguably the best bike rider in the world today) and Lance Armstrong, who came out of retirement last year and is calling this his last Tour. For reals this time.
But since Saturday's opening prologue, we've been following a different rivalry on Inlander.com — that between nearly unbeatable sprinter Mark Cavendish and Wenatchee native Tyler Farrar. The two duked it out at last year's race, but Farrar was never able to win at the line. This year could be different, though. Farrar has won 12 different races this season, including two stages at the legendary Giro d'Italia.
As of press time for this paper, however, the rivalry hadn't gotten a chance to bloom yet. The early stages of this year's Tour — which should have been ideal for sprint finishes — were marred by crashes, including one on Monday that resulted in a sprained elbow and a possible wrist fracture for Farrar. The Wenatchee Wonder was back on his bike (albeit heavily bandaged) on Tuesday, with a sprint finish expected for Wednesday, but progress could be painful.
Follow Farrar over on Bloglander. (Joel Smith)
BALLOT BOUND
No matter how high it polled, no matter how much they want it, Washington voters will not get a chance to legalize marijuana this year. Without the help of paid signature gatherers, Initiative 1068 fell more than 40,000 signatures short of the required number.
But others fared better.
It's likely we will have six initiatives on this year's ballot.
Initiatives establishing an income tax (1098), repealing the candy tax (1107), allowing private insurers to offer worker's compensation insurance (1082) and requiring a full two-thirds of the Legislature for tax hikes (1053) all turned in more than 300,000 signatures to the Secretary of State by the July 2 deadline.
While 241,153 signatures are needed to get on the ballot, it's best to have a sizable buffer due to the number of signatures typically declared invalid.
Oddly enough, there will likely be two contradictory privatizing-liquor sales initiatives on the ballot. One, Initiative 1100 sponsored by Costco, would stop the state government from selling liquor, allowing any licensed store (like, say, Costco) to sell it instead. Simultaneously, Initiative 1105 also turned in more than 300,000 signatures. That initiative, sponsored by liquor distributors, also privatizes the liquor industry, but still allows the state to set price controls. (Daniel Walters)