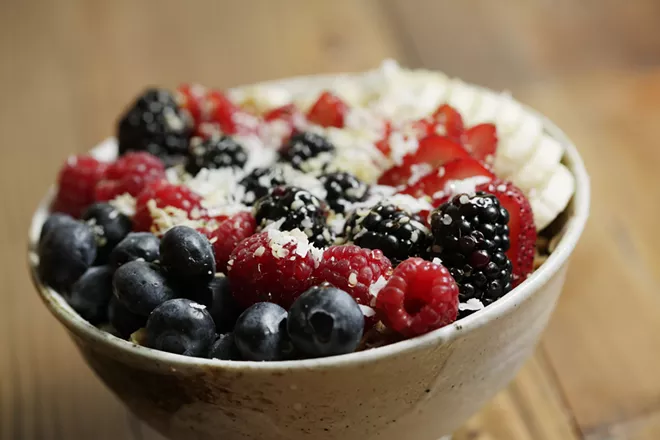 With their eye-catching, deep violet hue, chilly temperature and nearly limitless topping choices, açaí bowls are one of the hottest long-lasting trends to hit the menus of juice, smoothie and other health-centric cafes around the U.S. in the past decade.
Touted for having numerous good-for-you attributes, açaí (pronounced "ah-SIGH-ee") bowls are antioxidant and fiber-rich, made with all-natural and whole-food ingredients; mainly fruits, veggies, nuts and grains. They're also colorful, refreshing and an often filling treat that can be enjoyed as a meal any time of day.
With a mix of sweet, tart, chocolatey and earthy flavors, the açaí berry, a fruit native to South America, can be paired with everything from kale to peanut butter, bananas to avocados, other berries and beyond. They're as versatile, if not more so, as their blended smoothie counterparts consumed via straw, but with much more texture, thanks to the addition of toppings like granola, nuts, shaved coconut, sliced fruit and seeds sprinkled atop the blended base of frozen açaí.
Most berry blend bowls you'll find on local menus are made from a frozen açaí puree. The berries themselves come from the açaí palm, native to the Amazon floodplains and swamps of Brazil and northern South America. The açaí's seeds, which make up the bulk of the grape-sized berry's bulk, are removed after harvest and the remaining pulp is crushed into a deep red-purple mixture that's then frozen into portion-sized packets to distribute to juice bars across the U.S. (Other processes are used to freeze-dry the berry into a powdered form, though most juice bars prefer the frozen purée.)
Whether you love açaí smoothie bowls for their nutty-meets-sweet-tart flavor or the inclusion of whole fruits, veggies, nuts and other plant-based ingredients — or maybe you're unaware of the trend — it can be hard to sort out the wide range of claims that have surrounded the berry and its purported benefits over the past decade (including massive scams that sold açaí supplements as a weight-loss and disease-curing miracle product touted by celebrities).
While açaí isn't actually a weight-loss miracle berry, eating fresh whole fruits and vegetables — whether in a salad, blended into a smoothie or in an açaí bowl — is a great way to add those needed nutrients and fiber to your diet, says Spokane registered dietitian and nutritionist Korrin Fotheringham.
The key to açaí, she says, is balance.
WHERE TO TRY IT:
Method Juice Cafe
7704 N. Division St.
718 W. Riverside Ave.
Downtown and North Spokane
Wellness Bar
312 N. Fourth St., Coeur d'Alene
8110 N. Government Way, Hayden
900 N. Highway 41, Post Falls
North Idaho
Liberty Lake Juice Co.
1334 N. Liberty Lake Rd., Liberty Lake
The Wellness Tree
1025 S. Perry St., South Perry
Remedy
3809 S. Grand Blvd., South Hill
The Well Coffeehouse Pub & Eatery
21980 E. Country Vista Dr., Liberty Lake
facebook.com/libertylakecoffee
City Beach Organics
117 N. First Ave., Sandpoint
facebook.com/citybeachorganics
Grabbagreen
405 W. Neider Ave., Suite 108, Coeur d'Alene
Main Street Squeeze Juice & Smoothie
540 E. Main St., Pullman
Palouse Juice
509 S. Main St., Moscow