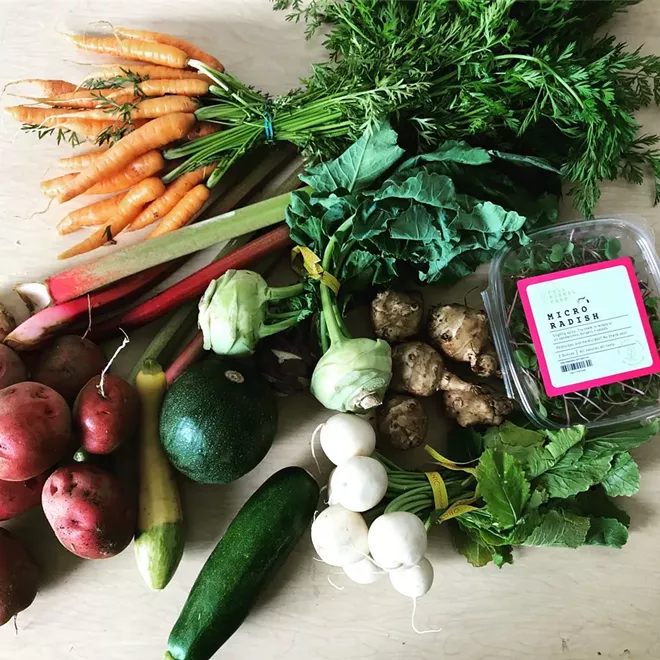 C
ommunity Supported Agriculture (CSA)
is a win-win, providing steady income for farmers and helping them know in advance what and how much to produce. Participants get fresh, local, even organic produce throughout the growing season, as well as specialty items, like meat protein and farm-made goods. Here are some options to help you start your own farm-to-table movement.
LINC Foods
The LINC Box offers six pickup locations — Airway Heights, Cheney, Gonzaga University, Liberty Lake, North Spokane and Coeur d'Alene, Idaho — for 21 weeks and includes a recipe specially prepared by Pantry Fuel, a Spokane-based meal delivery service. Add eggs, artisan bread, coffee and other items for an additional weekly fee.
incfoods.com/lincbox • 990-4247 • weekly $50/full, $25/partial
Rocky Ridge Ranch
Choose from three, 12-week growing seasons — spring, summer, fall — to receive produce and eggs pre-packed into a cooler you swap out weekly at a convenient location on Spokane's South Hill. Pay weekly or in advance, including for the variety of meat package ($1,000/full).
rockyridgeranchspokane.com • 953-0905 • Produce & eggs, annually: $500/full, $250/partial (plus member fee)
Tolstoy Farms
Tolstoy Farms is certified organic with 20+ years offering CSAs from their long-running cooperative farm in Davenport. They deliver within town and trek to Spokane Farmers' Market on Wednesdays and Saturdays, both to sell direct and drop off orders.
tolstoyfarms.org • 725-3276 • Annual $650/full, $400/partial; winter produce add $250
Urban Eden
Spokane residents can't get much more local than Urban Eden Farm, located in the Vinegar Flats neighborhood — in between Latah Creek and the South Hill — which is where boxes of organic produce await CSA participants from June through October.
urbanedenfarm.com • 953-7863 • Annual $380/full, $250/partial