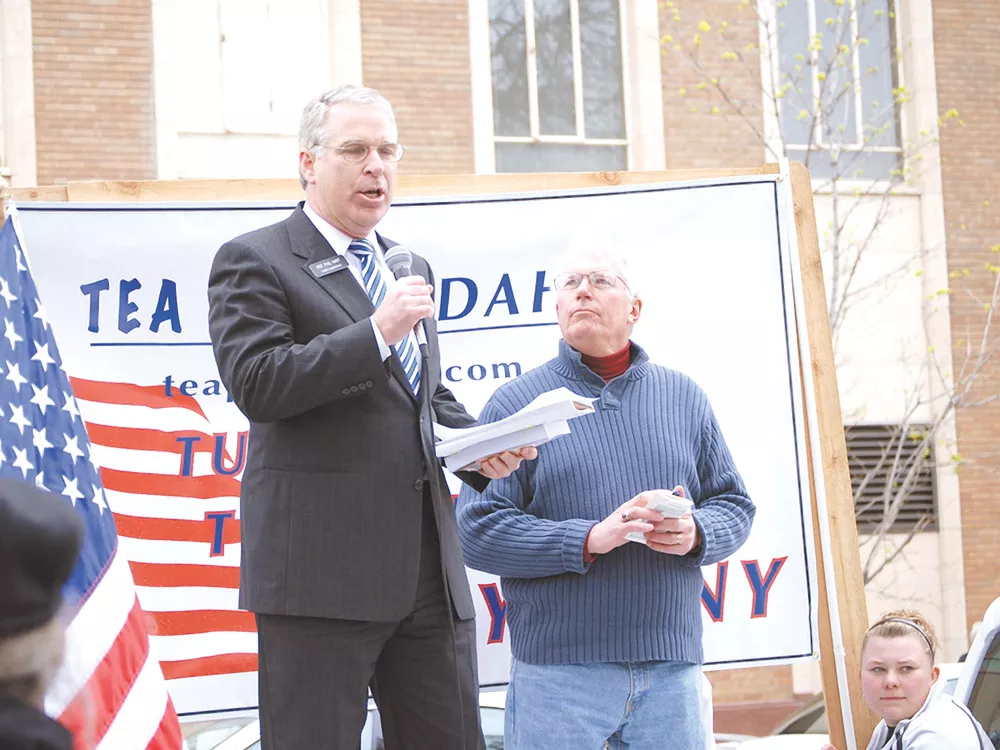 The city of Hayden, Idaho, doesn't look like much from U.S. Highway 95 — nothing more than the northern-most appendage of a sprawling strip that has become the Spokane-Coeur d'Alene corridor.
Make an eastbound turn off the highway, however, and you're soon tooling past posh suburban developments with street names like Stratford Drive, Whispering Pines Road and Canticleer Court (the entrance to which is guarded by two huge copper-looking roosters). McMansions abound as Hayden turns into the City of Hayden Lake, which is dominated by the Avondale Gold Club and Hayden Lake Country Club.
This is Phil Hart country. With an official population of just over 9,000 residents, Hayden is the biggest city in Idaho's recently redrawn Legislative District 2 and, while Rep. Hart lives in nearby Athol, Idaho, it's in Hayden that he has to lock up enough votes to hold onto his seat for a fifth term.
It may be the Republican lawmaker's biggest challenge yet. While his staunch libertarian and "Constitutional" stances have made him a hero of the GOP's fed-bashing right wing, Hart's political baggage has weighed him down.
First there was the messy business of Hart's theft of state-owned timber back in 1996, and then the matter of his procedural wrangling to get out of paying more than $500,000 in back income taxes and fines. Though Hart maintains that his refusal to pay up is a stance against what he considers un-constitutional taxation, both issues resulted in ethics hearings in 2010 that led to his being booted off the Revenue and Taxation Committee.
Now, with the U.S. District Court's ruling that legislative immunity won't protect Hart from paying the piper, the bad (and weird) news keeps piling up. On April 2, Hart found himself in the middle of a crime scene when he was awakened by sheriff's deputies while sleeping in his car at a Latah County rest area where a 28-year-old Princeton woman was shot by an apparent stalker. Hart was not involved and slept through the incident.
Bedeviled by so much drama, Hart's former image as a Samuel Adams-style anti-federalist firebrand is for many voters morphing into something of a Don Quixote character.
Indeed, though Hayden may be Hart country, it's hard to tell during a pre-primary drive around town. On some streets every third house boasts a Ron Paul for President yard sign. The Kootenai County Sheriff's race is also well represented, but notably absent are Phil Hart materials. His challenger, Democrat Dan English, meanwhile, looks to be getting his message out.
English, a much-respected former Hayden city councilman, is a professional counselor and also served as Kootenai County clerk and a member of the local school board. Politics watchers are beginning to suggest that this election may be the first in 18 years where a Democrat has a shot in the district.
But English isn't the only contender for Hart's seat. Ed Morse, a real estate appraiser; former Republican Rep. Ron Vieselmeyer; and local firefighter Fritz Wiedenhoff have also thrown their hats in the ring to challenge Hart in the Idaho GOP primary, which will take place in May.
That is far heftier competition than Hart is used to. First elected in 2004, Hart handily defeated incumbent Wayne Meyer with more than 60 percent of the vote, and proceeded to beat him again in 2006. In 2008, Hart was again elected with an overwhelming majority (70 percent) and in 2010 ran unopposed.
Hart did not return several phones messages left with his campaign this week.
What's more, Hart is also among the targets of a newly created group of prominent Republicans seeking "reasonable" GOP candidates.
Calling itself the North Idaho Political Action Committee, the group includes area business leaders, former Larry Craig aide Sandy Patano, past Kootenai County Republican chairman Brad Corkill and Vaughan Ward, who unsuccessfully challenged U.S. Sen. Mike Crapo in 2010.
With a stated aim of unseating "agenda-driven" candidates, the PAC has made no secret of its desire to oust lawmakers like Hart from the Republican establishment — in fact, the group formally endorsed Morse for Hart's seat on April 5.
Hart's biggest political liability among many voters may be that his agenda seems to be himself — at least that's the temperature of much public discussion, including comments on the Coeur d'Alene Press website, where opinions seem split. One camp maintains that Hart remains an anti-tax crusader. The other holds the view that Hart was a hero for fighting the good libertarian fight against unfair taxation, but when the fight became one of financial self-preservation, he lost the moral high ground.
As one commenter put it: "As I understand it, the initial court cases were about whether income tax was legal (Hart standing up for everyone else). Unfortunately for him, the 'I wrote a book about it so I must be right' defense turned out to be as invalid as the 'Some guy in a truck told me I could cut it down' defense. These latest cases are about what level of tax Hart has to pay. It has nothing do with any others' liability, this time it's personal. Time to pay up."