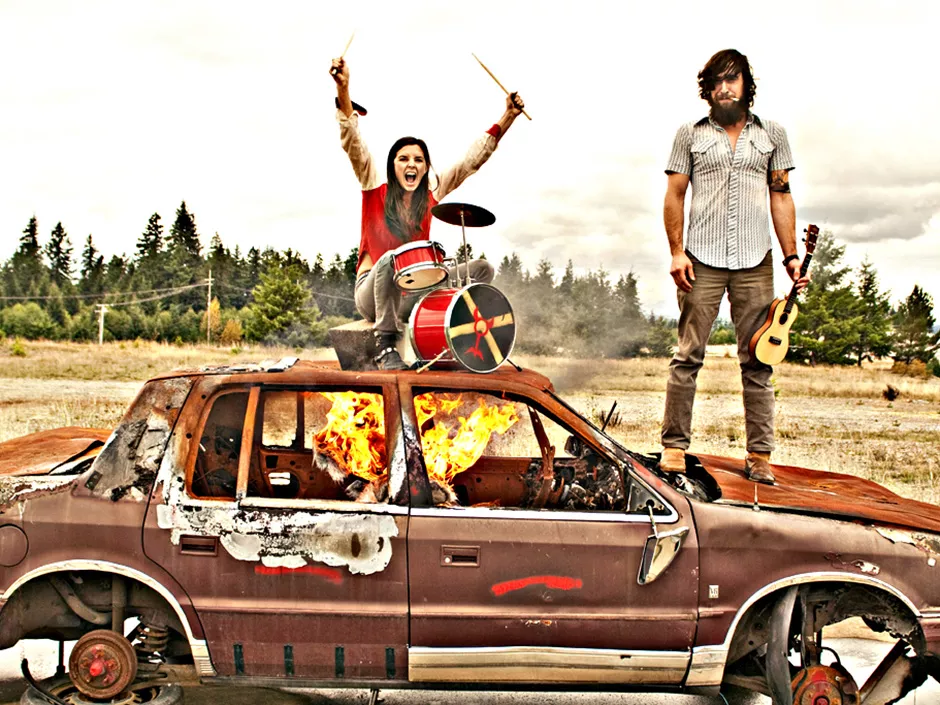 Before the music even had a name, men strummed guitars and sang about the peril of broken hearts. A little over a hundred years ago, that sound became known as the blues.
It's the music of melancholy and disappointment, of hands being thrown up in the air — the songs that are sung right before giving up. And it's always been associated closely with place: "Dallas Blues" was the first blues song to be printed on sheet music in 1912, and soon many other location-centric blues songs — "The Memphis Blues," "St. Louis Blues" — followed.
Over time, the swampy sound that became a defining characteristic of the southern U.S. slowly migrated north — to Chicago, Detroit, the big cities dotting both coasts. Blues was a chameleon: a genre that had defining characteristics, but took on the look and feel of the place where it had been adopted. In New Orleans, blues blended with the zydeco music that echoed down Bourbon Street. In Mississippi, blues took on the slide guitar.
So it's no wonder that bands like The Grizzled Mighty exist in the Northwest. The Seattle two-piece is thick and heavy, playing a fuzzed-out, aggressive rock 'n' roll — the kind of music that has become just as much of a defining characteristic of the Emerald City as blues is to the South. But the band — comprised of Spokane native Ryan Granger and Southern expat Whitney Petty — admits that though they couldn't be further from the Mississippi Delta, the music they make is their version of the blues.
"I love the blues. I love the sound, I love the honesty and the simplicity. I think just after listening to it so often, I start to emulate the aspects that I like of the blues," says Granger, the band's singer and guitarist. "I'm not a traditionalist in any sense, but I do take note of what they are doing, and how to apply it to what I am doing."
Petty, the drummer, agrees. "I come from a long line of Southerners. I feel a certain sense of pride in playing the blues, and in infusing it with the raw power of rock drumming," she says. "When I listen to Buddy Guy, and Elmore James, and Junior Kimbrough, that music just does something to me. [It] makes me feel like I just want to laugh or cry or scream or just rock."
You get that sense listening to the band's February release Thick Hand Grip — an album that seems to be divided equally between serious blues and heavy rock. From the start, there's the characteristic rock crunch that once gave weight to Seattle bands like Mudhoney and Nirvana. On "Midnight Sun," Granger's guitar fuzzes out so loudly that it sounds like a rocket ship lifting off, while Petty stomps on her bass drum pedal. But it's when Granger sings that the blues arrives. At the mic he hums and croons, lyrics sounding like they've just fallen out of the pages of his diary. He begs under his breath, "You got to save me, save me/Cause I can't save my soul," before launching into a shrieking guitar solo.
"I don't think I have ever written a love song … or really a song about being happy," Granger says. "I guess that's why I relate to the blues. I can't write a feel-good song without feeling cheesy, but something that I'm angry or upset about, if I don't get it out, it eats at me. I used to get in fights when I was upset. Now I play music."
You get the sense that occasionally Granger and Petty are actually fighting with their instruments. Petty's drumming is a full-on attack on her kit, as she throws her hair around and slams her cymbals. Granger's vocals yelp and growl like a dog caught in a fight.
"They way we play is the way I always wanted to play," Granger says. "It took a little time to get comfortable, but I always kinda knew this is what we needed. We both just need to let it go and let the hair fly. We have this aggression that needs to be let out. Performing is our outlet."
"That animal rage is always in there," Petty adds. "We just bring it out of one another."
The Grizzled Mighty's rage-filled rock, mixed with lyrics of despair and hopelessness, might be the most quintessential fusion of blues melding with the sound of the Northwest. And the band says at their shows, they've noticed a renewed excitement from audiences for good, solid rock music — as if it took just a little blues to get Seattle to remember its own roots.
"Seattle has a long history of rock. It went dormant for a while, but it's back," Granger says. "People got tired of only shoegazing for a few years, and now want to get sweaty."
The Grizzled Mighty with the Maldives, the Blakes and Marshall McLean Band • Thu, June 27 at 8 pm • nYne Bar & Bistro • 232 W. Sprague Ave. • $7 • 21+ • 474-1621