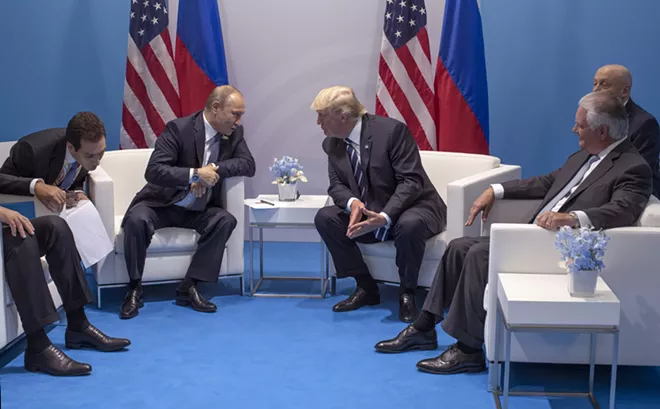 By JULIE HIRSCHFELD DAVIS and GLENN THRUSH
© 2017 New York Times News Service
HAMBURG, Germany — In a major shift, President Donald Trump pressed President Vladimir Putin of Russia on his country's meddling in the 2016 election, Secretary of State Rex Tillerson told reporters after a long meeting between the two leaders at the Group of 20 summit Friday.

"He began by raising the concern of the American people of Russian interference in the 2016 election," Tillerson said of Trump. "He pressed him more than once."
As recently as Thursday, Trump conceded that Russia might have had some role in trying to sway the election on his behalf, but he also left open the possibility that other countries had taken similar actions.
Putin denied "such involvement," Tillerson added. He said U.S. officials would continue to discuss a "framework" for an agreement for Putin to vow to avoid such actions in the future.
Tillerson was less than sanguine about the prospects of ever getting Russia to acknowledge meddling.
"It may be simply an intractable disagreement at this point," he said.
Trump had a long discussion with Putin about
cybersecurity
, the Russian leader told reporters later as he prepared for a meeting with Japan's Prime Minister Shinzo Abe, according to Sputnik, a media outlet closely allied to Putin.
The United States and Russia have also agreed to a cease-fire in a limited area of southwestern Syria beginning Sunday, a senior Trump administration official said Friday after the first face-to-face meeting between Trump and Putin.
The move would be the latest effort by U.S. and Russian officials to resolve the conflict in Syria and facilitate an agreement to end the six-year civil war there.
Trump administration officials had said that Trump and Putin would discuss the idea of partnering to establish "safe zones" in Syria as part of his efforts to usher in a new era of cooperation with Moscow.
The news was first reported by The Associated Press and confirmed by a senior administration official, speaking on the condition of anonymity because the agreement had not been officially announced.