ON INLANDER.COM

NEWS:
Holy wolf balls Batman! What has Rep. Matt Shea got himself into this time! Staff writer Daniel Walters has this:
"Rep. Shea's Secret Group Discussed Sending Severed Wolf Tail and Testicles to Environmental Activist."


NATION:
Denver is considering decriminalizing shrooms
. However, early polls show the initiative losing.
NATION:
President Donald Trump
asserted executive privilege today
in an effort to shield hidden portions of Robert Mueller's unredacted report and the evidence he collected from Congress.
MUSIC:
Led Zeppelin's Robert Plant is
coming to Spokane
on Sept. 29.
IN OTHER NEWS...

Trade war trouble

Trump's trade war has
Republicans worried about 2020
. (
Washington Post
)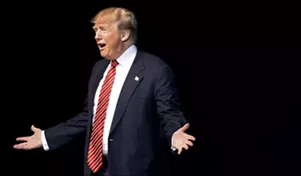 He lost. A lot.
The author of
The Art of the Deal
spent a decade in the red
, a
New York Times
investigation reveals.
1 dead so far at Colorado school
One student is reported dead and eight injured after a shooting in Colorado
. Two suspects are in custody. (
Denver Post
)