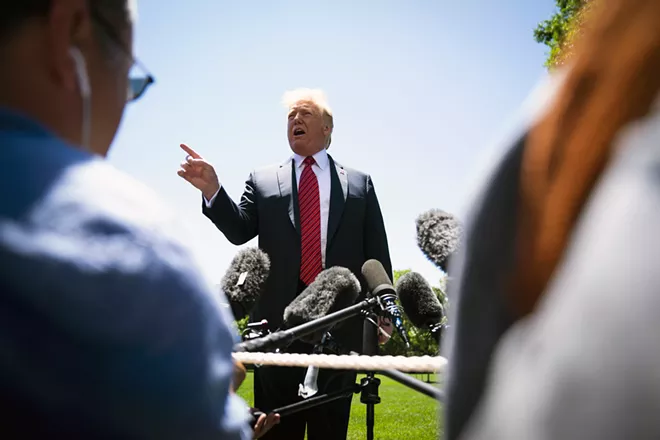 By Jonathan Martin, Katie Rogers and Maggie Haberman
The New York Times Company
W
ASHINGTON —
President Donald Trump on Monday lashed out at governors for their response to the violence roiling the country, calling protesters "terrorists," demanding "retribution" and warning the governors they would look like "jerks" if they did not send them to "jail for long periods of time."
"You have to dominate," Trump told the governors. If they failed to take a strong hand, he said, the protesters were "going to run over you; you're going to look like a bunch of jerks." In blunt remarks rarely heard from an American president, he prodded the chief executives not to be "too careful."
"Someone throwing a rock is like shooting a gun," Trump told them. "You have to do retribution."
The tirade, delivered on a private conference call and captured on audio obtained by The New York Times, showed the depth of Trump's anger over protests and riots that have bubbled up in more than 100 U.S. cities after the death of a black man under the knee of a white police officer in Minneapolis.
Taking over a call that was supposed to feature Vice President Mike Pence, who has been praised in his efforts to forge relationships with governors during the coronavirus pandemic, Trump said Minnesota had become "a laughingstock all over the world."
In a briefing with reporters after the call, Minnesota Gov. Tim Walz said that after the president's laughingstock comment, Trump called on him to speak. Walz said he thanked the president and defense secretary for their support but disagreed with his assessment.
"I said, 'no one is laughing here,'" Walz said. "We're in pain; we're crying. We saw a man lose his life."
Gov. J.B. Pritzker of Illinois confronted the president over what he called Trump's "inflammatory" language."We have to call for calm," said Pritzker, whose state was hit with a wave of looting over the weekend. "The rhetoric that's coming out of the White House is making it worse," he added.
Trump, who has not formally addressed the nation since the unrest began, said he was putting Gen. Mark A. Milley, chairman of the Joint Chiefs of Staff, "in charge" but did not immediately specify what that meant or if he would deploy the military to quell the violence in the nation's cities.