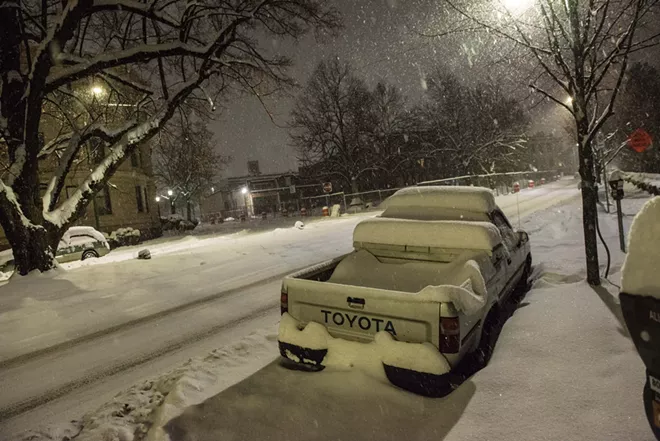 ON INLANDER.COM
NEWS:
The school resource officer with a long record of use-of-force complaints is being paid
$10,000 for resigning
.
LOVE:
For Valentine's Day, I talked to
Why Liberalism Failed
author Patrick Deneen about why liberalism
failed love
.
IN OTHER NEWS
Scammers in Slammers
A former Greater Spokane County
Meals on Wheels
bookkeeper faces fraud charges for allegedly spending funds that were meant to feed old people for her personal benefit. (
Spokesman-Review
)

But... but... I thought Mexico was going to pay for it...
Trump declares a national emergency in order to build
his wall
. Rep. Cathy McMorris Rodgers says that Trump is "circumventing Congress and Article I of the Constitution" and warns that it sets a dangerous precedent.
"If elected president, how would Elizabeth Warren or Bernie Sanders use this precedent for a national disaster declaration to force the Green New Deal on the American people?" she says in a statement. (
New York Times
)
Frozen beef
The weekend snowstorm killed
1,740 cows
in the Yakima Valley. (
Spokesman-Review
)
I'm talkin' about RBG

Ruth Bader Ginsburg
returns to the Supreme Court
after cancer surgery. (
Washington Post
)
Nobody loves Howard Schultz

Another
sad Valentine's day
for the billionaire. (
Washington Post
)