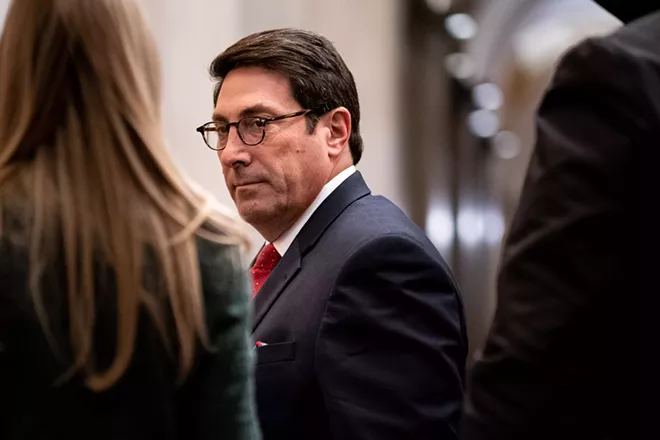 By Peter Baker
The New York Times Company

W
ASHINGTON —
President Donald Trump's legal defense team mounted an aggressive offense Saturday as it opened its side in the Senate impeachment trial by attacking his Democratic accusers as partisan witch-hunters trying to remove him from office because they could not beat him at the ballot box.
After three days of arguments by the House managers prosecuting Trump for high crimes and misdemeanors, the president's lawyers presented the senators a radically different view of the facts and the Constitution, seeking to turn the Democrats' charges back on them while denouncing the whole process as illegitimate.
"They're asking you to tear up all of the ballots all across the country on your own initiative, take that decision away from the American people," Pat A. Cipollone, the White House counsel, said of the House managers. "They're here," he added moments later, "to perpetrate the most massive interference in an election in American history, and we can't allow that to happen."
The president's team spent only two of the 24 hours allotted to them so that senators could leave town for the weekend before the defense presentation resumes Monday, but it was the first time his lawyers have formally made a case for him since the House opened its inquiry in September.
The lawyers relentlessly assailed the prosecution's interpretation of events, accusing House Democrats of cherry-picking the facts and leaving out contrary information to construct a skewed narrative. They maintained that none of what the Democrats presented the Senate justified the first eviction of a president from the White House in American history.
"They have the burden of proof," Cipollone said, "and they have not come close to meeting it."
Even after the prosecution's presentation, Trump appeared certain to win acquittal. So the main priority for the president's legal team as it opened its arguments was not to undermine its own advantage or give wavering moderate Republican senators reasons to support Democratic requests for witnesses and documents.
After the session, Democrats contended that the White House arguments actually bolstered their demand to call witnesses as well as require documents be turned over, which the Republican majority so far has rejected.