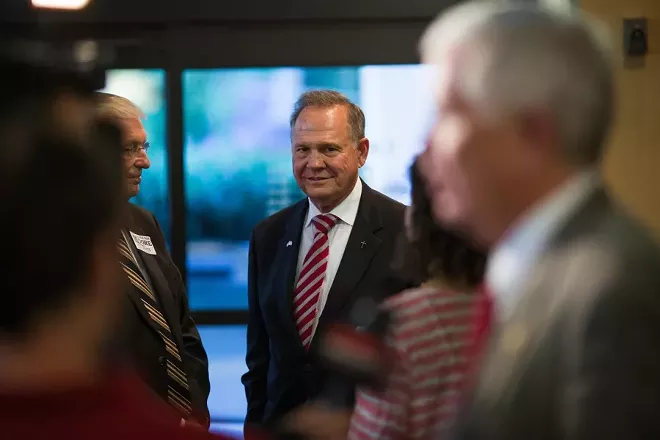 By EILEEN SULLIVAN
© 2017 New York Times News Service
WASHINGTON — President Donald Trump on Monday offered a strong endorsement of Roy Moore, the Republican Senate candidate in Alabama embroiled in accusations that he had inappropriate sexual relations with underage girls.

While many Republicans called for Moore to drop out of the race after several women came out with their stories, Trump has defended him, saying that Moore denied the accounts and deserved to be heard.
In a statement, the White House said that Trump and Moore spoke on the phone and that the president endorsed Moore's campaign.
"The president had a positive call with Judge Roy Moore during which they discussed the state of the Alabama Senate race and the president endorsed Judge Moore's campaign," the statement said.
Moore wrote about the endorsement on Twitter.
On Twitter earlier Monday, Trump described why Moore had to win: "We need his vote on stopping crime, illegal immigration, Border Wall, Military, Pro Life, V.A., Judges 2nd Amendment and more."
Moore, a former state Supreme Court judge, has been accused of molesting a 14-year-old girl and of sexually assaulting another teenager when he was a prosecutor in his 30s. He has denied any sexual misconduct, and rejected all calls to quit the race.
"Thankful for President Trump's support," Moore said in another Twitter post Monday.
Mitch McConnell, the Senate majority leader from Kentucky, was initially outspoken in his support of the women who accused Moore, saying he had no reason not to believe their stories. But on Sunday, McConnell said he was going to let the people of Alabama decide.
McConnell has said that the Senate Ethics Committee should investigate the allegations against Moore if he is elected.
The special election is Dec. 12.
Trump has not said whether he would travel to Alabama and campaign for Moore. White House press secretary Sarah Huckabee Sanders said last week that Trump was "not planning any trip to Alabama at this time" and that his schedule did not allow such a trip before the election.
However, the president is expected to attend a rally in Pensacola, Florida, on Friday, which is in the Mobile, Alabama, media market. This would allow Trump to help get the vote out for Moore without setting foot in Alabama.