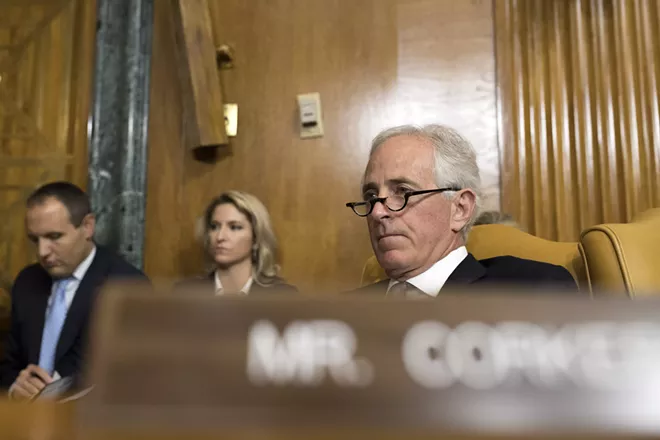 By NOAH WEILAND and THOMAS KAPLAN
© 2017 New York Times News Service
WASHINGTON — President Donald Trump on Sunday laced into Sen. Bob Corker, a Republican whose support the president will need on tax reform and the future of the Iran nuclear deal, saying on Twitter that the senator had decided not to run for re-election next year because he "didn't have the guts."
"Senator Bob Corker 'begged' me to endorse him for re-election in Tennessee," Trump wrote. "I said 'NO' and he dropped out (said he could not win without my endorsement)."
Trump also said that Corker had asked to be secretary of state. "I said 'NO THANKS,'" Trump wrote.
Corker offered a barbed response. "It's a shame the White House has become an adult day care center," he wrote on Twitter. "Someone obviously missed their shift this morning."
The Tennessee senator has been a favorite target of Trump's for months, after the senator, who was once a campaign supporter, became increasingly critical of Trump's performance in the White House.
After a report last week that Secretary of State Rex Tillerson had once referred to Trump as a "moron," Corker told reporters at the Capitol that Tillerson was one of three officials helping to "separate our country from chaos."
Trump's feud with Corker is particularly perilous given that the president has little margin for error as he tries to pass an overhaul of the tax code — his best hope of producing a major legislative achievement in the coming months.
If Senate Democrats end up unified in opposition to the promised tax bill, Trump would be able to lose the support of only two of the Senate's 52 Republicans in order to pass it. That is the same challenging math that Trump and Senate Republican leaders faced in their failed effort to repeal and replace the Affordable Care Act.
Corker, who is outspoken about the nation's mounting debt, has already signaled deep reservations about the Republican effort to pass a tax overhaul, saying he would not vote for a tax bill that adds to the deficit.
In addition, Corker, who leads the Senate Foreign Relations Committee, could play a key role if Trump follows through on his threat to "decertify" the Iran nuclear deal, kicking to Congress the issue of whether to restore sanctions on Tehran and effectively scuttle the pact.