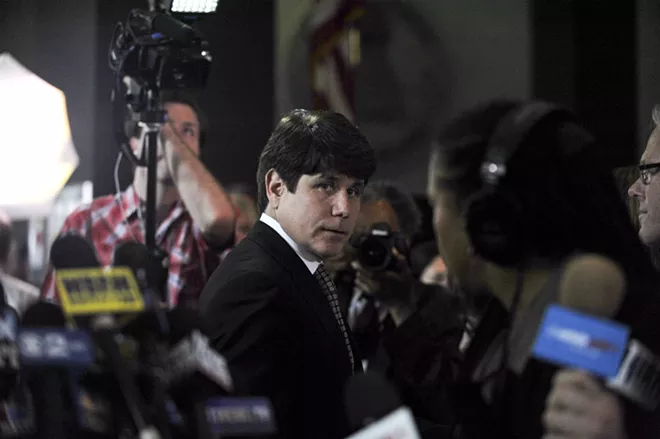 By Michael D. Shear and Maggie Haberman
The New York Times Company
W
ASHINGTON —
President Donald Trump, citing what he said was the advice from friends and business associates, commuted the sentence of Rod Blagojevich, the former Democratic governor of Illinois, and pardoned financier Michael Milken, former New York City Police Commissioner Bernard Kerik and Edward DeBartolo Jr., a former owner of the San Francisco 49ers.
All were prominent public figures convicted of charges that included fraud, corruption and lying. Three received prison terms — Blagojevich was still serving a 14-year sentence. The president pardoned or commuted the sentences of seven other people Tuesday as well.
But Trump gave no indication that he relied on the usual Justice Department vetting process that traditionally guides presidents making use of their constitutional authority to wipe away criminal convictions or commute prison sentences. Instead, he told reporters that he followed "recommendations."
Those recommendations, according to a White House statement, came from the president's longtime friends, business executives and political allies.
In pardoning Kerik, who was convicted of tax fraud and lying to the government, Trump said he heard from more than a dozen people, including Rudy Giuliani, the former New York mayor and Trump's personal lawyer; Geraldo Rivera, a Fox TV personality; and Eddie Gallagher, a former Navy SEAL and accused war criminal whose demotion was overturned by Trump last year.
Milken, the investment banker who was known in the 1980s as the "junk bond king," fought for decades to reverse his conviction for securities fraud.
Richard LeFrak, a billionaire real estate magnate and long time friend, and Nelson Peltz, a billionaire investor who hosted a $10 million fundraiser for the president's 2020 campaign on Saturday, were among those who suggested that the president pardon Milken.
Trump was particularly critical of the 14-year prison sentence for Blagojevich, who was convicted of trying to essentially sell President Barack Obama's vacated Senate seat for personal gain and once appeared on Trump's reality series, "The Celebrity Apprentice".
"That was a tremendously powerful, ridiculous sentence, in my opinion," Trump said after announcing that Blagojevich would go free after serving eight years in prison.
But critics lashed out at Trump's actions.
"In office, Trump has used pardons almost exclusively to shield unrepentant felons, racists, and corrupt scoundrels like Blagojevich and now Milken, one of the most prolific financial criminals in U.S. history," Rep. Bill Pascrell Jr., D-N.J., said in a statement.