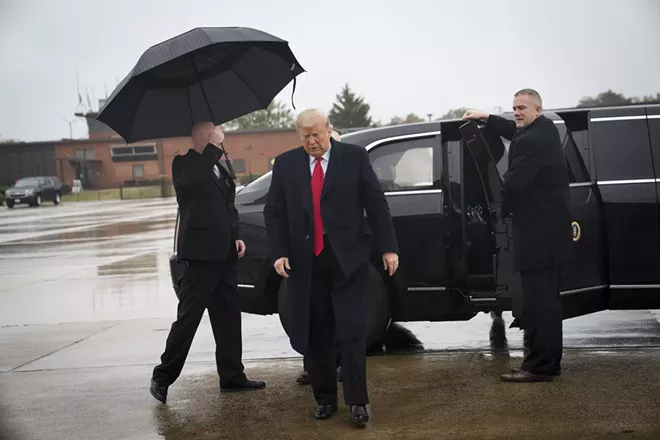 Maggie Haberman and Benjamin Weiser
New York Times News Service
N
EW YORK —
A new lawsuit accuses President Donald Trump, his company and three of his children of using the Trump name to entice vulnerable people to invest in sham business opportunities.
Filed in federal court in Manhattan on Monday, the lawsuit comes just days before the midterm elections, raising questions about whether its timing is politically motivated. It is being underwritten by a nonprofit whose chairman has been a donor to Democratic candidates.
The allegations take aim at the heart of Trump's personal narrative that he is a successful deal-maker who built a durable business, charging he and his family lent their name to a series of scams.
The 160-page complaint alleges that Trump and his family received secret payments from three business entities in exchange for promoting them as legitimate opportunities, when in reality they were get-rich-quick schemes that harmed investors, many of whom were unsophisticated and struggling financially.
Those business entities were ACN, a telecommunications marketing company that paid Trump millions of dollars to endorse its products; the Trump Network, a vitamin marketing enterprise; and the Trump Institute, which the suit said offered "extravagantly priced multiday training seminars" on Trump's real estate "secrets."
The four plaintiffs, who were identified only with pseudonyms like Jane Doe, depict the Trump Organization as a racketeering enterprise that defrauded thousands of people for years as the president turned from construction to licensing his name for profit. The suit also names Donald Trump Jr., Ivanka Trump and Eric Trump as defendants.
A White House spokeswoman for Trump and two lawyers for the Trump Organization did not immediately respond to requests for comment.
Asked about the suit's timing, the lawyers for the plaintiffs, Roberta A. Kaplan and Andrew G. Celli Jr., said their firms had conducted a lengthy investigation and the plaintiffs were eager to file.
"The case is being brought now because it is ready now," the lawyers said.
The lawyers said a nonprofit organization, the Tesseract Research Center, was paying attorney's fees and costs.
Morris Pearl, the Democratic donor who is the nonprofit's chairman, said in a statement that his organization hoped to draw attention to the challenges faced by people who sustain losses but cannot seek redress through the courts "because of the extreme wealth and power on the other side."