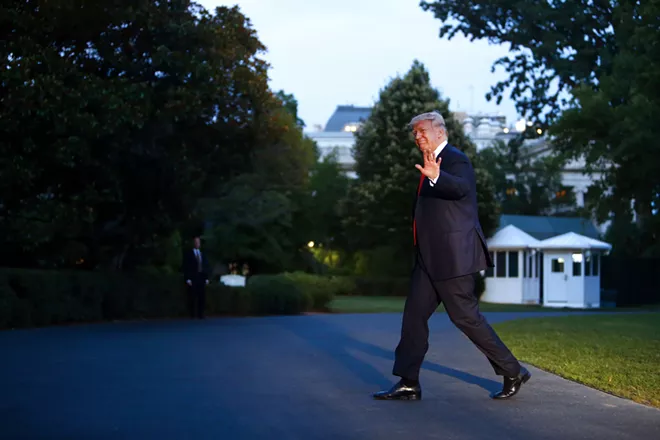 By PETER BAKER
© 2017 New York Times News Service
WASHINGTON — President Donald Trump on Saturday asserted the "complete power to pardon" relatives, aides and possibly even himself in response to investigations into Russia's meddling in last year's election, as he came to the defense of Attorney General Jeff Sessions days after expressing regret about appointing him.
In a series of early morning messages on Twitter, Trump suggested that he had no need to use the pardon power but left the option open. While presidents have the authority to pardon others for federal crimes, legal scholars debate whether a president can pardon himself. Trump's use of the word "complete" seemed to suggest he did not see a limit to that authority.
"While all agree the U.S. President has the complete power to pardon,
why
think of that when only crime so far is LEAKS against us," he wrote on Twitter. "FAKE NEWS."
The Washington Post reported in recent days that Trump and advisers had discussed pardons as a special counsel intensifies his investigation into whether associates of Trump and his campaign conspired with Russia to intervene in the 2016 presidential campaign.
Trump also responded to another article by The Post reporting that Sessions may have discussed campaign activities and policy with the Russian ambassador, Sergey Kislyak, last year, despite his public statements claiming otherwise. The Post cited intercepted communications between Kislyak and his home office in Moscow. Trump excoriated the newspaper and expressed no concern about his attorney general's conduct.
"A new INTELLIGENCE LEAK from the Amazon Washington Post, this time against A.G. Jeff Sessions," Trump wrote. "These illegal leaks, like Comey's, must stop!"
The president was equating the report in The Post, which is owned by Amazon founder Jeff Bezos, to a decision by James Comey, the FBI director Trump fired, to leak contents of a memo he wrote describing a conversation he had with the president. Comey has said the memo was unclassified and not illegal to disclose.
Trump's tweets came shortly before he was scheduled to fly to Virginia, where he was to preside over the commissioning of the Gerald R. Ford, the newest aircraft carrier.