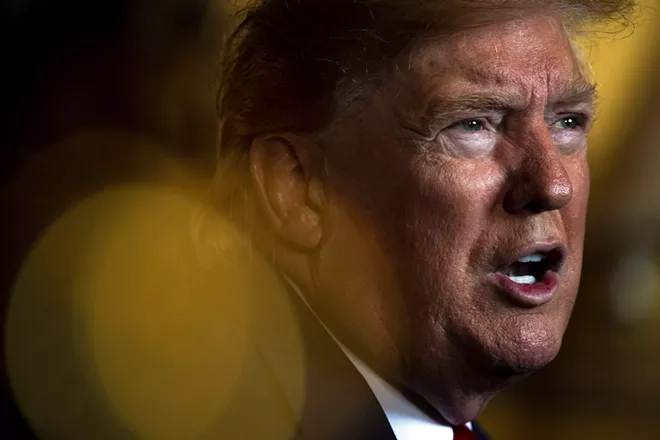 Peter Baker and Edward Wong
The New York Times Company
W
ASHINGTON —
President Donald Trump said Friday that he ordered the operation that killed Iran's top security and intelligence commander not just to retaliate for past attacks on Americans, but also to forestall an active effort "to kill many more" Americans, as the region braced for a possible escalation in violence.
In his first comments on the drone strike against Maj. Gen. Qassem Soleimani, who led the powerful Quds Force of Iran's Revolutionary Guard, Trump suggested that the Iranian commander "got caught" preparing to hit U.S. targets. Secretary of State Mike Pompeo said a planned attack on Americans had been "imminent" before the drone strike.
Trump administration officials have provided no specific details of what they said were imminent threats, and some Defense Department officials said they knew of only generalized threats that did not appear to be imminent.
As oil prices surged and stock markets slid, the State Department urged Americans to leave Iraq, where the attack on Soleimani was carried out and where Iranian elements play a powerful role. The U.S. Embassy in Baghdad, which had been under siege by pro-Iranian protesters chanting "Death to America" in recent days, suspended consular operations. "U.S. citizens should not approach the Embassy," the State Department warned on Twitter.
The White House approved the strike on Soleimani after a rocket attack last Friday on an Iraqi military base outside Kirkuk killed an American civilian contractor and injured other American and Iraqi personnel.
The strike touched off an immediate debate in Washington, with Republicans hailing the action as a decisive blow against a longtime enemy with American blood on his hands and Democrats expressing concern that the president was risking a new war in the Middle East.
Soleimani, the driving force behind Iranian-sponsored attacks and operations over two decades around the region including Iraq, Syria, Yemen and Lebanon, was considered perhaps the second most powerful figure in Iran and the country's supreme leader, Ayatollah Ali Khamenei, vowed to exact a "forceful revenge."
The decision to hit Soleimani complicates relations with Iraq's government, which has tried to balance itself between the United States and Iran. A senior Iraqi official said Friday that there was a good chance the Iraqi Parliament would vote to force U.S. troops to leave Iraq. Top Iraqi leaders earlier had wanted to accommodate the troop presence because of the persistent threat from the Islamic State.