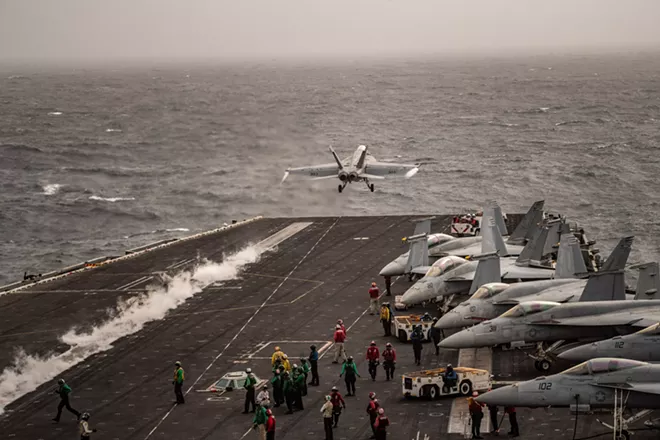 By Helene Cooper, Eric Schmitt, Lara Jakes and Thomas Gibbons-Neff
The New York Times Company

W
ASHINGTON —
President Donald Trump said Wednesday that he has told the Navy to shoot down and destroy any Iranian fast boats that harass U.S. naval ships, in what would be a sharp escalation of the risky maneuvers performed by the two adversaries in the Persian Gulf and the Arabian Sea.
The president's abrupt statement, which he announced on Twitter, came on the morning that Iran successfully launched a military satellite and a week after the Pentagon accused Iran of sending 11 fast boats to conduct "dangerous and harassing approaches" to six U.S. warships in the Persian Gulf.
Secretary of State Mike Pompeo confirmed the satellite launch and demanded that the U.N. Security Council hold Iran accountable for the potential violation of international guidelines restricting Tehran's nuclear-capable missile program.
He noted that the government in Tehran had previously claimed that its missile launches were linked to commercial efforts — and not to its military, as it did Wednesday.
"I think today's launch proves what we've been saying all along here in the United States," Pompeo told reporters at the State Department.
He noted that the launch was carried out by Iran's Revolutionary Guard, which has been designated by the State Department as a terrorist organization.
In the encounter last week with U.S. warships, a swarm of Iranian fast boats, according to the Defense Department, "repeatedly crossed the bows and sterns" of the U.S. ships at high speed, coming within 10 yards of one ship.
Such maneuvers have occurred for years. Usually, the incidents end with warnings from the Pentagon.
But Trump on Wednesday suddenly escalated the potential U.S. response, in a tweet that seemed to catch the Pentagon by surprise.
"I have instructed the United States Navy to shoot down and destroy any and all Iranian gunboats if they harass our ships at sea," he wrote on Twitter.
The Navy referred all questions to the White House. A Defense Department official said that the service had not received any formal policy directive from Trump ordering the Navy to start shooting Iranian gunboats.
Speaking to reporters Wednesday, David L. Norquist, deputy defense secretary, said Trump's statement on Twitter was more of a warning to the Iranians than a change to the current rules of engagement.