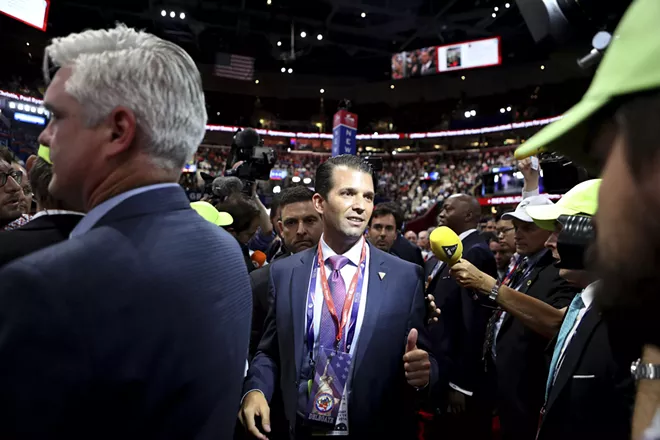 By PETER BAKER and NEIL MacFARQUHAR
© 2017 New York Times News Service
WASHINGTON — After initially holding back, President Donald Trump jumped to the defense of his son Wednesday morning, denouncing reports about Donald Trump Jr.'s meeting with a Russian lawyer to gain incriminating information about Hillary Clinton as part of "the greatest witch hunt in political history.
The president fired off posts on Twitter insisting that his son was "innocent" of wrongdoing and embracing the theory that he may even have been "the victim" in the case. He assailed the use of anonymous sources in the reports, although in this instance the story was confirmed by emails released by Donald Trump Jr.
"My son Donald did a good job last night," Trump wrote on Twitter, referring to his son's appearance Tuesday on Sean Hannity's show on Fox News. "He was open, transparent and innocent. This is the greatest Witch Hunt in political history. Sad!"
In another message, Trump added, "Remember, when you hear the words "sources say" from the Fake Media, often times those sources are made up and do not exist." And he retweeted a Fox News Twitter message quoting one of the network's commentators saying, "I believe Don Jr. is the victim here."
The president's messages Wednesday morning and late Tuesday represented a shift in strategy. He said nothing publicly about Donald Trump Jr.'s meeting with the Russian lawyer for days after it was first reported in The New York Times, and after the emails were released Tuesday he issued only a tepid one-sentence statement through his White House spokeswoman calling his son a "high-quality person."
Advisers had urged him to avoid publicly commenting on the reports, but
evidently
he changed course as he watched coverage on cable television.
In his interview with Hannity on Tuesday night, the younger Trump acknowledged regret about how he handled the situation. "In retrospect, I probably would have done things a little differently," he said. "Again, this is before the Russia mania. This is before they were building it up in the press. For me, this was opposition research."
Trump said he took the meeting as "a courtesy to an acquaintance" and that "I don't even think my sirens went up or the antennas went up at this time," even though the email said explicitly that it was part of a Russian government effort to help his father.