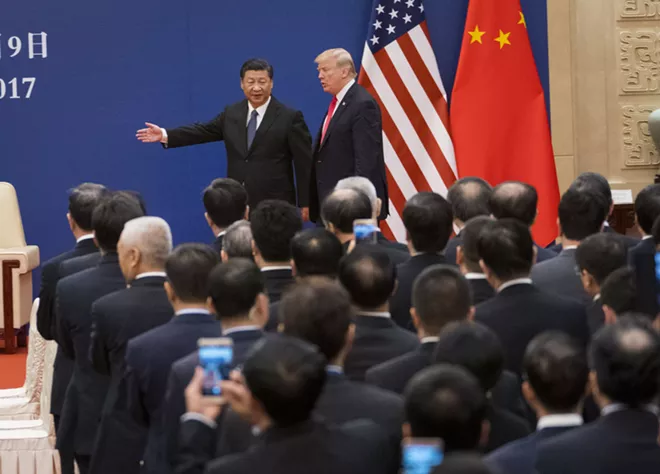 By Ana Swanson and Keith Bradsher
New York Times News Service
W
ASHINGTON —
President Donald Trump toughened his stance toward China on Wednesday, threatening to prolong his trade war with Beijing, which immediately signaled that it was prepared to fight back.
Trump said he would be happy to keep tariffs on Chinese exports rather than make a bad deal, setting the stage for a contentious round of talks between the United States and China that was set to begin Thursday. Trump's comments provoked a swift response from the Chinese Commerce Ministry, which suggested that it was once again ready to retaliate against American products with its own countermeasures.
Chinese negotiators including Vice Premier Liu He, one of China's top economic officials, are headed to Washington to try to salvage a trade agreement. But significant gaps remain between the two countries, and Trump suggested that he was ready to impose higher tariffs on Chinese goods.
"China has just informed us that they (Vice-Premier) are now coming to the U.S. to make a deal," Trump tweeted. "We'll see, but I am very happy with over $100 Billion a year in Tariffs filling U.S. coffers...great for U.S., not good for China!" the president added.
On Wednesday morning, the U.S. trade representative filed a public notice saying that tariffs on roughly $200 billion of Chinese products would increase to 25% from 10% on Friday "in light of the lack of progress in the additional rounds of negotiations since March 2019." That would bring the tariff rate on the entire $250 billon worth of Chinese goods subject to levies to 25%.
"The escalation of trade friction is not in the interests of the people of the two countries and the people of the world," the Chinese Commerce Ministry said in response. "The Chinese side deeply regrets that if the U.S. tariff measures are implemented, China will have to take necessary countermeasures."
The retrenchment in talks came as a surprise to businesses and investors, who expected the two countries to resolve the monthslong trade war as early as this week.
"When the U.S. and China fight, nobody wins, as the past year's market gyrations, lost deals and strained diplomatic ties have made abundantly clear," said Peter Robinson, the president of the U.S. Council for International Business.