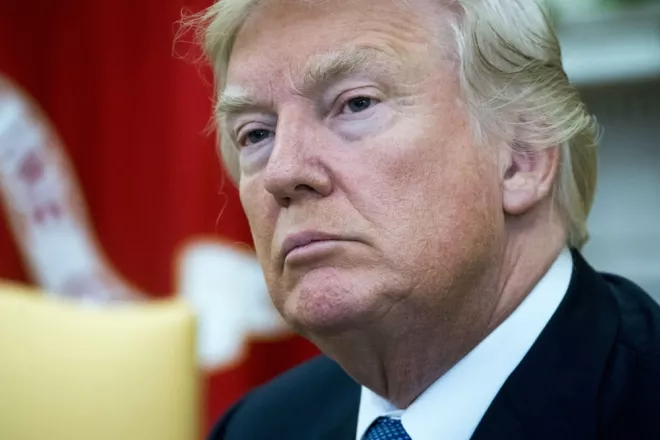 By JULIE HIRSCHFELD DAVIS
© 2017 New York Times News Service
WASHINGTON — President Donald Trump raged on Twitter on Sunday about the investigations into his campaign's ties with Russia, seeking to shift the focus to a litany of accusations against his 2016 rival, Hillary Clinton, as the special prosecutor is reportedly poised to issue the first indictment in the Russia case.

In a series of midmorning posts, Trump said Republicans were now pushing back against the Russia allegations by looking into Clinton. But the president, who has often expressed frustration that his allies were not doing more to protect him from the Russia inquiries, made it clear he believed that Clinton should be pursued more forcefully, writing, "DO SOMETHING!"
He did not specify who should take such action.
"Never seen such Republican ANGER & UNITY as I have concerning the lack of investigation on Clinton made Fake Dossier (now $12,000,000?), the Uranium to Russia deal, the 33,000 plus deleted Emails, the Comey fix and so much more," Trump wrote. "Instead they look at phony Trump/Russia 'collusion,' which doesn't exist."
Trump was apparently referring in his tweets to revelations last week that Clinton's campaign and the Democratic National Committee had paid for research that was included in a dossier made public in January by BuzzFeed that contained salacious claims about connections between Trump, his associates and Russia.
The president was also reviving unproved allegations that Clinton was part of a quid pro quo in which the Clinton Foundation received donations in exchange for her support as secretary of state for a business deal that gave Russia control over a large share of uranium production in the United States.
And he was returning to questions about Clinton's use of a private email server and how former FBI Director James Comey handled an investigation into the matter, which was closed with no charges being filed. Trump initially cited the email case as a reason for firing Comey before conceding that it was because of the Russia inquiry.
Trump and his advisers are bracing for the first public action by Robert S. Mueller III, the special prosecutor named after Comey's ouster to investigate Russian meddling in the 2016 election.
CNN reported Friday that a federal grand jury in Washington had approved the first charges in Mueller's investigation.