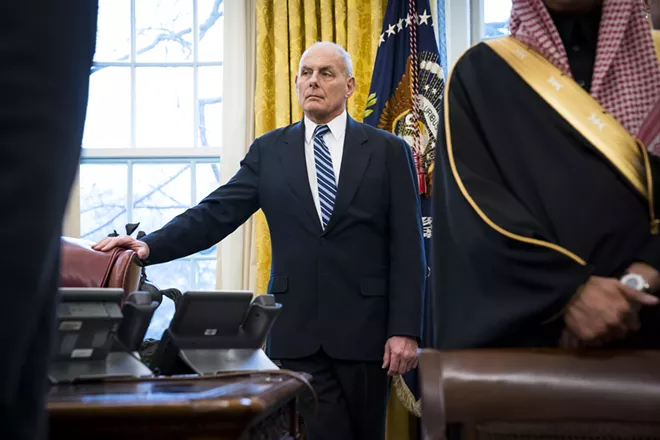 W
ASHINGTON —
President Donald Trump on Friday said he intended to nominate William P. Barr, who served as attorney general during the first Bush administration from 1991 to 1993, to return as head of the Justice Department.
"He was my first choice since Day 1," Trump told reporters as he walked from the White House to a helicopter for a trip to Kansas City, Missouri. "He'll be nominated."
Trump's focus on Barr, who supports a strong vision of executive powers, had emerged over the past week following the ouster last month of Jeff Sessions as attorney general and the turbulent reception that greeted his installation of Matthew Whitaker as the acting attorney general.
Trump also announced that Heather Nauert, the chief State Department spokeswoman, is his pick to be the next ambassador to the United Nations, replacing Nikki Haley.
Nauert was a Fox TV anchor before being picked in 2017 to be the State Department's spokeswoman, and she will probably face skepticism from Senate Democrats for her lack of extensive political or diplomatic experience, which could delay her confirmation until 2019. But she is well liked at the State Department and is known to have close ties at the White House.
In another personnel move, John Kelly, the White House chief of staff, is expected to leave his post in the next few days, two people with direct knowledge of the developments said Friday.
It is unclear who the replacement for Kelly would be. Nick Ayers, the vice president's chief of staff, is seen as a leading candidate.
The choice of Barr was well received by Republicans as soon as it became known that he had emerged as permanent replacement for Sessions. Sen. John Cornyn of Texas, the No. 2 Senate Republican, predicted that Republicans would be able to secure the votes needed to confirm him.
But parts of his record are likely to be closely scrutinized by Democrats. Barr has criticized aspects of the Russia investigation, including suggesting that special counsel Robert Mueller hired too many prosecutors who had donated to Democratic campaigns. He also defended Trump's calls for a new criminal investigation into his 2016 opponent, Hillary Clinton, including over a uranium mining deal the Obama administration approved when she was secretary of state.