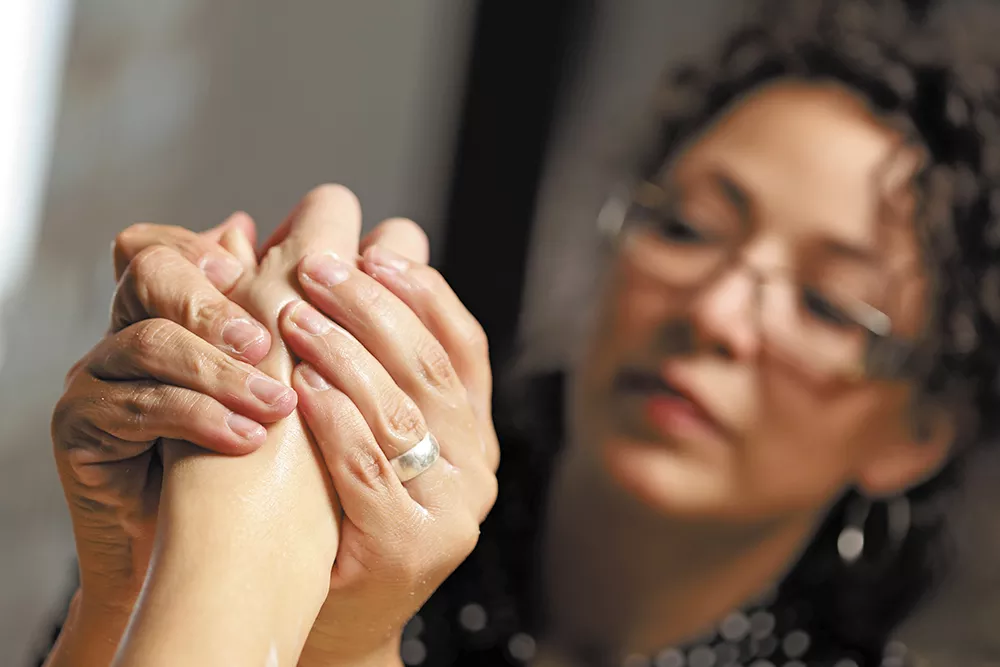 In ways that seem comical now, beauty faux pas were exposed in the '50s and '60s – a time when baby boomers were truly babes in diapers.
Advertising agencies targeted beauty campaigns to the iconic housewife, who cooked and cleaned and somehow remained glamorous.
Cleaning product companies took advantage of the demographic. They warned against dreadful dishpan hands — scaly, unseemly hands that resulted from days spent cleaning. Ivory campaigns claimed, "Ivory liquid hands keep your age a secret" and featured Mrs. Robert Thompson, a 35-year-old housewife and mother of five.
The copy? "Every woman in the room was staring at her! She dared to drink a Cosmo with dishpan hands."
Though much has changed, women still want beautiful hands, and there are many ways to achieve that at any age.
Jill Turner, salon trainer at The Spa Coeur d'Alene at the Coeur d'Alene Resort, says women who take care of their hands "show a level of self-awareness."
"Typically women who take care of their hands are a little more self-confident," she says. "Your hands are the first thing you offer someone when you introduce yourself. It's a good representation of who you are."
Turner and her team provide hand treatments, manicures and acrylic nails to beautify women's hands year round. For starters, she recommends products with antioxidants to hydrate skin and reduce discoloration.
If skin is getting thin and wrinkled, she recommends trying a firming lotion — The Spa offers offer Eminence Coconut Firming Body Lotion, an organic product made with bamboo and coconut milk.
"The firming lotion physically plumps your skin for a few days," she says.
Manicurists at The Spa Coeur d'Alene also use Creative Nail Design's Nail Solar Oil to preventively treat brittle nails. The conditioner contains almond oil and vitamin E to help soften cuticles and strengthen nails.
"The oil prevents hangnails, dry patches and brittle nails," Turner says. "It's like my go-to wonder drug."
To combat dry skin during bitter winter temperatures, Turner pairs hand treatments — exfoliants, massage and paraffin wax — with basic manicures. The last key to a beautiful pair of hands is a coat of nail polish or shellac. Turner recommends OPI Products nail polish, in rich shades like charcoal, oxblood and eggplant, when the weather turns cold.
Sometimes hands require more than surface regeneration, which is why baby boomers have turned to cosmetic surgery.
"Women come to our office with two main complaints," says Dr. John Lundeby, owner of Shape Cosmetic Surgery & MedSpa in Spokane. "One is age spots, the other is loss of volume, or the appearance of bony hands."
He adds, "A lot of women are concerned their hands will age them prematurely... I think women have had this concern for a long time. And with the general increase and acceptance of cosmetic surgery, we've seen an increase in patients seeking hand treatments."
To treat sun spots and discoloration, Lundeby provides patients with three treatment options. Topical medication is available to reduce the production of melanin by melanocytes, causing brown spots to fade.
Intense pulsed light therapy also removes age spots. The technology uses specific light frequencies and wavelengths to target melanocytes and melanin granules.
Carbon dioxide lasers are used to aggressively treat age spots and even out the skin's texture.
To deal with thin, bony hands, Shape Cosmetic Surgery & MedSpa offers artificial or natural fat fillers, which are injected into hands to increase volume and create a youthful appearance.
"The procedures have been around for many years, but have recently been repurposed for use in different areas of the body, such as the hands," Lundeby says. "We've seen this repurpose with fat transfers, fillers, intense light therapy and other laser-based technologies."
Lundeby says patients can opt for an artificial filler called Juvederm, which is injected into the back of the hand where volume loss is most noticeable. The injection fills and tightens the appearance of skin for nine to 12 months.
Patients can also undergo fat transfer surgery. In this procedure, a small amount of fat from the thighs or abdomen is removed by liposuction, then injected into the back of the hand via small needle punctures. The procedure is performed under a local anesthetic and light sedation and is considered a permanent alteration, subject only to continued aging.
"Once the fat has successfully transferred it is very much like the person's own tissue," Lundeby says. "It's soft and smooth and it gains and loses weight with you."
While cosmetic hand procedures make up a small percentage of Lundeby's overall practice, he says the demand is growing. And that may mean those so-called dishpan hands are as much a relic of the past as the Mad Men who wrote about them. ♦