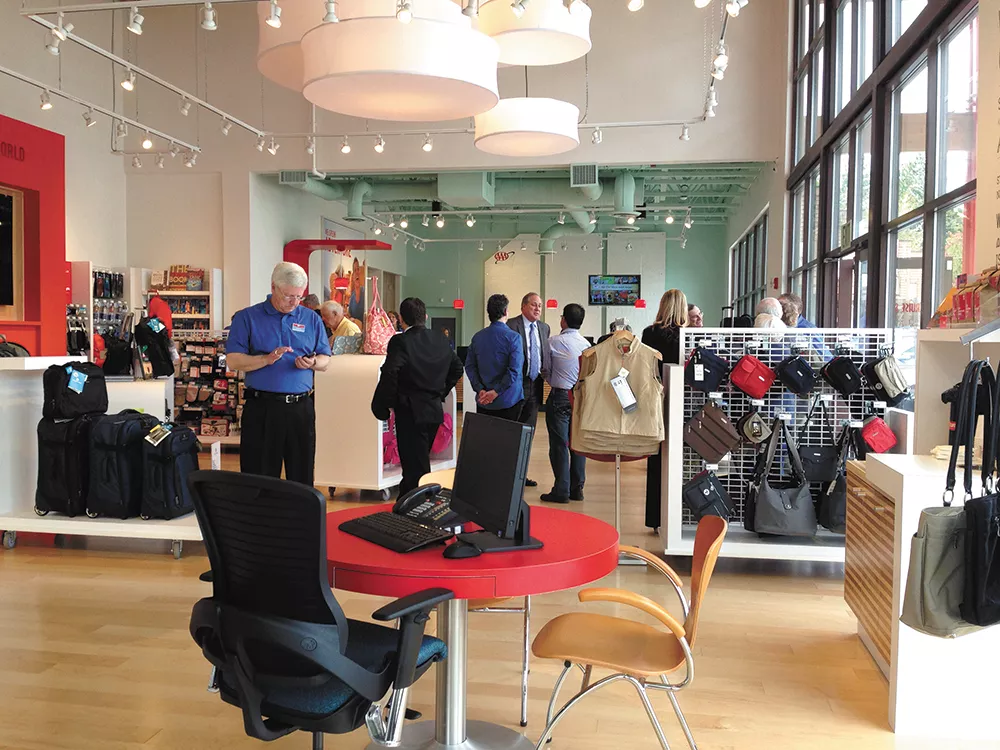 When you walk into AAA's new store on South Grand Boulevard, the organization is hoping for a very specific reaction. They want you to think it feels like an Apple store.
Yes, this is Triple-A, seller of roadside assistance and family vacation packages. And yes, they mean Apple, maker of the world's hippest gadgets, whose stores have become shorthand for a certain kind of retail perfection: tall windows, minimalist furniture, "geniuses" to help you out.
"The new store has the modern look, relaxed atmosphere and friendly associates similar to your local Apple Store, Starbucks and Barnes & Noble all wrapped into one," boasted a AAA press release ahead of the South Hill store's opening.
This bright new store is an attempt to lure young — or at least younger — people, offering AAA's usual services plus luggage, books, packing classes and its own brand of coffee roasted in Portland. Managers are calling the long, blonde wood desk at one end the "auto bar." They hope to eventually have employees making roving sales of travel gear, just like employees in the Apple store do on iPhones. It's all very deliberate from a 112-year-old company whose membership holds steady in the retirement sector.
"I don't think we've ever had a strong connection with younger folks," says Deborah McCandless, who manages AAA's Spokane stores. "We're trying to stay relevant to the 20-, 30-, 40-somethings."
George Johnson, AAA Washington's vice president of marketing, says he actually spent time in Apple stores (and at Microsoft and Umpqua Bank locations) in planning for this store.
Apple stores are the envy of many in the retail world. They've been mimicked by not only knock-off Apple stores in China, but giants here in the U.S. like Best Buy and Microsoft. Last year, Apple even won a trademark on the design of its retail stores, including "rectangular recessed lighting units" and "a light brown oblong table with black stools located at the back of the store." Johnson says they offer "entertainment and education at the same time," and that's what he wanted to create here. Get people out from behind desks and talking to each other, and you start to build an experience that's better than shopping for travel online.
"Young people like to go to Costa Rica," he says, giving an example. "So, we want them asking each other, 'How was your trip? What's your next adventure?'"
Expedia, Travelocity, Orbitz, Kayak. The demise of the travel agency seems inevitable. The Department of Labor projects employment of travel agents will decline another 12 percent (or by about 9,000 agents) in the next decade. Yet AAA is begging shoppers to reverse course and see the value in a real person sorting through the noise online. Because of the company's size and access to deals in large quantities, McCandless says, it's often able to beat the price customers find online. Trust us to find you the best deals, AAA asks. Let us take care of you once you arrive.
But whether people who've come of age with the Internet will buy into that pitch remains to be seen. Managers here say they don't have a specific increase they'd like to see in business from young people. Just "more."
"We're studying the millennials in as great of depth as everyone else," Johnson says.
Nearby, under big windows and four glittering flat-screen TVs, a couple in their 60s shuffles by, slightly hunched over, inspecting multi-pocketed travel vests and rolling suitcases. ♦