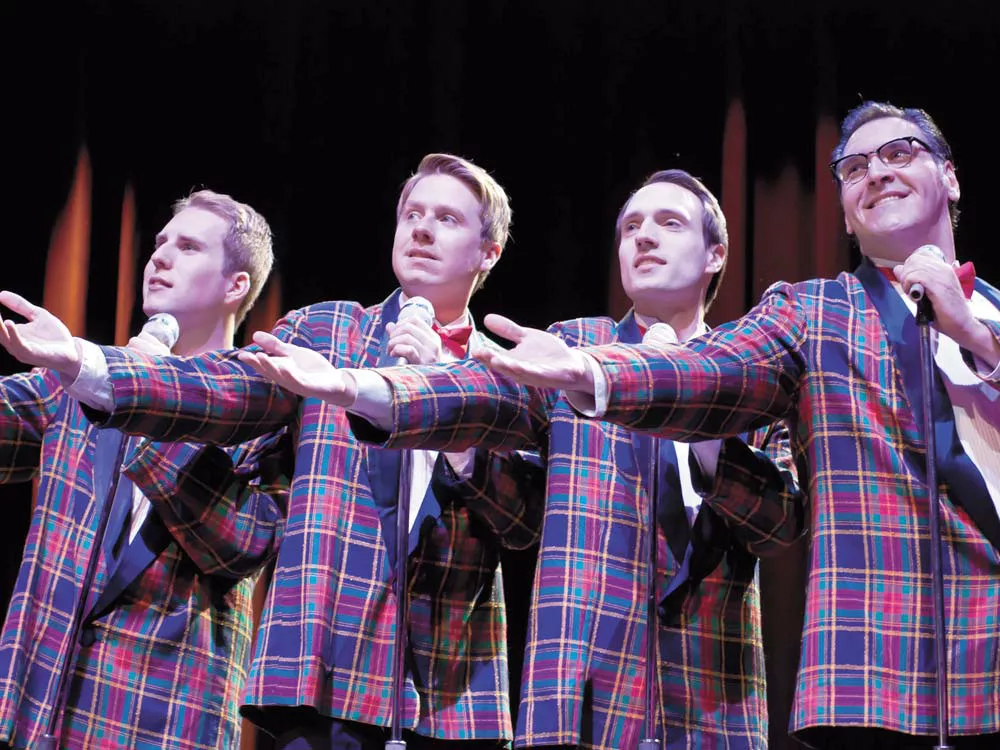 This musical has obviously been Plaid-erized: It's just like Forever Plaid.
Oh, this is the holiday version of the show? The one with four harmonizing guys from the '50s? That's different, then.
Clearly, Forever Plaid: Plaid Tidings breaks new ground in the Christmas-carols-with-a-sort-of-plot category. Let's go, then, right to our starting lineup.
Playing Frankie — the leader of this particular pack, the guy who has guided his quartet down from heaven to perform just one last Christmas show — we have Robby French, veteran of many shows here at Coeur d'Alene Summer Theater and at Spokane's Civic. Frankie's the one who gets to sing the neurotic version of "Rudolph, the Red-Nosed Reindeer," followed by a hip-hop Yuletide parody called "Twuz the Nite B4."
Starting as Jinx (the wimpy one, subject to frequent nosebleeds), we have Steve Booth, who played the title role last summer in CdA's Joseph and the Amazing Technicolor Dreamcoat. Jinx is the foursome's psychic medium, and he sings — as if possessed — about the guy who's making a list and checking it twice. Then Jinx rouses his pals for a Manhattan Transfer-style rendition of "Chestnuts roasting on the open fire." Booth, who just took part in the original Broadway cast recording of the short-lived Glory Days, attended CdA's Lake City High along with French, so local fans should be out in force.
Third, we have Sparky (Christian Duhamel, CST's 2007 "Putting It Together," the Sondheim revue), who works in auto parts, making sure all the fellas have their cherry red cardigan sweaters and plaid ties, and is the one who dreams of singing backup to the wonderful Mr. Perry Como. (In this show — with a little help from the audio-visual department — he and the boys get to do just that in "It's Beginning To Look a Lot Like Christmas.")
Finally, as Smudge, there's Mark Cotter (reprising the role he played here in Forever Plaid 11 years ago). Smudge's family deals in bathroom fixtures, so he supplies the toilet plungers used as microphones in "Sh- Boom" ("Life could be a dream").
Plaid Tidings also features "I'll Be Home for Christmas," "Home for the Holidays" and "Have Yourself a Merry Little Christmas."
As Booth says, "These are all the familiar Christmas songs, but in arrangements that are different from what you've heard before." Roger Welch, who's directing and choreographing, adds that "Every song has movement in it, much like the Four Lads or the Four Freshmen — and that's on top of all the four-part harmonizing."
They're a group that's fully prepared: At a first-dayof-rehearsal interview, Welch, Booth and French were wearing argyle, cardigan and yes, plaid sweaters.
So bring the entire family. We understand that there'll be much mistletoeing and hearts will be glowing when loved ones are near.
Forever Plaid: Plaid Tidings • Fri-Sat, Dec 17-18, 7:30 pm; Sun, Dec. 19, 2 pm • $32; $25, children • NIC, Boswell Hall • 1000 W. Garden Ave., Coeur d'Alene • http://www.cdasummertheatre.com • (208) 769-7780