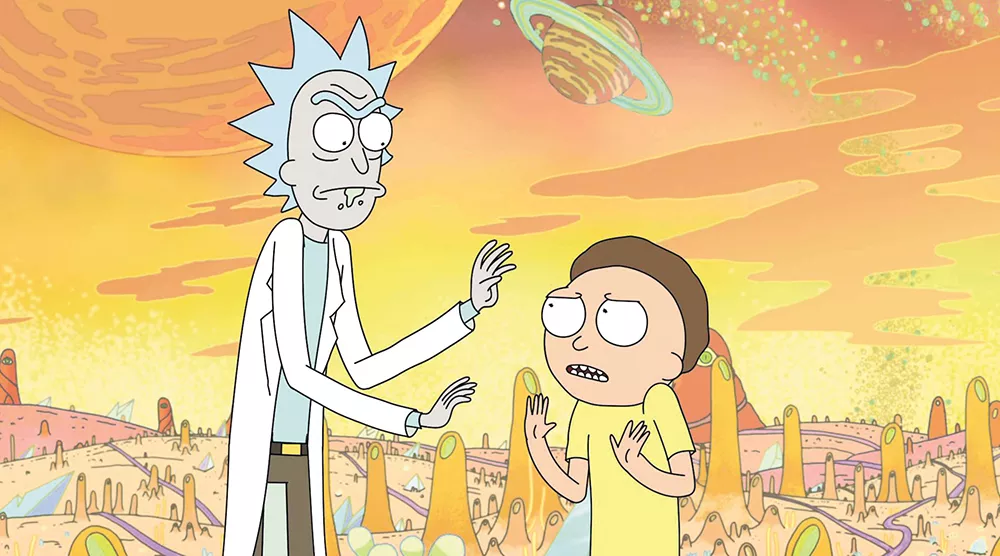 Great science-fiction writing and great comedy writing have eerie similarities. Both are about taking fantastical premises, then escalating them to surprising, absurd, even terrifying places. Both subsist on surprise, tweaking what we expect and reimagining the mundane in new circumstances.
And so it is with Rick and Morty (Cartoon Network, Sundays, 10:30 pm), the most darkly humorous animated sitcom on television right now. Co-creator Justin Roiland (who voices both Rick and Morty) took the already slightly odd Doc and Marty relationship from Back to the Future and amped up the dysfunction. Morty's a squeaky-voiced high school freshman. Rick, Morty's grandpa, is an alcoholic, reckless, selfish, self-destructive mad scientist prone to dimension-hopping, God-playing and intergalactic law-breaking.
That's fitting, as Rick and Morty's other co-creator is Dan Harmon, the similarly alcoholic, self-destructive, reckless creator of Community. No surprise then, that Rick and Morty's adventures are uproariously funny, in often horrifying ways.
Take a recent episode, in which one story line rests on a variation of the classic sci-fi "Three Laws Of Robotics" premise.
Rick leaves Morty's teenage sister Summer locked in his spaceship on an alien planet, and orders the spaceship to "keep Summer safe." The first alien to threaten Summer is promptly diced up by the ship's laser. The second, after Summer pleads with the ship to refrain from killing, is merely paralyzed. Surrounded by a SWAT team and with Summer begging the ship not to hurt anyone, the ship resorts to psychological measures. A capsule rolls up to the SWAT team's captain and out climbs what looks like the captain's 7-year-old boy, who had drowned in a pool years earlier. But as the two hug in a teary-eyed embrace, the boy melts into red goo in the captain's arms.
"All of you have loved ones. All can be returned. All can be taken away," the ship warns. "Please step away from the vehicle. Keep Summer safe."
Now that, Morty, is the sort of twistedly brilliant sci-fi inventiveness that Isaac Asimov could only fever-dream of.