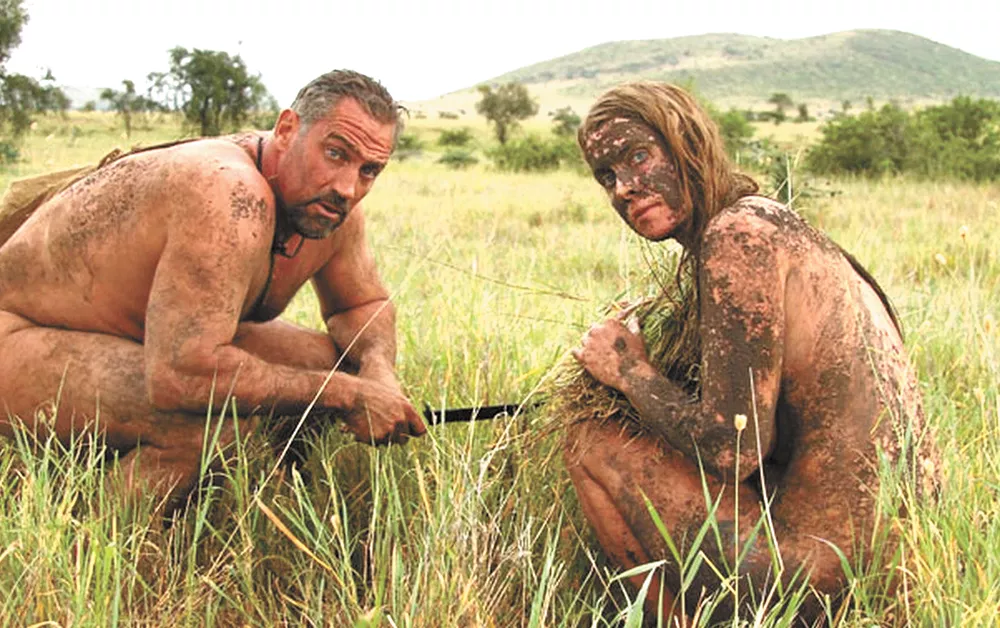 If you put someone (preferably someone naked) on an island and film this someone trying not to die, you're no longer a sociopath, but rather a reality television producer in 2015.
It's almost laughable that audiences found the conditions presented in Survivor to be extreme when that show debuted 15 years ago, but that setup is a stay at the Hilton when stacked up against something like Discovery Channel's Naked and Afraid. Now three seasons in, N&A is just a man and a woman, sans clothing, out in a jungle or a swamp or a desert, or any other locale replete with snakes and poisonous insects. They try to survive for 21 days. About half of them do just that, losing weight, their sanity and a whole lot of ego along the way.
This summer brought us Naked and Afraid XXL (10 pm, Sundays on Discovery), which amps up the number of survivalists (all of whom had been on the original show) and amount of days (40) for a big ol' Try-Not-To-Starvathon.
But somehow, the latest iteration of Naked and Afraid is not the craziest survival show on TV. It's also not that weird social experiment known as The Island that sputtered out on NBC or Bear Grylls' other show, Running Wild, in which he shows the ropes of not dying to famous people, like Kate Hudson, who already proved her mettle by surviving You, Me and Dupree.
No, to find the most bonkers hour of summer TV, flip to History for Alone (10 pm Thursdays). Here we have 10 trained outdoorsmen (no outdoorswomen, though, which is lame) dropped into the wilds of Vancouver Island with limited equipment and, yes, clothing. There's a half-million in cash for the last man standing. There's no camera crew (the guys are shooting it themselves), the place is crawling with bears and it seems to be raining nonstop. One dude was all "eff this" on the first day and four others tapped out in the days to come. In less than a week, there were only five guys left.
It's impossible not to find these shows a little exploitative, like watching lab rats stuck in the maze, but there's some value. When 16-year-old Autumn Veatch made it out of the North Cascades last week after living through a plane crash that claimed her step-grandparents, guess what she credited with helping her on the two-day trek through the woods? Yup, survival shows. See, it's not sadism, it's actually education. ♦