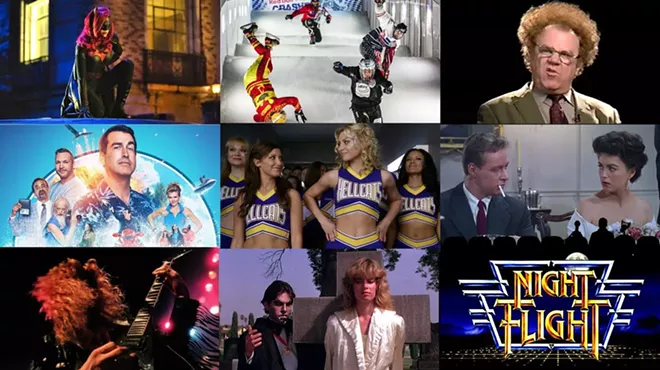 You're out of a job. You've been stuck inside for weeks. You've re-watched Tiger King so many times that you're starting to ask, "What was the crime here? Loving big cats and the Seth Wadley Auto Group too much? Free Joe Exotic!"


Shut-in delirium can only be countered with new streams of entertainment — preferably at no extra cost, because that gub'ment check will only go so far.


In April, streaming TV services Netflix, Hulu, Amazon Prime Video, Showtime, CBS All Access, Shudder, Sundance Now, Acorn TV, and Urban Movie Channel extended their free-trial windows to 30 days. New streamer Quibi will let you have up to 90 days free, which is nearly enough time to figure out, "What the hell is a Quibi?"


There are also plenty of totally free, no-strings streaming TV apps out there to take advantage of through Roku, Amazon Fire TV, Apple TV, Chromecast, or however you stream (laptops and phones, too). TV Time has rounded up 12 for your quarantine needs.


What was originally just an odd app with a never-ending Mystery Science Theater 3000 loop and a few other iffy feeds (like the Conspiracy Channel—maybe avoid it right now) has exploded into a rainbow of free TV, movies, docs, music, sports, and doggos (Dogs 24/7 — you need it right now). Pluto TV was seemingly pre-designed for broke homebodies… conspiracy?


Crackle has been around for over 15 years — and you've still never clicked on that orange button. It streams hundreds of old-to-semi-recent movies and TV shows, as well as a handful of originals like tech thriller StartUp, dumb comedy Ski Master Academy, and the sequel no one asked for, Joe Dirt 2. Crackle also has both The Net (1995 film) and The Net (1998 series)!


With thousands of movies, TV series, and a surprisingly loaded music section (all three Decline of Western Civilization docs!), Tubi is like the last Blockbuster Video at the edge of the world. For every familiar title (Donnie Darko, Minority Report) there are hundreds of obscurities (like 2017 Russian superhero anomaly Guardians), not to mention the Rock of Love oeuvre.


If your streaming device of choice is a Roku (the unofficial streamer of TV Time… still waiting on that endorsement deal), the Roku Channel has stacks of movies, TV series, kids' stuff, fitness programs, and an unhealthy mix of reality shows (Trees & Forest meditation? Sure. Diagnosis Unknown? No thanks). Minus a Roku, the channel works in a web browser.


A cult-flick aficionado's digital dream, Shout! Factory TV is stuffed with cheesy action and exploitation "classics" like Bloodfist (parts one through eight!), Cyberzone (space bounty hunter tracks down android hookers!), and Neon Maniacs (self-explanatory), among hundreds of others. If your objective is to shut off your brain, Shout! Factory TV works like a vodka and valium tonic.


Speaking of sci-fi goodness, Comet is space-centric channel that broadcasts to rabbit ears ('member them?) and streams simultaneously. The movies are schlock standards (Killer Klowns From Outer Space, Futureworld, etc.), but the TV series are solid: Battlestar Galactica (the good one), Stargate SG-1, and the underrated '70s Night Gallery, among others.


There are well over 100 original series from the past 20 years available on the Adult Swim app— and a few don't even require herbal abetment (very few). Currently, AS is streaming full seasons of quintessential series like Metalocalypse, Squidbillies, and the immortal Check it Out! With Dr. Steve Brule, plus newer shows like Tim & Eric's sitcom takedown Beef House.


Unlike most other TV networks, The CW makes all of its shows available to stream the day after broadcast for free — even Dynasty, a reboot no one can prove actually exists. Full seasons to date are available for some newer series, like Batwoman (worth checking out), Nancy Drew (ditto), and Katy Keene (another show of questionable existence). Beats an antenna.


The CW's secondary streamer, CW Seed, is home to some legit classics that never even aired on the network: Schitt's Creek, Pushing Daisies, Constantine, Girlfriends, and others. CW Seed also features a few flops that are still good for a laugh, like Hellcats (clashing cheerleaders!), Moonlight (sexy vampire detective!), and Sinbad (not the comic who played a '90s genie).


Women aren't funny? Get outta here. Actress/director Elizabeth Banks created WhoHaha as a "Funny or Die for girls" in 2015, accepting submissions from indie female comics and curating the content. Like Funny or Die, not every digital short lands, but WhoHaha series like Untidy With Marie Kondo (not really Kondo) and No Chill are uniquely hilarious.


Way back in the '80s, a weekend cable show called Night Flight kept millions of rockers, stoners, and outcasts indoors with a slapdash mix of rock 'n' roll kicks, cult-flick imagery, and subliminal anarchy. The Night Flight app recaptures it, but only a portion for free (access to the full library is $40 annually—anarchy costs in 2020). Still, a taste of a rad flashback ain't bad.


The outdoors were pretty cool, from what I remember. Red Bull TV goes to extremes with mountain biking, skateboarding, surfing, snowboarding, skiing, and some insanity called "ice cross" that's essentially frozen Rollerball. It's all high-quality video immersion with little in-your-face Red Bull advertising; check it out to refamiliarize yourself with air and weather. ♦


Visit billfrost.tv for more trenchant television coverage.