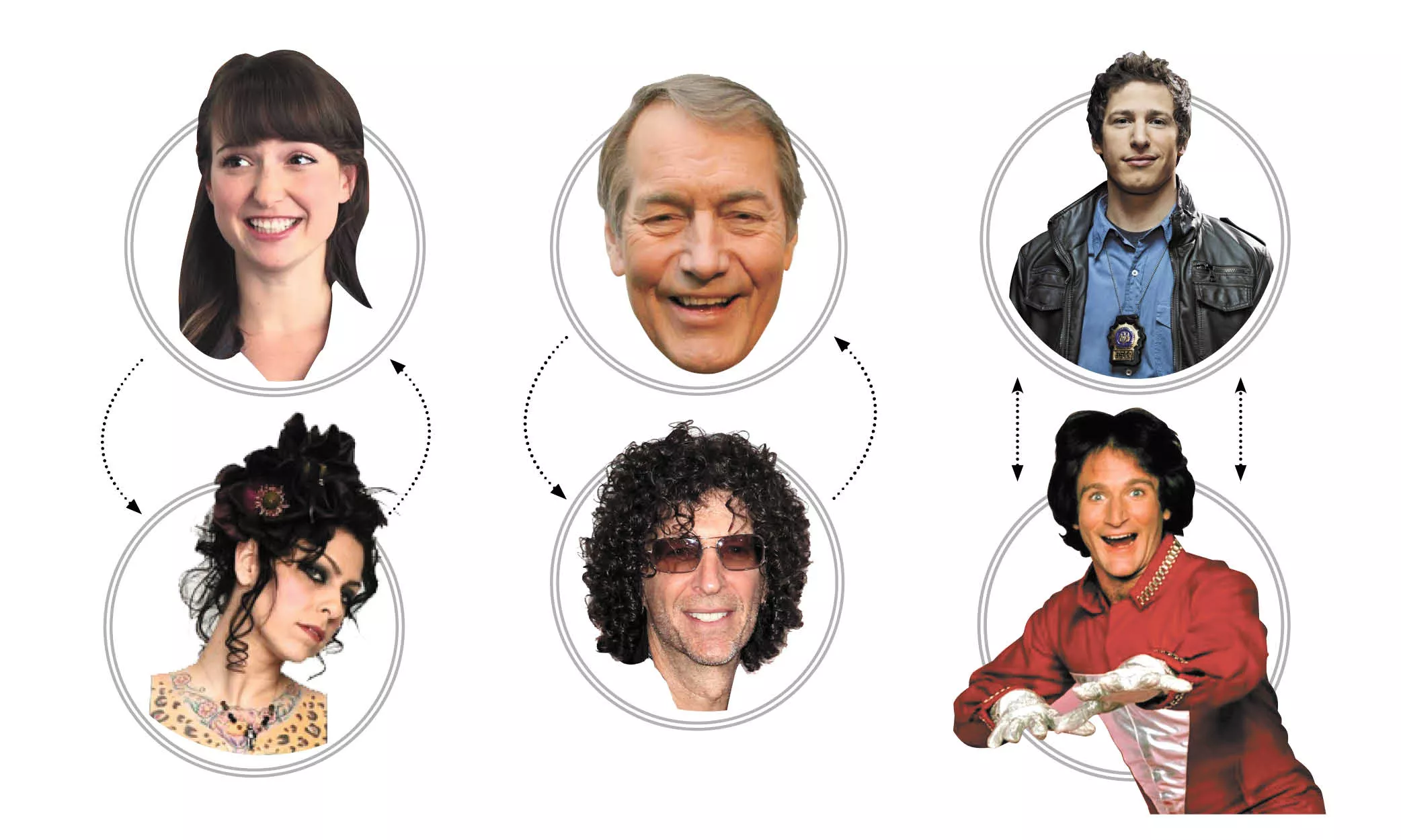 Well, the annual trade deadline for the TV business is upon us again later this week, and boy howdy, are there some deals to be done. I got a couple fresh Hot Pockets (2) and my spreadsheets are open on my laptop, so I'm ready to rock and roll.
NBC News' Brian Williams for Jimmy Kimmel sidekick Guillermo.
Word on the street is that Jimmy Kimmel is sick of Guillermo stealing his laughs, so the powers that be have been furiously shopping the little guy. And if you look at Guillermo's LPS rating (Laugh Per Shot), well, the sabermetrics do not lie, my friends. (3) Guillermo is set for a breakout season, and let's face it, the news can be hilarious — it's a perfect spot for his talents. Don't worry about Brian Williams — he'll be fine. Still, to get it done, NBC might need to toss in, say, the rights to James (The Blacklist) Spader's creepy smirk. (4)
Stan Sez: This deal needs to get done. Like. Right. Now.
The girl on those cheesy AT&T ads for Danielle, the tattooed dispatcher on the History Channel's American Pickers.
This is a fact: Hipsters just ain't buying the AT&T — the chick's got no ink. Although a bit unorthodox, an ad pitchwoman swapped for a series star can work — remember when The Golden Girls picked up that "Where's the Beef" lady back in '86? Genius deal. Anyhow, Danielle's been grousing about a contract extension, and AT&T has deep pockets.
Stan Sez: Those tats (5) are about to make Danielle a very rich woman.
Dream deal-of-the-century. According to reliable sources (6) : America's Got Talent's Howard Stern to CBS This Morning for Charlie Rose (7) .
Stan Sez: OK, just wow. This is a win-win — both rosters get better with this trade. Howard Stern sparring uncomfortably with Gayle King while you get ready for work? Check. Charlie Rose heckling people who spin plates on their foreheads? Can't freakin' wait.
Big Bang Theory's uber-nerd Jim Parsons is going to jeopardize the future of the franchise with that fat new contract of his. Any good options out there to replace him?
Stan Sez: Kelsey Grammer will work for a hot lunch and already has a nerd character; might have to order that Green Lantern T-shirt in XXL, though.
Tom Selleck's hair or Adam Levine's tats? What brings more trading power?
Stan Sez: That hair is legendary; Levine just hasn't earned it yet.
ABC's new shows Selfie and Black-ish: If you could package those up together, what are they worth on the open TV trade market?
Stan Sez: Although they haven't aired yet, so are not available for cancellation, I would take either the Extreme Couponing franchise from TLC or the rights to NCIS: Akron from CBS.
Grimm is barely hanging on for life on Friday nights; it needs a new monster or maybe a Portlandia-type character as a last-minute Hail Mary. Any ideas?
Stan Sez: Easy. Zach Galifianakis can play both — he's hairy, cute and menacing in a friendly stalker sort of way. Try this: He's a quirky mortician who, at night, turns into a menacing liger?
Mark (Shark Tank) Cuban or Gordon (Hell's Kitchen) Ramsay?
Stan Sez: Cuban! (8) Duh! That Gordon Ramsay is a wanker. Total effing wanker.
If you could bring one classic player back onto to one modern TV roster, who would it be?
Stan Sez: Different eras, different standards — just like you can't compare Wilt Chamberlain to LeBron James. But I'll play: How about Wally from Leave it to Beaver joining the cast of Mad Men? (Turns out Ward and June were big-time alcoholics; Wally's a total mess.) Mork from Ork (the late, great Robin Williams, R.I.P.) definitely would make any number of shows better — maybe as Andy Samberg's flamboyant new partner on Brooklyn Nine-Nine? But the total no-brainer has to be a spot in Game of Thrones, as, like, one of those wild queen ladies with the dragons and stuff. Are you with me? Ginger from Gilligan's Island. So obvious! (9) ♦
---
1. God created the footnote for when parentheses aren't big enough to hold all your stream-of-consciousness asides and thumb-twiddling.
2. Thanks, Mom! And if you wouldn't mind, my undies need to get into the dryer — I'm kind of on deadline down here.
3. Shout out to our intern Tommy Zee, who has been tracking Guillermo's antics via our proprietary LPS sabermetrics software since 2011. I haven't forgotten about that Chipotle I owe you, bro!
4. There's some debate in Spader circles as to the first sighting of that signature smirk. Bill Barnstormer, in his excellent series "The Spader Files" (Volumes 1-4, with two more in the works), makes the case for Sex, Lies and Videotape. But a careful viewing of Pretty In Pink (I happen to have a copy on VHS) adds a sliver of doubt to this raging debate.
5. For the record, the only reason I have that My Little Pony tattoo on my ankle is because I came in last in the Rantland Fantasy Football league last season. Lesson learned: Never use your first-round pick on a guy indicted for murder.
6. I think I saw it in a news quiz on buzzgurgitation.com.
7. Yes, Mom, I know George Stephanopoulos is on Good Morning America. Sure, fine, you're right — he's better than Charlie Rose. And I know he worked for Bill Clinton; you tell me that, like, every morning! Gosh!
8. Mark Cuban's just an awesome dude. He's buddies with Phil Simmons and came out to one of our Rantland team-building exercises. Just a killer dude. I am definitely looking him up next time I'm in Big D.
9. I happen to have all the Gilligan's Island episodes on VHS. Mom! Another Hot Pocket! I'm on deadline, for crying out loud!