1993: The Dec. 1 issue of the Inlander investigates a proposed Davenport Arts District in the core of downtown Spokane. Here's how the lead of that story, penned by Andrew Strickman, envisioned this downtown utopia:
"It's 7:30 pm on a Friday night. Jillian Gaines is stressed about what to wear. It really depends on where she's headed downtown. Will it be the Avalon Ballroom for a night of hot and heavy dancing, the Underground for a poetry slam or Avenue One for a homecoming show by Warner Bros. recording artists Black Happy ... Around the same time, Jillian's parents are getting ready to go out to eat. They're planning to drop their daughter at Hale's, at the corner of First and Madison. Who knows, maybe they'll even stop by the Davenport Ballroom for a little heel kicking with the visiting Duke Ellington Orchestra.... Is this Spokane? Not yet, but it's on its way."
1994: Kurt Cobain was found dead in his Seattle home of a self-inflicted gunshot. Reverberations were felt all the way here in Spokane. "Kurt Cobain fashioned a career out of pain; his songs not only spoke to a generation looking for a spokesman, they were therapy," wrote Strickman in the April 13 issue.
1995: The craft brewing boom happened in Spokane once already, as you could learn from Mike Corrigan's Feb. 15 article entitled "Think Globally, Drink Locally" about an influx in local breweries. The story featured Fort Spokane Brewery and Birkebeiner Brewery, neither of which remain in existence. Also featured was Mark Irvin of the Northern Lights Brewery, now called No-Li Brewhouse.
1996: The pages of our culture section have been soaked with the name Jess Walter over the past few years, as the Spokane writer has become one of the nation's finest. But back on March 27, 1996, we wrote about a very different Jess Walter. He had just coauthored In Contempt with Christopher Darden, one of the prosecuting attorneys in the O.J. Simpson murder trial.
1997: Did you know that Napoleon Dynamite isn't the only movie ever made in Idaho? If you go back to 1997, you'd remember that the Inlander went over to Wallace to check out production of Dante's Peak. It was about a volcano, and if you lived around here back then you probably saw it.
1998: Sherman Alexie had already been in our pages a few times, and his literary star was very much on the rise by the time our July 1 issue featured a review of Smoke Signals, a film written and produced by Alexie. Reviewing the film, Ray Pride wrote: "Alexie calls Smoke Signals 'our Great Train Robbery,' meaning he thinks the film could be the first gasp-inducing, made-by-Native Americans movie, having similar impact to the 1903 Edwin S. Porter short, which is considered the one of the first narratives in filmmaking history."
1999: We profile the odd saga of Don Emerson, a Spokane singer-songwriter who had somehow become one of the biggest names in European country music. It's an interesting read that became more interesting after we profiled him again in 2012, after an album he recorded with his brother back in 1979 in their parents' home in rural Fruitland, Wash., was rediscovered and became a hit with hipsters.
2000: The Blue Door Theatre opened in June on Monroe Avenue in downtown Spokane and the Inlander emphasized the importance of the troupe finding a semi-permanent home. The theatre would later move to the Garland District.
2001: Hosting a Bonnie Raitt concert to raise money for local river and lake protection, Sherman Alexie told us: "It's so easy to call somebody who's politically committed angry; it's just shorthand. I'm committed to social change, and if people want to call that angry — fine. But it's just a label. And I do it through any number of ways: through anger, through iambic pentameter, through punchline, through movies and poems and stories. I'm a much more diverse voice than somebody that can be called just angry. The people who are going to be turned off by the politics in my work would be turned off by me."
2002: Film reviewer Ed Symkus says that Signs is M. Night Shyamalan's best film to date.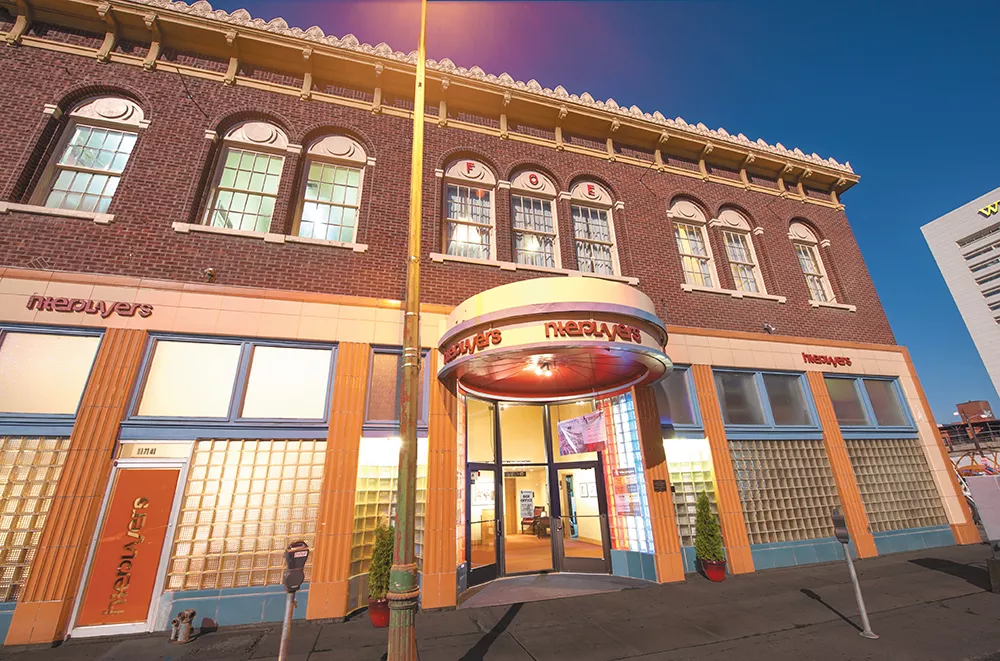 2003: This story will sound familiar to local theater fans. Faced with a serious need to upgrade its facilities, the fate of Interplayers Theatre was on shaky ground, unless it could find the necessary $200,000-plus to revamp its safety infrastructure. Much of the labor was donated, as was a load of cash from theatergoers, and the show went on.
2004: In a profile by Sheri Boggs, we found Christine Crawford, author of Mommie Dearest — which detailed a tumultuous childhood as the adopted daughter of Joan Crawford — living in rural North Idaho and doing promotional work for the Coeur d'Alene Casino.
2005: Longtime contributor Carrie Scozzaro got us reacquainted with Sister Paula Mary Turnbull, a nun best known for creating the garbage-eating goat in Riverfront Park. She still had blowtorch in hand, hard at work on a new project.
2006: Writing in the March 22 issue of the Inlander, local historian William Stimson suggested that Spokane should name something after native son Bing Crosby. He suggested that thing should be the Metropolitan Performing Arts Center (The Met). In 2006, the building's new owner, Mitch Silver, took him up on that offer.
"I do remember writing an article saying Spokane needed some sort of monument to Bing Crosby. I guess I also said it would be nice if the Met Theater could be renamed the Bing Crosby Theater. Then Mitch Silver, the man who owns the theater, wrote to the Inlander and said, 'OK,'" wrote Stimson.
2007: People lined up at the Northwest Museum of Arts and Culture (The MAC) for a glimpse of a T-Rex. It wasn't real, of course, but rather Sue, a traveling, 90-percent intact T-Rex fossil. We "interviewed" the dinosaur, of course asking her what she thought of Jurassic Park. She said, "I had only been out of the dirt three years when that movie came out. I was rooting for the reptiles the whole time. Great stuff."
2008: We celebrated 15 years in publication and catalogued cultural moments from those years, which included a lot of our staffers making fun of themselves.
2009: The cover story of the Nov. 9 issue featured an in-depth take on The Lion King, the musical which was about to land — to rave reviews — in Spokane as part of the Best of Broadway series. Michael Bowen told the story of how two South African actors came to be part of the show, which had been touring the country for nearly three years.
2010: Writer Carey Jackson previewed the Lilac City Tattoo Expo in the May 12 issue with a piece that opened, "That's the ass cheek of a 75-year-old woman."
2011: The Empyrean, which had served as a cornerstone of the live music scene, closed its doors. "I think at one time, we counted in one year like 400-and-something concerts, 47 poetry readings, 12 dance shows," said co-owner Chrisy Riddle in an article previewing its last weekend of shows.
2012: This was a year in which staff writer Leah Sottile profiled a number of the region's savviest visual artists. One of those was then-79-year-old Mel McCuddin, who gave us a look into the creative process that has made him one of the region's most beloved painters:
"I just put a bunch of paint on a blank canvas. I sit back and look at these things. Eventually something appears in the paint — kind of just looking at the clouds and something just appears. That's the way they start. That's the way the ideas come," McCuddin says.
2013: It was a tough year for theater groups in the region. In April, resident theater critic E.J. Iannelli detailed the struggles faced by Interplayers Theatre, which made an urgent plea to the public for $150,000 in order to open the 2013-14 season. They got the money and continued with what's been a well-executed season thus far.
Across town, the Spokane Civic Theatre fired executive artistic director Yvonne A.K. Johnson in July, which was followed by a groundswell of controversy, mostly surrounding the still-undisclosed reason for her termination. Johnson filed a lawsuit against the theatre and briefly attempted to shutter the Civic's production of Les Misérables. That production went on to become one of the theatre's most successful ever, selling out each performance.
There was no happy ending in Coeur d'Alene, though. The Coeur d'Alene Summer Theatre, which had staged professional productions since 1967, asked its supporters for a cash infusion prior to its last musical of the season. But a few weeks later, the board voted to disband the theatre and the curtain went down on an Inland Northwest institution. ♦