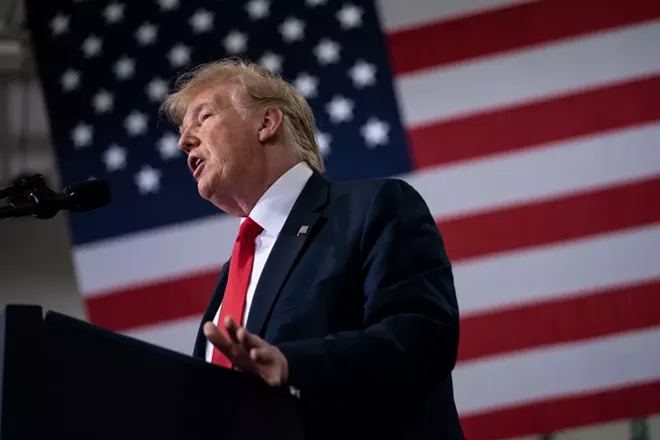 By Peter Baker, Raymond Zhong and Russell Goldman
The New York Times Company
W
ASHINGTON —
President Donald Trump raged against Twitter on Friday morning after the social media company added a warning label to a tweet he posted in the middle of the night implying that protesters in Minneapolis could be shot, escalating tensions between the president and his favorite online megaphone.
Amid the unrest in Minnesota, the president took time out to expand on his feud with Twitter, accusing it of targeting conservatives and him in particular and calling for legislation to revoke the company's legal liability protections that are foundational to its business. The official White House account then reposted the tweet that had been flagged in a move meant to defy the company. Twitter responded by adding the same notice on the White House account.
The company said Trump's original post violated its rules against glorifying violence, and it prevented users from viewing the tweet without reading a brief notice, the first time it has restricted one of the president's messages in this way. Twitter also blocked users from liking or replying to Trump's post, although they were still allowed to retweet it if they added a comment of their own.
But Twitter did not take the tweet down, saying it was in the public's interest that the message remain accessible.
In the tweet, posted early Friday, Trump called the protesters "thugs" and said he had told Minnesota's governor that the military was "with him all the way."
"Any difficulty and we will assume control but, when the looting starts, the shooting starts," the president wrote. "Thank you!"
Twitter said it had decided to restrict the tweet "based on the historical context of the last line, its connection to violence, and the risk it could inspire similar actions today."
The company's decision came a day after Trump signed an executive order that seeks to limit the legal protections under Section 230 of the Communications Decency Act, which generally shields social media companies from liability for the content posted on their platforms. The president had fulminated over Twitter's decision earlier this week to add fact-checking labels for the first time to two of his tweets. In response, he accused Twitter of stifling speech and said that he would end the interference.