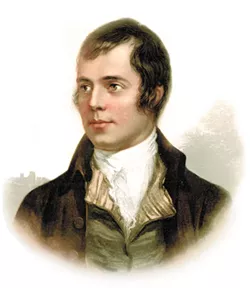 John Barleycorn was a hero bold, / Of noble enterprise; / For if you do but taste his blood, / 'Twill make your courage rise.
— Robert Burns, from "John Barleycorn: A Ballad"
Robert Burns sounds like the kind of guy who knew how to have a good time. Born in 1759, the well-educated Scot had long sideburns, a background in farming and a penchant for drinking scotch (whisky) and writing poetry. In his short life, he amassed 700 poems, ranging from his mock-epic narrative about the drunkard "Tam O'Shanter," to a host of bawdy bits about sex, farting and other bodily functions. If you've ever sung "Auld Lang Syne" on New Year's or used the phrase "for old time's sake," that's Robert Burns.
As well known as he may be, Burns' fire pales in comparison to the pyrrhic intensity of people's thirst for scotch, although Burns did his part to promote the stuff, too. (Notice that if it's included after the word scotch, it's spelled "whisky," with no "e," because in the same way champagne outside a specified region in France is just bubbly wine, only distilled grain alcohol made in Scotland can call itself "scotch whisky.")
While the above two items — scotch whisky and poetry — are not necessary to enjoy oneself at a Robert Burns Night event, it may help explain the timing and tradition of the annual, worldwide event commemorating the birth of the Scottish bard, on Jan. 25.
On Jan. 24, Coeur d'Alene restaurant 315 Martinis and Tapas is hosting its first-ever five-course dinner ($40/person) pairing a Scottish-inspired food menu with whisky, says owner Kris McIlvenna. The evening begins with cocktails and a pre-meal prayer in the form of a poem known as "Selkirk Grace," commonly attributed to Burns.
The menu features a buttery apple tartlet with Scottish white cheddar, Scotch eggs — a hard-boiled egg wrapped in sausage, breaded and fried — and smoked salmon Forfar Bridies, pastries traditionally containing lamb. The main entrée is bourbon-glazed pork belly with 315's spin on Clapshot (potato and root vegetable stew). Dessert is Tipsy Laird, which combines custard, fruit, cream, sponge bread and scotch.
Scotch whisky types being considered for the dinner's pairings include single malts, distilled from barley mash and oak barrel-aged for more than three years, from a single producer like Lagavulin, along with Dalmore's 12-year Highland, as well as blended scotch.
For an event more focused on Scottish culture than food or drink — and a chance to hear Burns' poetry recited in the most confounding yet wonderful brogue — attend the St. Andrews Society of the Inland NW's annual Robert Burns Night, on Jan. 27.
"Half the time I can't understand a word," laughs Marie Grimes-Darling, the society's vice-president who's also an instructor at Spokane's School of Highland Dancers.
The evening follows the traditional Burns Night format, beginning with a haggis ceremony. Combining assorted lamb parts, a crumble of oats or barley, and seasoning baked into a cured sheep's stomach (modern makers might substitute parchment paper), haggis is held aloft throughout the room, accompanied by bagpipes, society member Jason Gordon's reading of Burns' Ode to a Haggis, after which a toast is offered and the savory pocket is cut open.
Although guests are encouraged to sample haggis, the evening meal is actually a buffet prepared by host venue Fort Mukogawa's dining services. A full bar supplements the single malt scotch available for purchase.
Entertainment will be lively and educational, including performances by Angus Scott Pipe Band; the Scottish Country Dancers, Spokane Highland Dancers, and Lake City Highland Dancers; as well as music by Crooked Kilts and "social dancing" (similar to square dancing) with instructions for newbies.
The St. Andrews Society's membership (joining is free), which Grimes-Darling estimates is about 250 in Spokane, will also honor its own, bestowing the Order of the Thistle and the Flower of Edinburgh to members for their distinguished service. The recommended dress for the Burns Dinner is semi-formal, which applies to kilts, too. ♦
Robert Burns Whisky Dinner • Wed, Jan. 24 at 6:30 pm • $40/person • Ages 21+ • 315 Martinis and Tapas • 315 E. Wallace Ave., CdA • 315martinisandtapas.com • 208-667-9660
Robert Burns Night • Sat, Jan. 27; doors at 5, dinner at 6 pm • $45/adults; $30/ages 12 and under • Mukogawa Fort Wright Institute • 4000 W. Randolph Rd. • inlandnwscots.org