ON INLANDER.COM

NEWS:
Washington nurses now have uninterrupted meal and break time
under a new law that went viral during the session when Sen. Maureen Walsh (R-Walla Walla) argued that critical access hospitals should be exempt because nurses at those smaller hospitals "probably play cards for a considerable amount of the day."
CONCERT REVIEW:
Although it was a solo show, Neil Young's performance in Spokane on Saturday wasn't lacking in a diversity of instruments as he joked with the crowd and played through a 100-minute setlist (
read more about it from Dan Nailen
).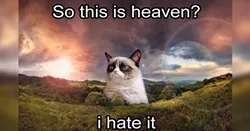 NATION & WORLD:
The internet sensation Grumpy Cat, whose memes spoke to the cranky pessimist in all of us, sadly
died this weekend
. We hear she isn't impressed by heaven either.
IN OTHER NEWS...
Spokane charges more with drug felonies than any other county
Both by raw numbers and per capita,
Spokane County charges more people with drug possession felonies than any other county in the state
, according to an analysis by the
Spokesman-Review
.
Another country elects TV star who rants about political corruption to be president
On Monday, Ukraine will swear in comedian Volodymyr Zelensky, who has no political experience, as its president. As
the BBC reports
, the plot of a TV show he starred in involved his character going viral for ranting about political corruption and then accidentally becoming president.
No way, Huawei
Google
won't let Chinese tech company Huawei support Android devices anymore
after an order from the Trump administration, the
New York Times
reports.