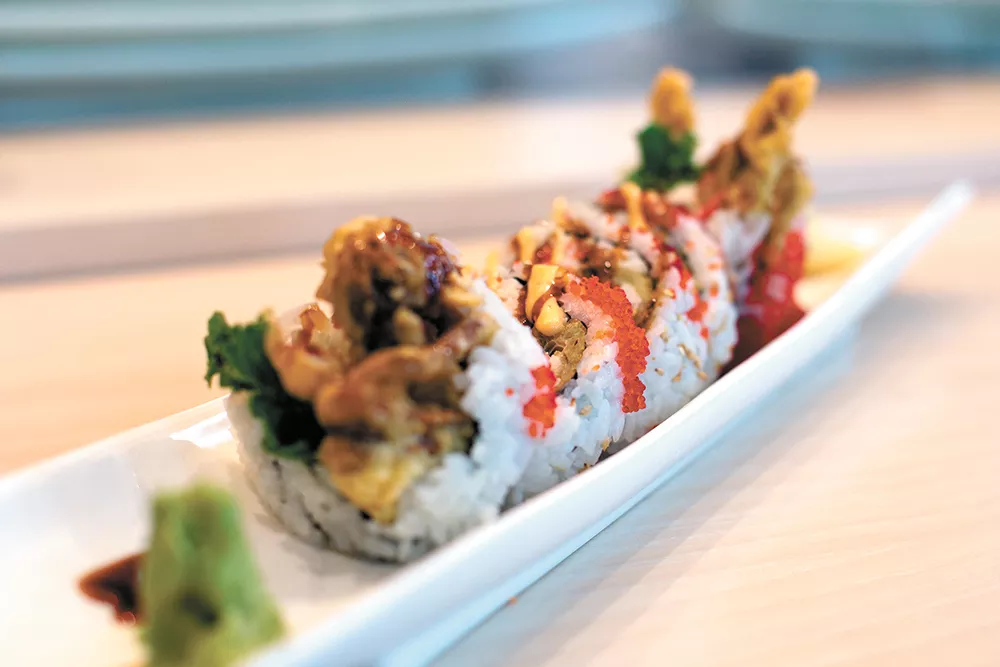 Upstairs is bright and fresh, with floor-to-ceiling windows letting in all-day beams of natural light. A muted decor palette and fishing basket-inspired light fixtures create a contemporary seaside aethstetic in the upstairs portion of Kendall Yards' newest arrival, Umi Kitchen & Sushi Bar.
Downstairs, in Umi's detached lounge overlooking the Spokane River and Centennial Trail, the feeling is moody and masculine, with rich wood tones, dim lighting and a cozy fireplace nook furnished with leather and velvet-upholstered seating. The covered trailside patio, located beneath Maryhill Winery's large deck, offers a cool and shaded outdoor gathering place.
The street-level restaurant opened in the heart of the Kendall Yards' retail strip along Summit Parkway in mid-May. The trail-level lounge is set to open soon; hopefully by the beginning of June, says Umi's restaurant and bar manager Colleen Early.
Though the setup is unusual (the prep and dish kitchen is downstairs, so items must be passed back and forth via elevator), Umi's two separate spaces offer distinct experiences for its customers.
Umi — which translates from Japanese to sea or ocean — is owned by local business partners Scott Hoefer and Jack Heath. The duo recruited well-known Spokane sushi chef Tong Liu, of QQ Sushi & Kitchen at Five Mile, to take the helm of the kitchen and sushi bar alongside Haru Wong, who's also a partner at Fire Artisan Pizza downtown, which recently added fresh seafood to its menu.
In addition to an expansive list of classic and specialty rolls — like the "stuffed pumpkin roll," ($14) which actually doesn't include squash; rather it's formed into the general shape of a pumpkin — Umi's sushi bar serves a standard lineup of fresh sashimi and nigiri.
The kitchen also offers tempura and a variety of noodle dishes, along with poke salads ($8-$12) and classic Asian soups: miso, clam and hot and sour. There are also kushiyaki street food-style skewers ($4-$12/two-piece plate) that comes with beef, chicken, bacon, lamb or yellowtail collar, as well as one vegetarian option, mushroom and eggplant.
Chef Liu says the most creative section of the menu, however, is Umi's specialty entrees, including the spicy lamb chops ($22) and pan-fried sea scallops with asparagus ($22). Liu says these American-Asian fusion dishes were created in consideration of diners who don't prefer raw fish.
The chef also emphasizes the restaurant's focus on making traditional Japanese sauces featured on some dishes, and which aren't commonly found at other Spokane-area restaurants.
Though the full food menu from the upstairs kitchen is planned, for now, to be available to guests in the 21+ only downstairs lounge, the bar's Asian-inspired cocktail list created by Early will be more varied than what's served in the main dining room.
"We've stocked the shelves with everything to make all the great classic drinks, but we're going to do a pretty expansive list of signature drinks with Asian-inspired flavor combinations," Early says.
Umi's lounge has a heavy focus on Japanese whisky, along with sake cocktails and the Japanese distilled spirit shochu, Early says. Specialty craft cocktails are set to feature tea and tea syrups, shrubs (vinegar-based syrups), lemongrass, tropical fruits and other special garnishes, like pickled starfruit, that showcase the sushi chefs' knife skills.
Both upstairs and downstairs, Umi serves six beers on tap, along with some bottles, and a wide selection of wine. Perhaps one of the most unique features in the lounge is the Wineemotion wine dispenser, which Early will stock with high-end bottles that otherwise wouldn't be available by the glass. One of those spots will always be reserved for a high-end sake.
The lounge is set to open daily at 3 pm, and will offer happy hour from 3-6 pm and all day Sunday. The space will be open to midnight Sunday through Thursday, and until 2 am on Friday and Saturday. ♦
Umi Kitchen & Sushi Bar • 1309 W. Summit Pkwy. • Restaurant open Mon-Thu, 11 am-9 pm, Sat, 11 am-10 pm, Sun, 11 am-5 pm • umispokane.com • 368-9372