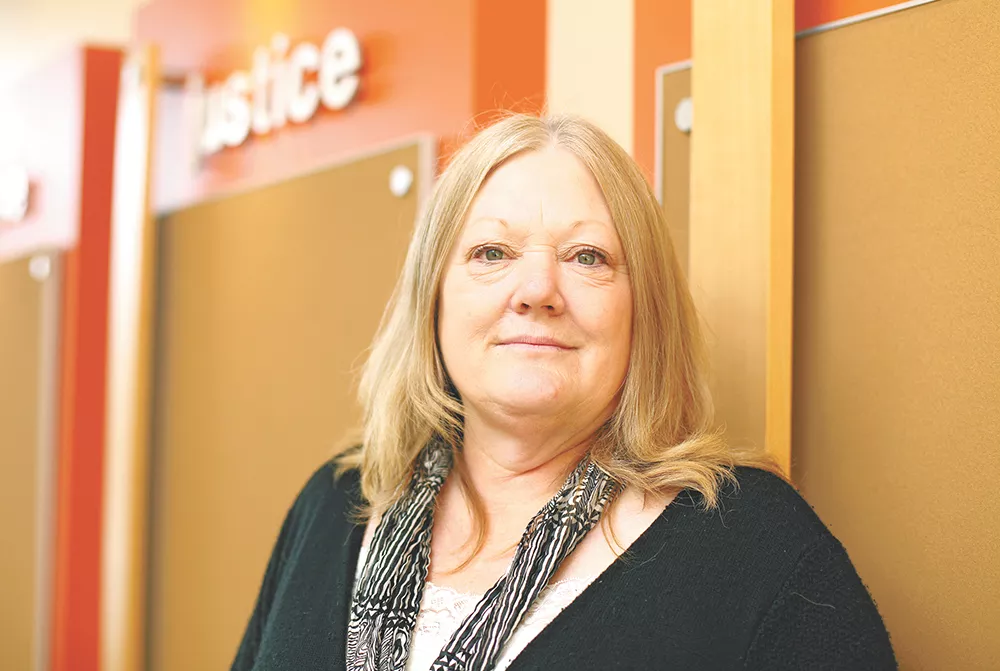 Despite the ease of modern technology, Patty Wheeler believes there's a certain value to being in the same room.
"I keep telling people you don't make friends through email," says Wheeler, programs director at the YWCA. That's why she and some others who work with domestic violence cases are pushing to go back in time, to when many of them were housed in one building instead of counting on phone calls and emails to work together. In hopes of finding support for the idea, Wheeler is part of a new workgroup, made of judges, advocates and lawmakers, that's meeting to take a big-picture look at the system that serves domestic violence victims and perpetrators. After its first meeting, certain systematic problems are emerging.
In the 1990s, city and county prosecutors, detectives and advocates dedicated to domestic violence cases were housed together in one building, but a loss of funding shuttered those operations. Today, some domestic violence detectives and advocates are housed in the Spokane Regional Health District, though Wheeler says the offices provide less privacy, which makes talking with victims more complicated. But creating a bigger "co-located" domestic violence hub poses a funding challenge and is likely to come up against other immediate demands, like the reforms advocated by the Spokane Regional Criminal Justice Commission, which released its final report this month. That's why the new workgroup includes policymakers like City Councilwoman Amber Waldref and County Commissioner Shelly O'Quinn. Waldref says even if funding a brand-new space isn't immediately possible, she hopes to help the group find a new, more functional home at the cost of its current one.
Communication gaps also persist in the courts that handle domestic violence cases. Superior, District and Municipal Court each use a different computer system, making it difficult for one to know if a domestic violence perpetrator faces separate charges in another, says Superior Court Judge Annette Plese. That means up to six attorneys can be working with one offender, making it difficult to address the root causes of the crimes.
"We would like to move to where we look at the whole family, not just the criminal charges," Plese says. "We need to fix the family. We can't just fix one person."
Beyond making the system run more smoothly, better communication can keep victims safer. In a 2010 review of domestic-violence-related murders, the Washington State Coalition Against Domestic Violence reported that not only did just 4 percent of abusers serve their full sentence, but victims had often sought out services or court protections before their deaths, but weren't adequately protected by the courts.
"I feel that as a community we're moving forward, but we have slipped backward," Wheeler says. "We have to regain that momentum again." ♦
---
Calculating Danger
If you or someone you know needs help, call the YWCA's 24-hour crisis helpline at 509-326-CALL (2255). In Idaho, call the North Idaho Violence Prevention Center at (208) 664-9303.
One bright spot locally is the use of a "lethality assessment" by officers responding to domestic violence calls. The Spokane County Sheriff's Office uses the assessment and the Spokane Police Department is now in the process of training its officers to do the same.
If a victim answers "yes" to any of the first three questions in the assessment — 1. "Has he/she ever used a weapon against you or threatened you with a weapon?" 2. "Has he/she threatened to kill you or your children?" 3. "Do you think he/she might try to kill you?" — an officer will dial a victim helpline at the YWCA. (Four "yes" answers to a second tier of questions — like "Does he/she have a gun or can he/she get one easily?" — also trigger the call.)
"We're increasing the likelihood that [victims] feel supported," says YWCA Associate Director of Legal Services Chauntelle Lieske, who has helped implement the assessment. "You're not just getting filed away somewhere."