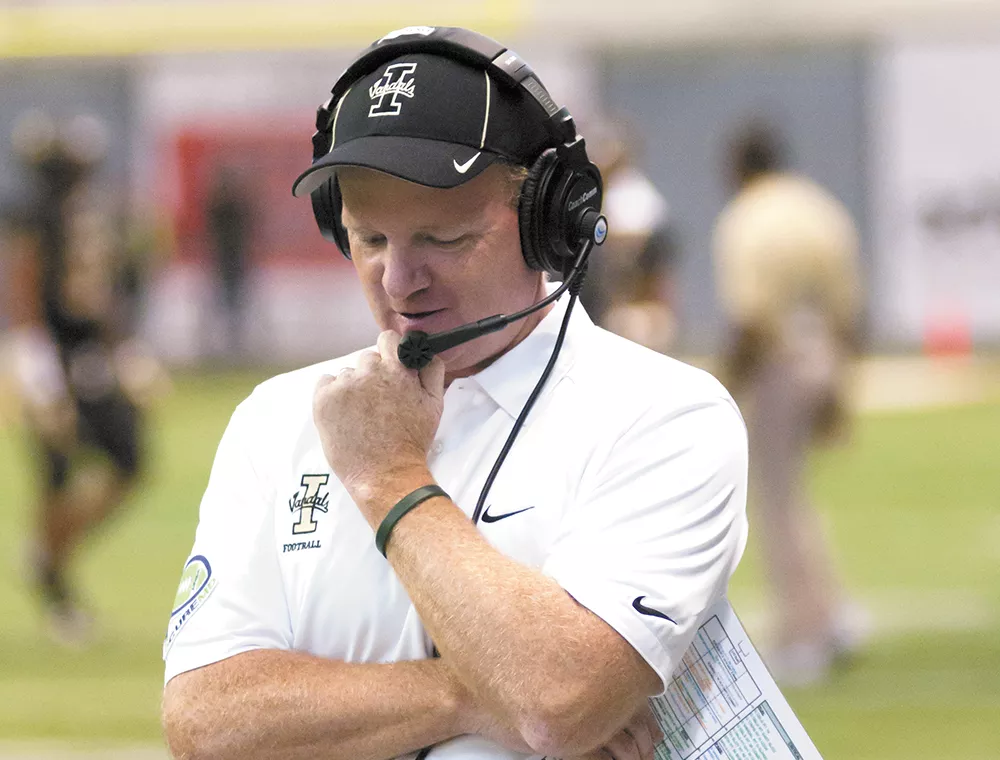 Unfortunately for Idaho's football program, the preseason news about the team hasn't really had anything to do with football. You'd think a team that's only won five games over the course of the past four seasons would welcome anything that distracts from their on-field struggles, but that hasn't been the case.
First, head coach Paul Petrino berated reporters from the Moscow-Pullman Daily News and Lewiston Tribune for what he felt was negative coverage of the team during its summer camp. One of the reporters went as far as to say that Petrino was so heated that he had to be physically restrained, which Petrino and other witnesses denied was the case. That story made its way around the national sports media before Petrino apologized for getting overheated and met privately with the reporters.
Only days later, it came to light that three unnamed Idaho football players had stolen clothing from the campus bookstore, but that Petrino had returned the goods and the charges were dropped.
So you can see why the Vandals and their fans would love to turn their eyes back to the playing field. Thankfully, that opportunity comes early, with a Thursday night game against Ohio at the Kibbie Dome. Yes, it's easy to rip the struggling Vandals, but both players and coaches insist that things are going to change in Moscow.
They have a young, promising quarterback in Matt Linehan, a sophomore who threw for four 300-plus-yard games in last year's 1-10 campaign. There was some speculation that redshirt freshman Jake Luton would give Linehan a run for the job in camp, but Petrino says that Linehan was the starter from day one.
"As a quarterback, you need to be a great leader. He's taken over that role and done a great job of leading," Petrino says of Linehan, who was named a team captain.
Also on the offensive side of the ball, running back and kick returner Elijhaa Penny, a senior who transferred from a junior college and led the Vandals in rushing (589 yards). He'll again receive most of the carries for an offense that's been focusing on improving its ground game this offseason.
On the other side of the ball, the Vandals made changes in a defense that gave up 34 or more points in all but one of their games last season. The face of that change came from just eight miles down the road; former Washington State defensive coordinator Mike Breske joined the Vandals in the offseason after he was fired following WSU's disappointing 2014 season.
For fans heading to Moscow this season, there's a new attraction — the Idaho Fan Zone, a 16,000-square-foot indoor space that will be open before home games and features live music, food and drinks and other family-friendly entertainment. The Vandals are looking to gain some followers, which is something that Linehan and other team leaders know starts on the field.
"As we get better, hopefully we'll be able to get more support, but it doesn't come overnight. We need that support from the fans and the boosters," Linehan told reporters in the last days of training camp. "They've been loyal to us, but we need to get more and more people in this dome on Saturdays." ♦
---
IDAHO VANDALS
2014 record: 1-10, 1-7 Sun Belt Conference
Preseason coaches poll: 11th
Notable returning players: QB Matt Linehan, RB Elijhaa Penny, P Austin Rehkow, DE Quinton Bradley
Head coach: Paul Petrino (3rd season, 2-21 overall)
Season opener: Ohio, Thu, Sept. 3 in Moscow at 6 pm