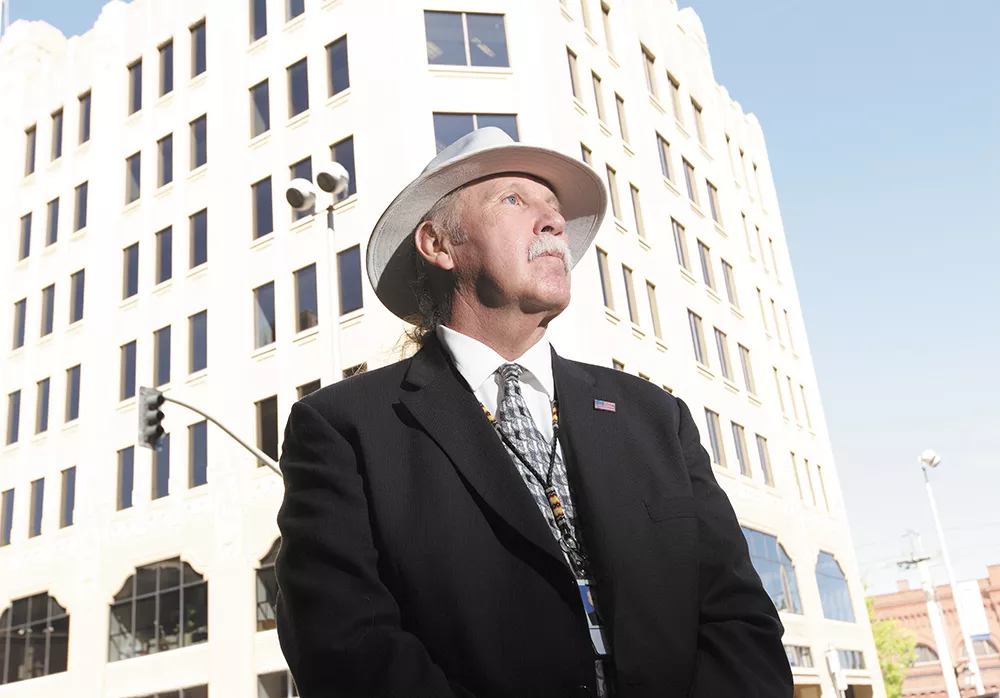 Outgoing Spokane police ombudsman Tim Burns has long felt like his time might be short. As the city's first civilian responsible for oversight of the Spokane Police Department, he has served since 2009 under a constantly shifting atmosphere of contract deadlines, political posturing and uncertain authority. About 15 months ago, he even accepted an out-of-town job offer.
"I had come to the conclusion," he says, "that I had done all I could within the confines of what we had at that point."
As soon as he took the new job, Burns says, Spokane officials confirmed they would move forward on seating a new police ombudsman commission to oversee his office and provide new investigative support. He called back and turned down the new job.
"I decided I have to be there for this," he says.
Looking back, Burns says he spent much of his time defining the role of his office, gauging community concerns and working with a police force still finding its way following the controversial 2006 police custody death of Otto Zehm. Burns, always a cautious optimist, sees great progress and many opportunities for continued improvement.
"It's all been positive in hindsight," he says, "but living through it has often been a struggle."
A long-awaited use-of-force audit released last month by the Department of Justice confirms many of his assessments. DOJ officials did not find any pattern of inappropriate force, but criticize a variety of issues involving SPD policies and officer accountability. Burns notes the DOJ also called for increased community outreach and collaboration with his office.
With the DOJ outlining 42 reform recommendations for the SPD to take on in the coming year, Burns acknowledges doubts about his departure. As he retires Friday, he just hopes he has left a strong foundation for the future.
"I'm still struggling, in all candor, about leaving now," he says. "But I've also come to the conclusion that there's never a good time."
Poring over the 132 pages of the DOJ's use-of-force report, Burns says he could have anticipated many of the findings. The report targets inconsistent policies, unorganized records, intradepartmental communication problems and administrative delays. As far as the ombudsman's office is concerned, the DOJ cites lingering ambiguity over how the ombudsman and commission will operate as well as community confusion over their authority.
Burns notes that many recommendations suggest policy clarifications or new protocols for recordkeeping. While the department may need to evaluate its staffing and other resources, most of the reforms can be made through inexpensive changes to training, manuals and communication.
"I don't see that there's anything that is earth-shattering," he says. "I don't see there being anything in this report that's inappropriate or unrealistic or can't be accomplished within a reasonable amount of time."
DOJ officials analyzed 243 use-of-force incidents, selected at random from 2009 to 2013. They found no deliberate or routine excessive force, but did find misunderstandings or inconsistencies in policies on appropriate force. While some incidents included inappropriate force, those officers did not face discipline due to ambiguity or limitations in policy.
Police accountability advocates have long criticized the SPD's suspiciously perfect use-of-force record stretching back to at least 2007. No citizen complaints of excessive force have been upheld in that time.
"It certainly explains some of the community's angst," Burns says.
Community advocates also noted apparent disparities in the department's use of force against people of color. The DOJ report concluded the SPD did not use force in any pattern of bias, but statistics indicate force was used against minorities in greater percentages than the rate of population.
Liz Moore, with the Peace and Justice Action League of Spokane, notes that census data measures the city's black population at 2.3 percent while use-of-force incidents came to 10 percent. While American Indians make up just 2 percent of the population, they accounted for 7 percent of SPD force.
"I think it's critical that this kind of disparity be named," Moore says. "It just doesn't make sense on its face."
DOJ officials consider the new report a first step in a yearlong "technical assistance" partnership to help the SPD implement their recommendations. The department will take community feedback and incorporate comments into six-month and 12-month follow-up reports. Burns says he hopes those additional reviews can expand on the role of race.
"Clearly there's still some concern by the community about the disparity in use of force as it relates to race," he says. "The report wasn't intended to address that ... but it's clear to me that it's something that should be given some consideration."
Burns has often proven most effective when calling for the department to release additional information to the public or when recommending stronger definitions regarding uses of force. He takes pride in helping to make the police department more transparent and knows the office will need to grow to keep up with new investigatory responsibilities. He acknowledges that one of his few regrets will be leaving before three independent investigations get started.
While the new five-member commission expands the reach and authority of the office, Burns may leave them with one of his most ambitious reform recommendations yet — requesting an independent auditor position to evaluate budgets and performance at both the police and fire departments.
Burns says an additional auditor could track spending, overtime, sick leave, performance metrics and other data. While the ombudsman oversees officer conduct, he believes a broader administrative oversight system could potentially save the city money and confront inefficiencies.
"The auditing thing to me is really important," he says, "but I think it's outside the scope of the ombudsman's role. It's much bigger than that."
Spokane is ready for that next step. Burns says he believes the next police ombudsman will have more time to focus on doing the job, instead of building the office. But they will still have plenty to do.
"In my mind, I can leave with a clear conscience, although still somewhat conflicted," he says. "There's work to be done, but in all consideration I think we're leaving it in a good place." ♦