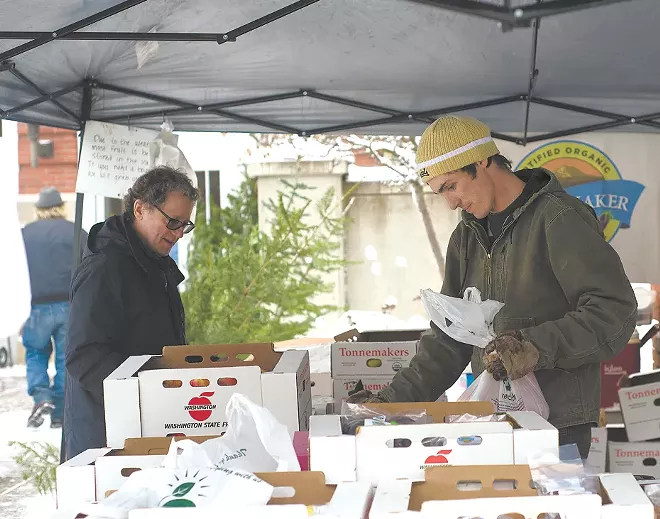 People who are accustomed to shopping at weekly farmers markets between May and October can find a bit of an oasis all winter on the Palouse. At monthly markets in Pullman and Moscow, tables are topped with fresh greens, fruit, dried or canned goods, and vegetables fit for hearty winter soups.
Growers at the more established Moscow Winter Market at the 1912 Center say the market succeeds because the community already is conditioned to support local farms. In Pullman, where the winter farmers market is in its third year, producers see things picking up for them, too.
Standing behind a table adorned with packets of dried seasoning, canned homemade jams and baskets of garlic and onions, Peggy Walsh says she's happy to use the market to continue building relationships with the customers she connected with during the regular Pullman Farmers Market season. This is her first full year as a market gardener.
Walsh says that growers are prepared for the lean winter months that come with being a seasonal worker, but they welcome a winter market that keeps local-food eaters happy and puts a little extra money in their pockets. It builds momentum for the summer markets, too, in part by giving growers a chance to plug community-supported agriculture shares, or CSAs. They look to sell all their shares as early as possible because of their importance for funding the next season.
"Keeping my face in front of people is important," Walsh says. "We usually have a pretty good crowd come through."
To prolong the market season, growers sell what's been stored since the fall, and growing in rows covered with layers of fabric and plastic to keep everything alive. On Dec. 17, Walsh and a handful of other vendors selling fruit, vegetables, meat, baked goods, cider and crafts were lucky to have an indoor space in the downtown retail strip. It was too cold to harvest greens, since that involves lifting frost covers and exposing plants to brutal temperatures. Plus, for some, the covers were frozen to the ground. But they still had cuts of meat, storage crops and preserved food to offer.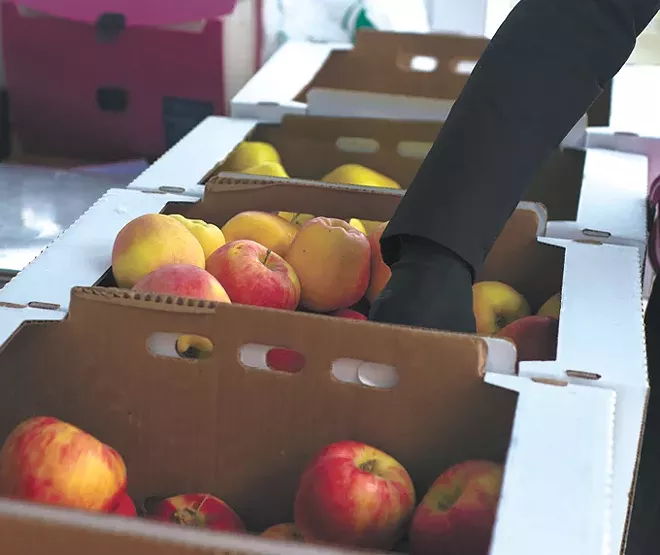 The market in Moscow is in its 12th season, and fruit and vegetable growers have filled spots on the community center's plaza since 2010. Tonnemakers, a Royal City farm that sells apples, pears and dried fruit through the winter, led the way. After them, more growers started setting up booths, looking to unload crops remaining after the last farmers market in October, says Jenny Kostroff, who organizes the market.
"They'd come for one or two sessions, and then be done when they ran out of produce," she says. "The very first winter market came out of the idea that the 1912 Center could host something to carry over the farmers market for vendors selling for the holiday season. Then we expanded past Christmas."
Greg Freistadt of Deep Roots Farm says it took time for producers to gain traction at the market, but the draw — for vendors and customers — continues to grow.
"Sometimes it takes a couple years of being consistent to get on people's radar," he says. "No matter what the weather's like, we show up."
Now, rather than just selling leftovers, more farmers are planning for winter markets. Freistadt sees it as a chance to continue offering what's in season, including what's stored in his root cellar and growing in five hoop houses.
Luke Tonnemaker says the winter market feels like an extension of the regular season. The farm already made year-round sales through local deliveries, but the Winter Market offers more exposure. Now they're considered an anchor, drawing people each week who also will likely buy from other vendors.
Tonnemaker says it's clear that more people are looking for local food, even in the depths of winter. For them, he tries to keep around what he knows they'll like, including setting aside some Honeycrisp apples for the next Moscow Winter Market in February.
In November and December, the markets draw people shopping for Christmas gifts or ingredients for a feast. But business also picks up after the holidays, when people are craving spring. This year in Moscow, Kostroff had 90 vendors sign up to fill 23 spots in the main hall, plus a dozen or so more on the balconies and the plaza.
"I really feel like this region does a particularly good job of believing in the artists and producers of food, and being willing to pay what it costs to do that kind of thing," Kostroff says. ♦
The Pullman Farmers Market will be held the second Saturday in January, February, March and April, from 2 to 6 pm at 246 E. Main St. The Moscow Winter Market will be held Feb. 4 and March 4 from 10 am to 2 pm.