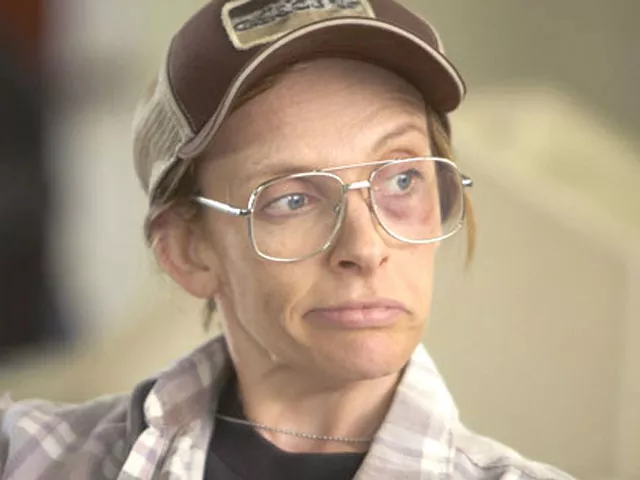 Tara Gregson is an unbelievable mom: She wears an apron and heels to bake muffins, hits on her son's boyfriend to make sure he's gay, and beats up on her daughter's boyfriend when necessary. It all depends on who she is when she wakes up.
United States of Tara, in its second season, portrays "Dissociative Identity Disorder" (formerly known as Multiple Personality Disorder) by following the social and emotional wreckage left behind by Tara's three "alter egos."
Watching Emmy- and Golden Globe Award-winning actress Toni Collette portray these incredibly rich, diverse roles is stunning; she makes the mental illness intriguing and very funny.
Part of the show's winning formula is due to Collette's prowess as an actor; the other is the show's writing. Academy Award-winning screenwriter Diablo Cody does for split personalities what she did for teenage pregnancy in Juno: She makes it seem almost cool.
Tara "transitions" from alter to alter based on what she perceives the life situation calls for: "Alice," the '50s housewife, comes out when the family needs guidance; "T," the rebellious teenager, appears when Tara needs a break. "Buck," the womanizing, alcoholic badass Vietnam vet, shows up when someone needs to be hit, or hit on.
John Corbett (Sex and the City, My Big Fat Greek Wedding) plays Tara's husband, Max. He's mellow and ridiculously patient with Tara and her alters, and much less resentful than either their teenage son (Marshall) or daughter (Kate).
While she spent last season off her anti-psychotic drugs, transitioning almost daily (stealing her own car as T, showing up for her sister's breast augmentation post-op as Buck), Tara is back on the meds in this second season.
After Tara lives free of her dissociative disorder for three months, a neighbor commits suicide, forcing Tara to look at her own unresolved feelings. Poof! Buck is back (pissed that Tara has thrown away his clothes) and starting an intimate relationship with a female bartender.
Max seems to have temporarily lost his capacity to sense when Tara is freaking out, and Marshall and Kate seem more confident and socially adjusted this season. Too bad this lovable, quirky, overcrowded family can't get much of a break.
TIVO-WORTHY
Nurse Jackie
Emmy Award-winning actress Edie Falco (The Sopranos) shines in her most abrasive, scathingly funny role yet as Jackie Peyton, the charge nurse at New York's All Saints Hospital trauma center. She is a fierce advocate for her patients and her children — which almost makes up for her pharmaceutical drug addiction and adultery. (Showtime, Mondays, 10 pm)
Jamie Oliver's Food Revolution
Since his debut 10 years ago as "The Naked Chef," Jamie Oliver has gotten dressed and become both a father and a policy-changer. Having helped transform Britain's school lunch programs, Oliver now takes on American schools, starting in the country's "most unhealthy" city: Huntington, W. Va. (ABC, Fridays, 9 pm)
The Masters
Apparently a man named Tiger Woods will be playing after 144 days of abstaining… from golf. What will his time away, his loss of a few product endorsements and public shame do for Tiger's game? When you watch clips of Tiger winning his first Masters championship 13 years ago, it's hard to stay angry. Sigh. (ESPN, Thurs-Fri, April 8-9, 1 pm; CBS, Saturday, April 10, 12:30 pm, and Sunday, April 11, 11 am)