College is the perfect time to start a band. Never again will you live in such close proximity to other creatively minded individuals; fellow musicians looking to do something big. The three Spokane-area universities — Gonzaga, Whitworth and Eastern Washington — each has a distinctive music scene on and around campus. Although folk music seems to be the most popular genre to tap into, there are groups looking for something more.
WHITWORTH UNIVERSITY
Spokane native Ramsey Troxel likes to keep things low-key. Even when our photographer asks him to wear a fencing mask for a photo shoot on the pine tree-covered Whitworth campus, he's nonchalant. But he is serious about music.
Troxel and his Strange Mana bandmate Olivia White, both seniors, are part of a recent line of musicians who have made a name for themselves in the Spokane music scene and beyond. Terrible Buttons, Dane Ueland, Nick Grow, Branden Cate of Seattle-based Barcelona and (the now defunct) Nude Pop all came out of Whitworth. Austen Case, of the all-female folk band Mama Doll, also is a student here.
Troxel has been a member of many groups, having played in Spokane bands since age 15. After two years, Strange Mana is still a priority for him. As many as six players at one time, it's been scaled back to two. Last year, the band played its biggest gig yet, opening for Seattle's Rose Windows.
Reveling in a hectic schedule before graduating next month, Troxel is also a member of Teen Blonde and has a solo electronica project called Paisley Devil, a name he says he's going to change.
Troxel says he's looking forward to the summer, when he and White will have more time to write and take Strange Mana seriously, moving their experimental dream-pop sound into a more electronic psychedelic realm. Every day, he tries to find time to write music on his computer.
"In between classes, just 10 to 15 minutes a day," he says. "If you stick to that system, writing all falls into place."
Troxel says Whitworth has changed. Other than coffeehouse nights, bands aren't playing at house shows and performing all over town like they once were.
"It all goes in waves here," he says. "There are folk bands that play, but there's not a whole lot happening here. But at least the community is supportive of the music that is happening."
GONZAGA UNIVERSITY
For the soon-to-be-scattered B.Bo & the Zig-Zags, comprised of Gonzaga seniors and one grad student, house party shows, red Solo cups and all, are where they feel most at home.
"You can't go wrong playing for the drunken masses," says bass player Keith Gledhill. "Even when you start sounding like dog crap as the party goes on, the audience doesn't care."
The band has been entertaining Gonzaga partiers since last year, when Gledhill and drummer Maoulay Adjorlolo started jamming together and soon wanted to add a singer.
"They didn't know I could sing. They had only heard I could sing," Brittney Boland says with a laugh.
Boland (aka B.Bo) has the sort of velvety voice other kids smoke packs of cigarettes to achieve. The group is a cover band, rocking out favorites from the '60s, '70s and Amy Winehouse, but it's also a jam band that improvises whole chunks of songs. Various members are a part of campus jazz ensembles, very much influencing the band's funky sound.
The six-piece practices as much as they can, especially now before an on-campus gig. They show up to play in Adjorlolo's second-floor bedroom in a house just blocks from GU, going until a roommate or someone else tells them to stop.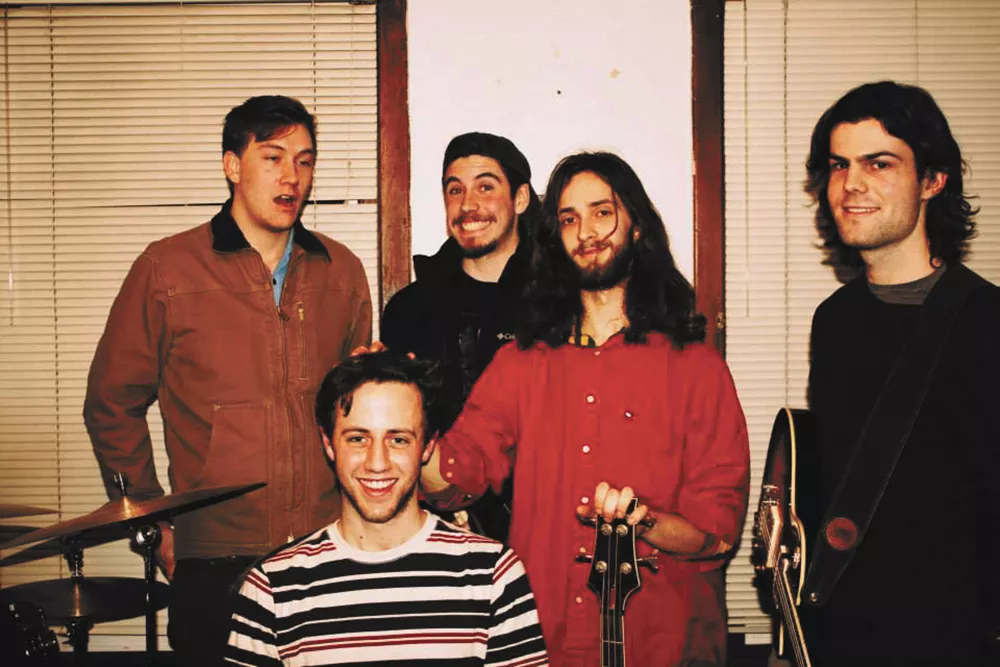 Not far away from this Logan Neighborhood house, another band is perfecting its sound in an unfinished basement. Sweet Lou and the Grind is a foursome also making music different from what most groups are playing at Gonzaga.
"There's a lot of folk here," says lead singer Leo Francovich, a music major. "I think this scene could be a lot better. There could be more bands."
The group isn't interested in fame; they come together two to three times a week to play their bluesy rock and let off some steam.
"This doesn't feel like work at all," says bass player Ben Cavino. "This is our outlet from school and everything else we have going on."
All are juniors except sophomore drummer Matt Friedman. While they've yet to play a house show, Sweet Lou has played Boone Street Hooligans sketch comedy shows on campus and Boots Bakery downtown. They want to record and continue to pen their quick-witted lyrics — yes, they have a song about Sarah Palin. "In fact, all our songs are about Sarah Palin," jokes Francovich.
EASTERN WASHINGTON UNIVERSITY
Surrounded by patches of farmland in Cheney, one can feel far removed from downtown Spokane. But Mikkelsen, a folk act comprised of EWU students Justin Mitchell and Brendan Colbert, try to book Spokane gigs when they can. They've already played at Chairs Coffee, Indaba Coffee and Boots Bakery. Their music, featuring Mitchell's rich vocals and guitar and Colbert's violin, works well in the coffeehouse setting.
But playing on campus is where it all began for the two. Their favorite practice spot is in an especially acoustic dorm stairwell in Dressler Hall. Mitchell says students will come out and listen to them, but that they've also been told to shut up on more than one occasion.
"Dressler is uniquely shaped like a big cylinder," says Mitchell. "It's an echoey, amazing space. A folk musician's paradise."
Mitchell, a junior education major, says classes he's taking especially affect his songwriting.
"I'm studying poetry and works of fiction; these can be inspirational to my own writing," he says.
Last year, they released a six-song EP, Through Darkened Caves; they have about 25 original songs.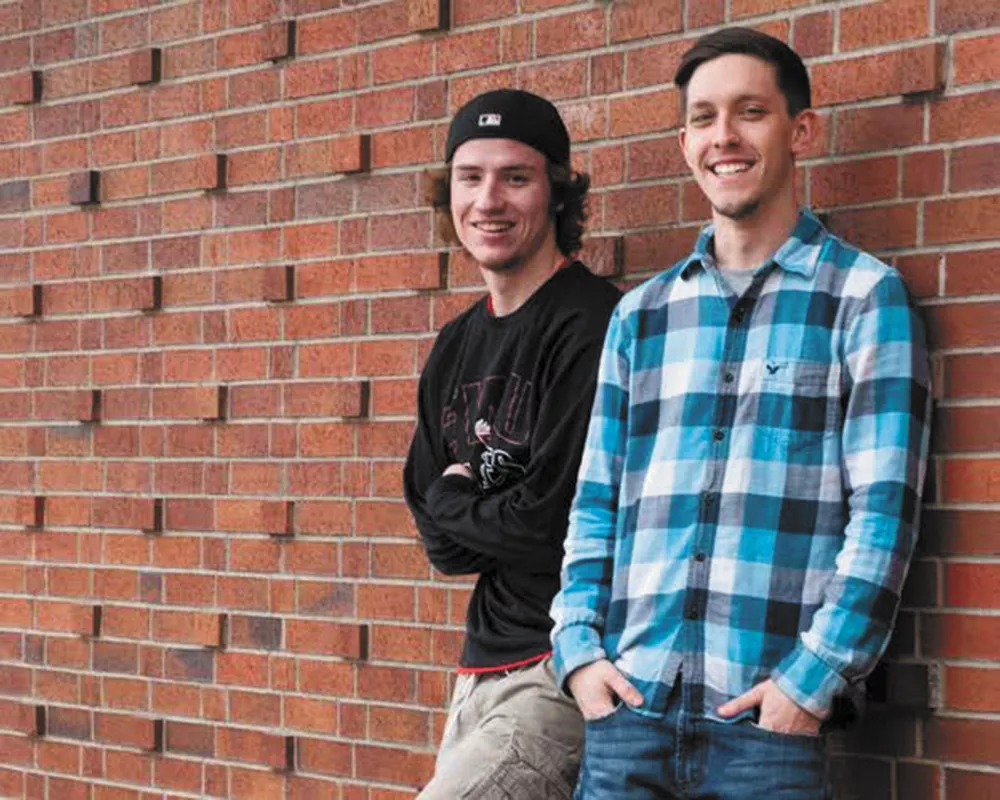 At Eastern, you'll also find Fireside Lounge, the acoustic singer-songwriter duo of Todd Membrey and Kyle Sauve who recently won the campus Battle of the Bands.
"We were definitely surprised to have won," admits Sauve, sitting in a cushy chair in the common area of the snyamncut (Salish for "place of gathering" and intentionally lowercase) residential hall where they often practice.
Battle of the Bands threw the pair together. Sauve, a junior, had songs written but wanted someone who could provide beats for his tunes. Membrey, a sophomore who tends to wear Eastern gear at all times, added his djembe drum, and it fit.
After winning, they've played the Mason Jar in Cheney. Especially now that it's spring, they can be found playing outdoors.
Mitchell also tries to play around outside on campus; he says that's what the school needs.
"I'd love to see musicians just playing outside all of the time," Mitchell says. ♦